As one of the oldest Jewish bakeries in Los Angeles, Diamond Bakery on Fairfax and Beverly has been around since 1946.
"This is our rye sour. It's been in this machine over 60 years," said co-owner Doug Weinstein, who bought the struggling shop in June with his business partner after the pandemic threatened to close it.
A cultural icon in the Jewish community, the bakery has been serving up baked goods to several synagogues and Jewish delis for more than 75 years, not to mention generations of Angelenos.
"My grandmother had been coming here for years herself," said Mark Monarch from Glassell Park. "The place hasn't changed."
"So many families have generational memories of the rye bread, the challah, the sufganiyot, everything," Weinstein said.
Sufganiyot are jelly donuts, a traditional Chanukah treat, fried in oil.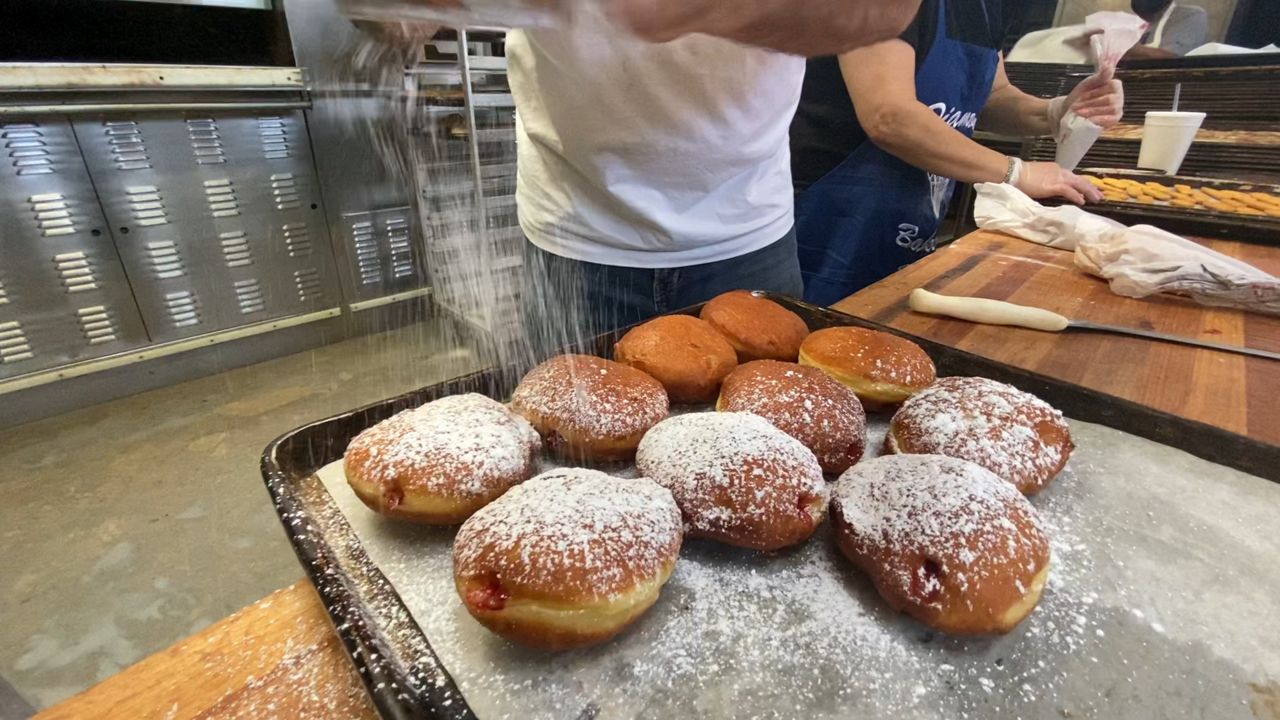 "Sufganiyot are a little different from a traditional jelly donut because it's got some cinnamon in the dough," Weinstein said.
Each donut is filled with a raspberry jelly and covered in powdered sugar. The bakery whips up a couple thousand for the holiday along with a variety of sugar cookies.
"The miracle of the oil that lasted for eight days instead of one after the temple was destroyed and so everything is fried in oil," Weinstein said.
Wise Sons is a San-Francisco based deli opened its newest location in Culver City in August.
"We are a Californian-inspired Jewish deli from San Francisco, and we're the first one in Southern California," said General Manager Christoper Simon.
He says they had to push back their opening multiple times due to the pandemic.
"There definitely were challenges, especially with staffing. However, now we have a fully staffed restaurant with an amazing crew," Simon said.
Besides potato pancakes, they also put together a special holiday menu, including matzoh ball soup, roasted chicken and challah.
"Everything comes prepared, ready to heat at home," Simon said.
Wise Son's founder Evan Bloom grew up in Los Angeles and wanted to pay homage to the city's great delis.
"Culver City has definitely welcomed us," Simon said. "It's just been growing and growing. We are extremely grateful."
Back at Diamond Bakery, Weinstein is grateful for his loyal customers, who have supported the bakery for decades from all over the country.
"This is our world famous corn rye!" he said as he put it through the slicer.
Weinstein then added that no matter the holiday, "We have customers that regularly schedule a two or three hour layover so that they can get an Uber and come here with an empty suitcase and pick up a freezer full of bread to take home."