WISCONSIN — A recent Exclusive Spectrum News/Siena College Poll released Tuesday finds a majority of Wisconsinites are cutting back on expenses in order to make ends meet, and it will play a major factor in November.
Many Wisconsin voters say cutbacks will play into their decision come election time. A majority – 58% – polled say economic issues rank No. 1 when asked the key issue in deciding their vote in November.
"Economic issues, right now, are really important to voters, not surprisingly given what's going on in our nation right now," Siena College pollster Steven Greenberg said. "We know it's the most important issue for determining how voters are going to vote this November. We'll have to see who they blame, or who they think will help them get out of this situation that they find themselves in now."
Wisconsinites are in line with households across the country considering their overall cost-of-living as inflation remains a burden, according to national data figures.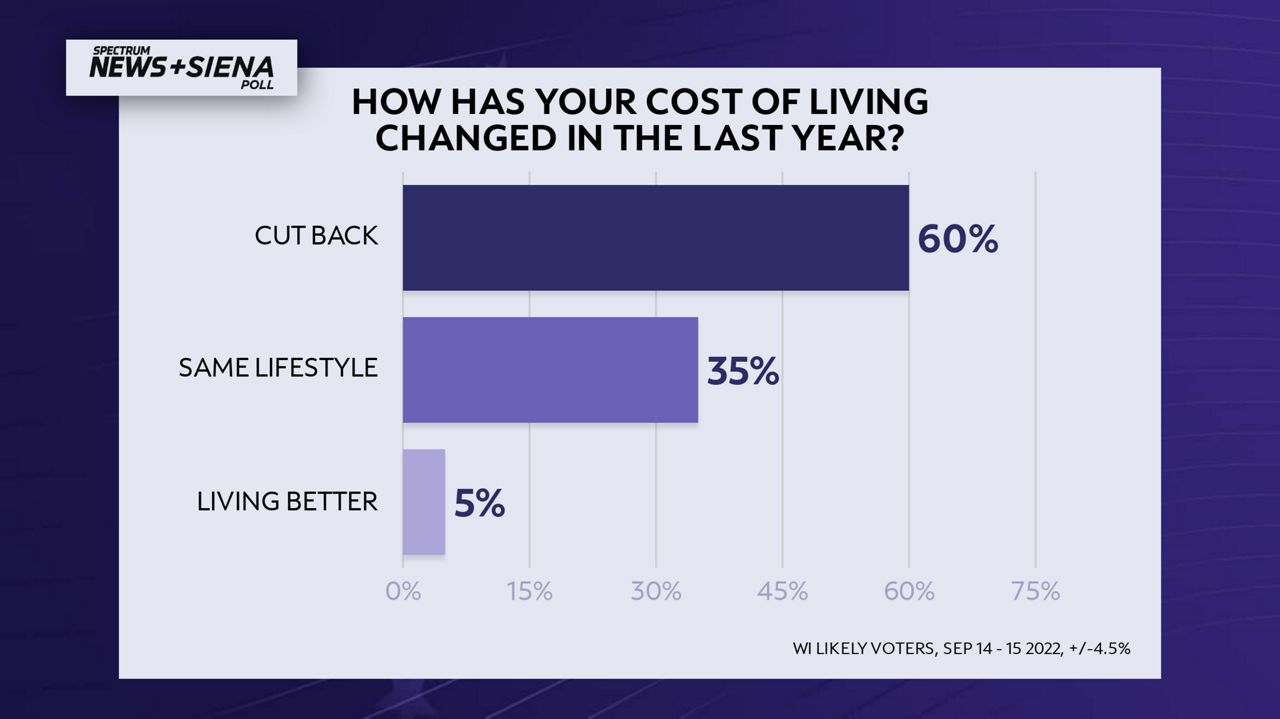 "We do see that over the course of the last year, a lot of Wisconsinites are making sacrifices in their everyday lives and their family lives," Greenberg said. "What we find is 60% of voters... say they've had to cut back a little bit over the last year. Thirty-five percent, a little more than a third, say they're living their same lifestyle."
In August, consumer prices surged 8.3% compared to the year prior and prices continue to rise on a monthly basis.
"If one things goes up, everything goes up," said Wisconsin shopper Antoine Kyles about inflation.
Follow-up questions in the poll show a majority of those cutbacks include spending on things like, groceries and leisure, or putting money into savings and retirement.
Groceries are one of the many items costing consumers more in 2022. Wisconsinites – 53% of them – say they've had to cut back on grocery spending, according to the poll.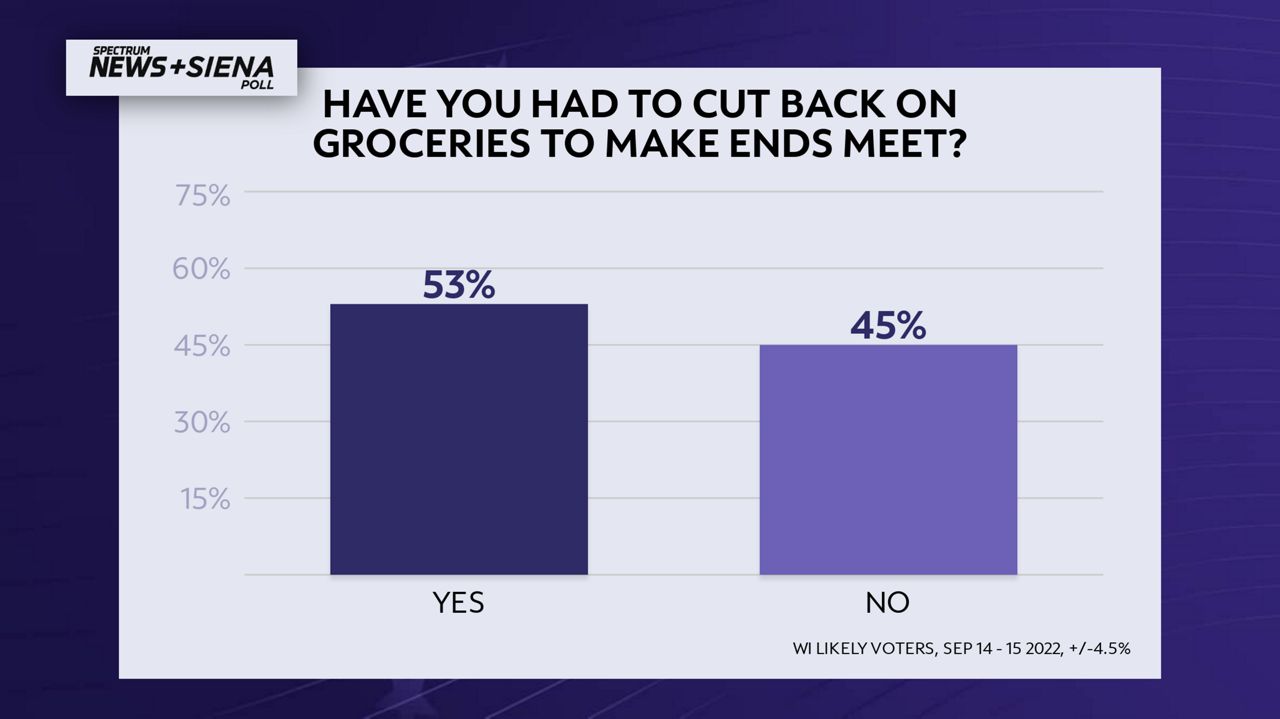 According to the USDA, from January to August 2022, the cost for a gallon of whole milk in Milwaukee went up by 30 cents, and, at one point, reached more than $5 per gallon. Egg prices also continue to rise nationally, almost doubling in cost since January. As of August, a dozen eggs cost about $3.12 on average, according to the U.S Bureau of Labor Statistics.
About 52% of Wisconsin voters polled say they've also had to cut back on savings, or retirement contributions. Age plays a small factor as those 65 and older polled say they didn't cut back on their contributions.
For one consumer, contributions took a back seat to other expenses.
"They [prices] are just going up. You are just taking whatever savings or investment money you have and investing it in your needs that you need as a human," said Wisconsinite Alex Lanz.
By far, the biggest cutbacks were in leisure, or spending on things like vacations, recreation and dining out, the poll finds.
"I used to go out to eat me and my grandkids at least twice per month. Now, we are down to maybe once per month if that," said Wisconsin consumer Cathann Jones regarding cutbacks on leisure.
"Where we see the most people cutting back, not surprisingly, is on leisure and entertainment spending. More than two-thirds of voters, 69%, say they're making cutbacks," Greenberg said.
This was especially true for younger Wisconsin voters polled, with 80% of ages 18-34 saying they had lowered these costs.
However, there are places where Wisconsinites aren't cutting back – health care.
"Thankfully, three quarters of Wisconsinites say they haven't had to cut back on health care. Unfortunately, a quarter of voters still, 25%, say they have had to make cutbacks in health care," said Greenberg.
Falling prices at the pump may be a contributing factor to a majority of Wisconsinites – 56% – saying they have not cutback on car use, the poll finds.
One of components driving down inflation has been the price of gas. About a month ago, the average price for a gallon of gas in Wisconsin was $3.74, according to AAA. Earlier in the year, it was above $4. As of Sept. 19, it sat at the lower average price of $3.41, according to AAA.
Wisconsinites polled say cutting back on car use is not feasible because it's a daily necessity.
"Understandably, a lot of people need to use their car to get to work or to do the shopping or to bring the kids to daycare or school, so we don't see a lot there," said Greenberg.
View the full poll results on spending and other issues that matter to Wisconsinites here. The poll has a margin of error of +/- 4.5%.