MILWAUKEE — New data shows Wisconsinites are mostly united in wanting universal background checks for gun purchases.
The numbers from the Exclusive Spectrum News/Siena College Poll showed a divided Wisconsin on most issues. One of the few exceptions was related to gun violence.
Of the 651 likely voters surveyed, 87% of them would strongly or somewhat support universal background checks to buy a gun.
"It is very unusual to see on any issue in America today, or in any state today, to find issues that mirror that near unanimity among the voters," said Siena College Pollster Steve Greenberg. "When you get to a number like 87, that's phenomenal."
Unsurprisingly, 98% of Democrats were in favor of that plan. However, even 83% of Republicans were on board.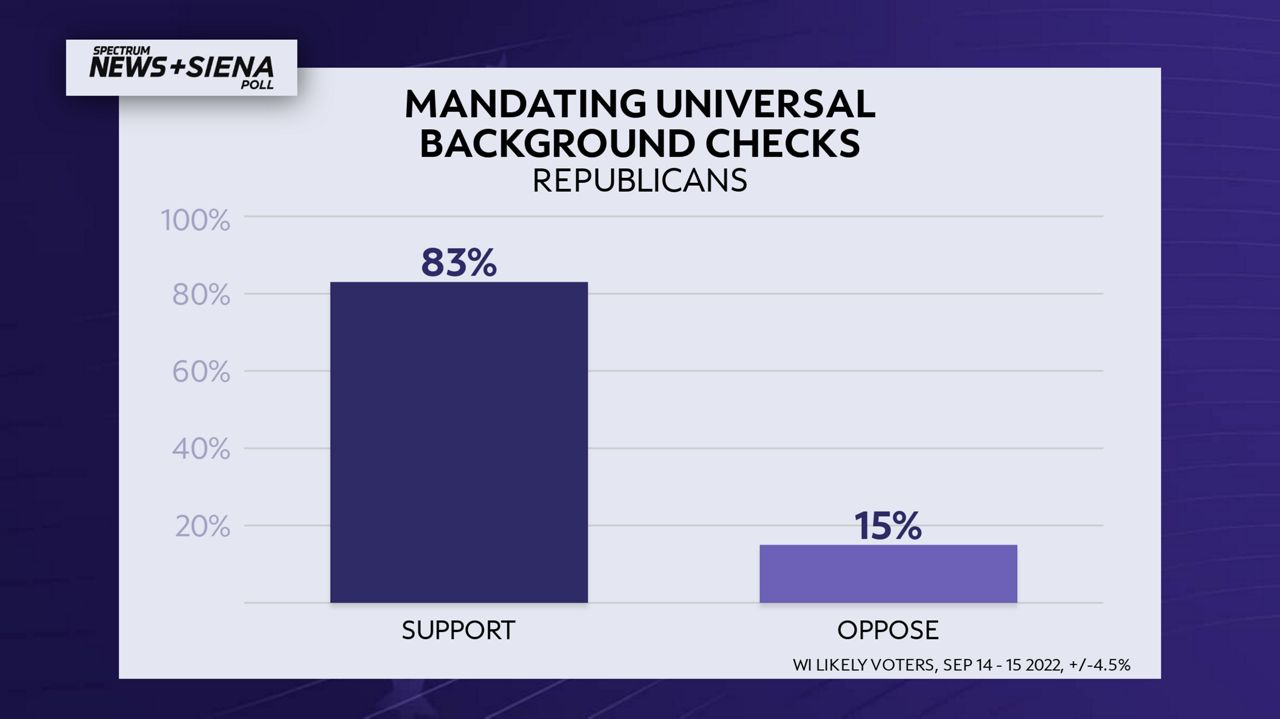 With how polarized our political climate is right now, it's almost unheard of to have such a strong majority.
"It's consistent with what we see in national polls, it's consistent with what we've seen in other states. [Universal background checks] is one of the few issues that really does unite the partisans," Greenberg said. "Unites Democrats and Republicans to be on the same side of an issue."
Currently, 14 states and Washington D.C. require universal background checks for gun purchases, according to the Giffords Law Center to Prevent Gun Violence.
Republicans control the legislature and as a result, Speaker Robin Vos has the power to decide what gets a hearing and what doesn't.
We reached out to his office and asked whether universal background checks would be a priority for lawmakers. At the time of publication, we hadn't heard back.
Meanwhile, we also checked with his Democratic peer, Assembly Minority Leader Greta Neubauer. Her office sent a statement saying:
In 2019, Gov. Tony Evers called the legislature to a special session on gun violence. His proposals would've included universal background checks. In that session, Republicans gaveled in, took no action, and gaveled out seconds later.
When it comes to other gun proposals, the state is more divided.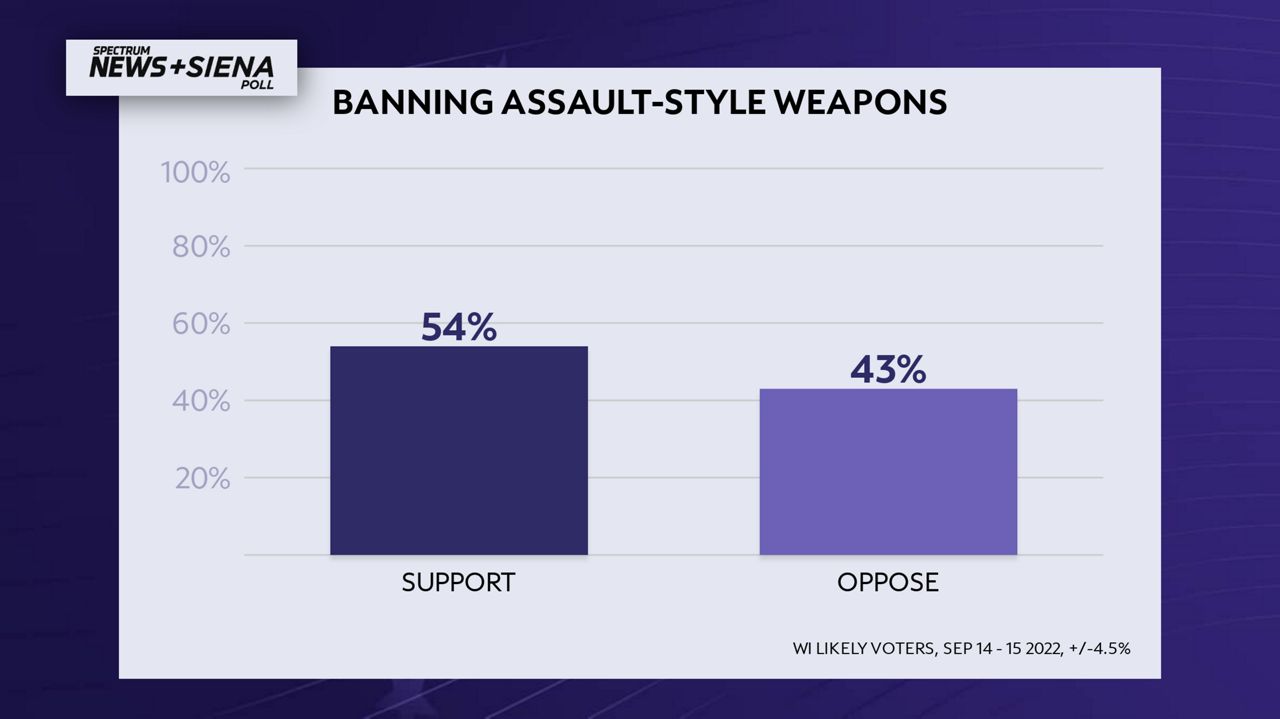 A majority of likely Wisconsin voters would strongly or somewhat support a ban on assault-style weapons, 54% of those polled. 43% of participants would strongly or somewhat oppose that plan.
After the school shooting in Uvalde, Texas, some lawmakers have proposed arming teachers. A total of 32 states allow teachers to carry concealed guns, according to the U.S. Concealed Carry Association. Many of them have restrictions, like needing permission from the school district, or only being allowed in private schools.
In June, Ohio Gov. Mike DeWine (R) signed a bill allowing teachers there to be armed after 24 hours of training.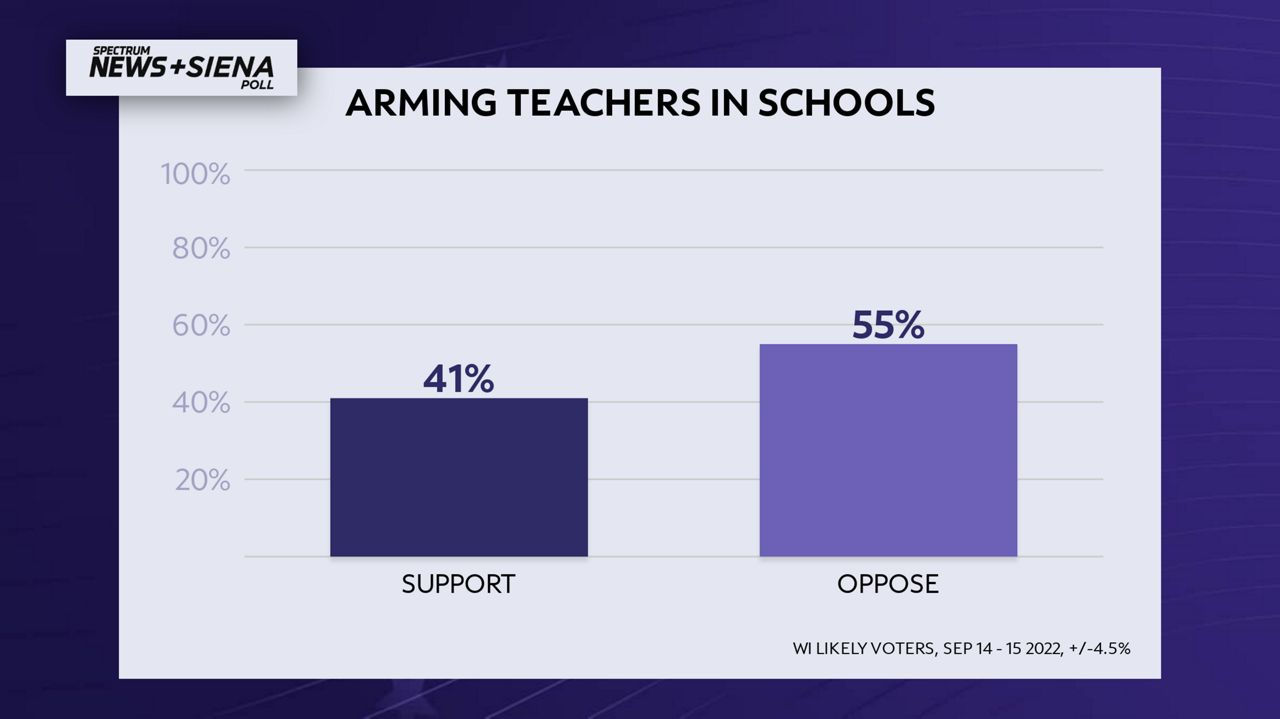 The idea is not popular with Wisconsinites, according to the polling. 41% of participants strongly or somewhat support the idea, while 55% were against it.
While some gun policy issues divide Wisconsin, universal background checks would go over well with most of the state. ​