MILWAUKEE — Whether it is pills, heroin, meth, or even cocaine, towns and cities across the Badger State are dealing with their own drug dilemmas. However, they all share one thing in common: a search for a solution.
Community leaders from Oshkosh to Madison to La Crosse have taken matters into their own hands and are fighting the fentanyl crisis however they can.
At UW Oshkosh, you don't have to look very hard to find Narcan on campus, and that is how UWO Police Chief Kurt Leibold likes it.
"We don't have an overdose problem at UW-Oshkosh," Leibold explained. "As a matter of fact, since I've been here for the last six years, we've had one overdose situation."
Narcan, which can reverse the effects of an opioid overdose, was used to save that person after a mixture of pills and alcohol didn't go well.
Now, you can find Narcan in something called a 'Nalox-ZONE' box.
All 10 dorms have one, as well as places like the student union and library. Leibold said, so far, they have been restocked about a dozen times since they were installed in November.
"Fentanyl is now in so many drugs that you wouldn't expect it in," Leibold said. "It's laced in marijuana. It's laced in pills, such as Percocet, Aderol, things like that, that a college student may take. But they are certainly not using it thinking they're going to overdose and die."
The Nalox-ZONE boxes were donated free by a Madison-based group called Wisconsin Voices for Recovery.
The program started in 2020 with 10 installs across five counties. This year, more than a hundred kits are pending placement.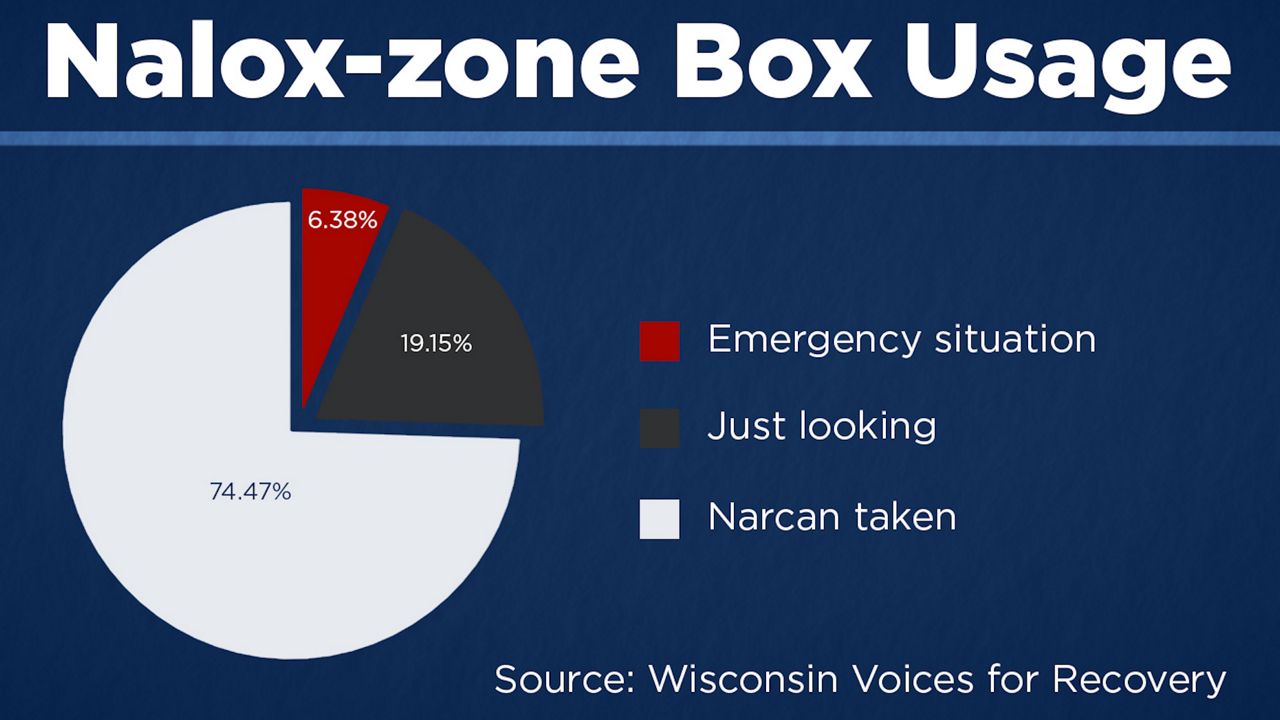 For director Cindy Burzinski, the effort is all about safety and harm reduction.
"You never know," Burzinski said. "You know, somebody could accidentally take something, or you know, not just unknowingly, and then there's fentanyl in it, and they're overdosing, and then what do you do?"
Meanwhile, first responders at Gundersen Tri-State Ambulance asked themselves what they should be doing after an overdose.
"Prior to this, the staff, when they were leaving these scenes, they felt like they weren't doing enough," Dr. Christopher Eberlein, medical director for the Gundersen Ambulance System, explained.
Eberlein refers to them as 'overdose safety kits,' which include Narcan, a pocket mask, along with a list of resources.
The cost of Narcan is covered by a government program called 'Narcan Direct.'
"If we ever can't afford to get it or there are supply issues, and we can't get Narcan, if we continue to promote the use of rescue breathing, we can still save lives with this sort of program," Eberlein said.
During a typical week, the ambulance service will hand out two of the kits, which can be left behind for anyone who is a high risk, whether out at a scene or discharged from the emergency room.
"The goal is to keep these patients alive long enough that they can get into therapy, get into treatment," Eberlein said.
Whether it is a box or a bag, the purpose is simple, and a shared priority among community leaders.
"It really comes down to saving lives, that's what we're trying to do," Leibold said. "People that have drug addiction issues, our job is to get them to the next day. Maybe the next day is when they go in for recovery, or they start going to get some help."