MILWAUKEE — Wisconsin is facing a lethal epidemic. In places like Milwaukee County, it kills more people than homicides, suicides and car crashes combined.
The culprit: drug overdoses and the role fentanyl plays in cases all across the state.
Fentanyl is a synthetic opioid that is 80 to 100 times stronger than morphine.
Pharmaceutical fentanyl was created to help cancer patients deal with pain management by using a patch on the skin, but as is the case with so many drugs, it is abused.
Unlike opium, fentanyl can be made in a lab, which makes is fairly inexpensive and easy to produce.
Fentanyl has reached little towns and big cities in every corner of the state.
There are two main ways fentanyl ends up in Wisconsin, according to Aaron Ranallo, an investigator on the West Central Wisconsin Drug Task Force.
With fewer strict restrictions on chemicals in China, dealers either have fentanyl shipped directly to their door using the dark web or cartels are smuggling it into the U.S. across the Mexico border like any other illegal drug.
At that point, you can think of it like a spider web that spreads to major hubs like Minneapolis and Chicago where local dealers go to bring it back to the Badger State.
"They go to these bigger cities because they can buy larger quantities for a lower price," Ranallo explained. "Then they bring it into our community and they can sell it for a more inflated price, and that's where they are making their money."
The task force Ranallo works with isn't new. In fact, it was created in 1988 and covers six counties: Clark, Chippewa, Eau Claire, Dunn, Buffalo and Pepin.
West Central Wisconsin is considered a "high-intensity drug trafficking area" by the federal government, which means more money and resources are spent there to build bigger cases.
With Eau Claire located along Interstate 94, one of the major corridors through Wisconsin, which runs between Minneapolis, Milwaukee, and Chicago, it is relatively easy to transport drugs longer distances in less time.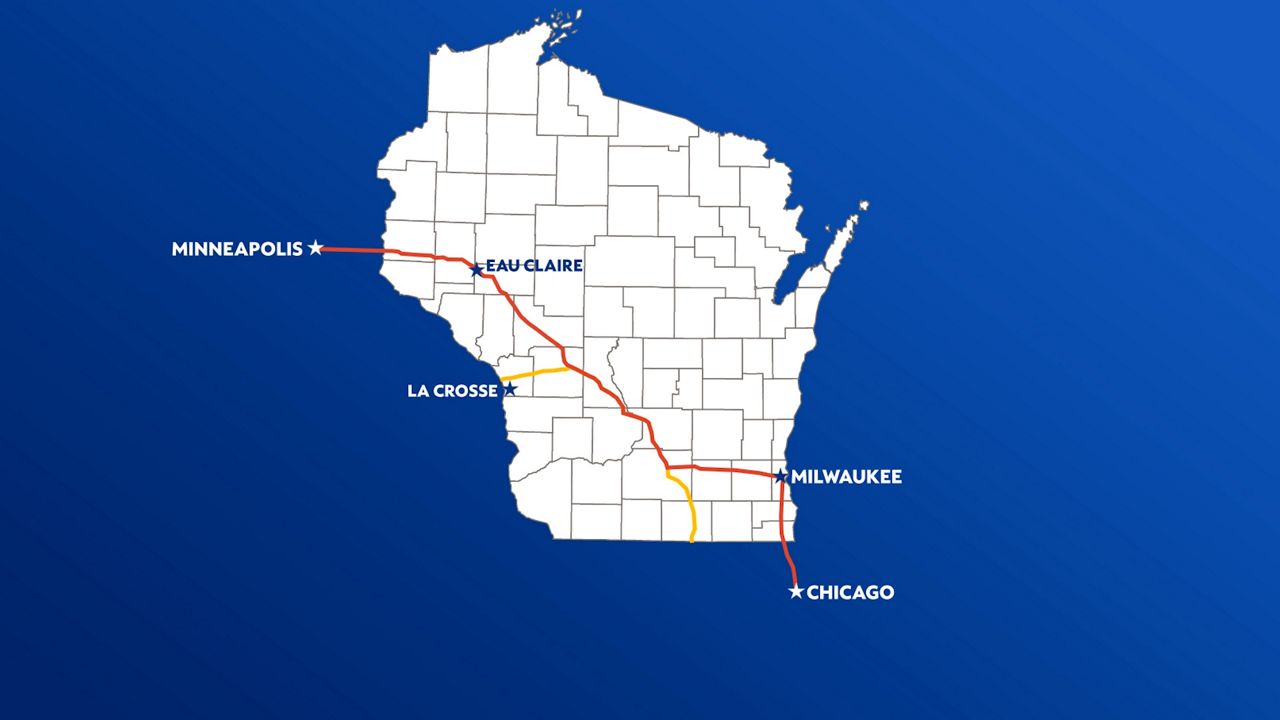 You may wonder why fentanyl is used as a filler if it makes drugs so deadly, but Ranallo said illicit use of the syntheic opioid is all about getting people addicted.
Unfortunately, those who peddle fentanyl aren't worried about killing so-called customers either.
"Dealers have even been known to market their products that say 'My drugs are so good that it kills people,' and as bad as that might sound, that's actually appealing to the user," Ranallo said.

Wisconsin had 1,227 opioid-related deaths in 2020, according to the latest full year of data available.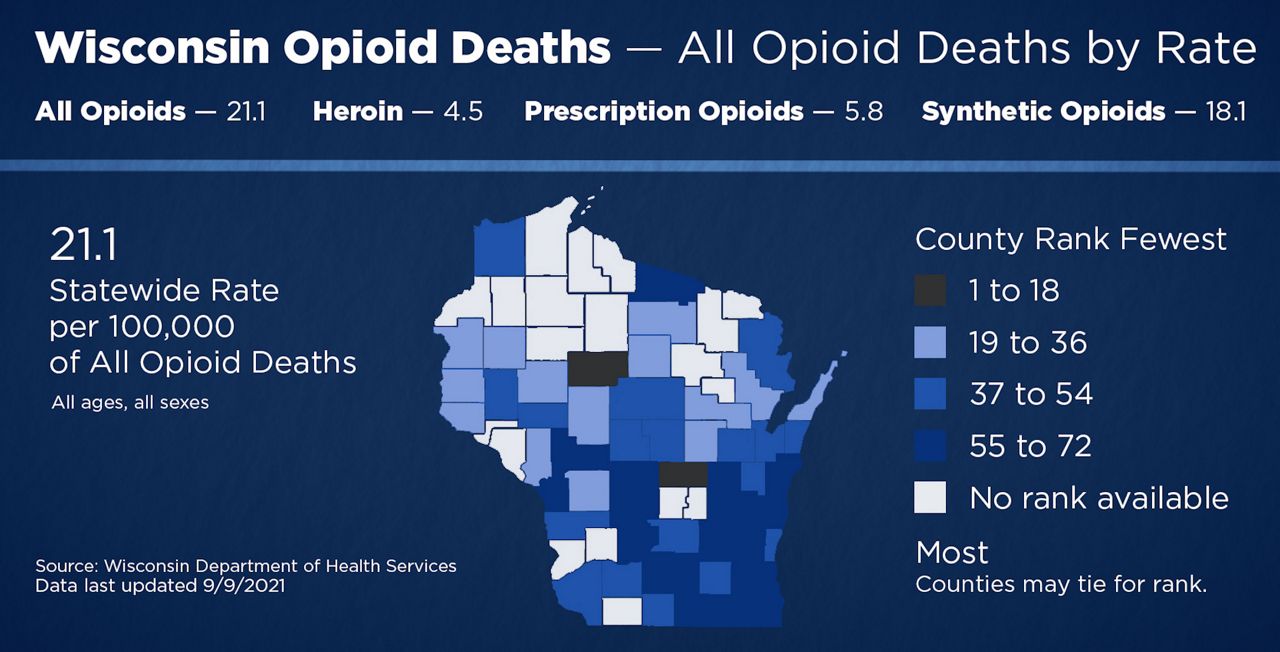 However, those numbers truly show how all genders, races and even age groups, are affected by the opioid epidemic whether in an urban city or rural town.
Statistics from the state Department of Health Services show an estimated 11% of Wisconsin youth have ever misused any type of prescription pain mediciation, which is on par with the rest of the U.S.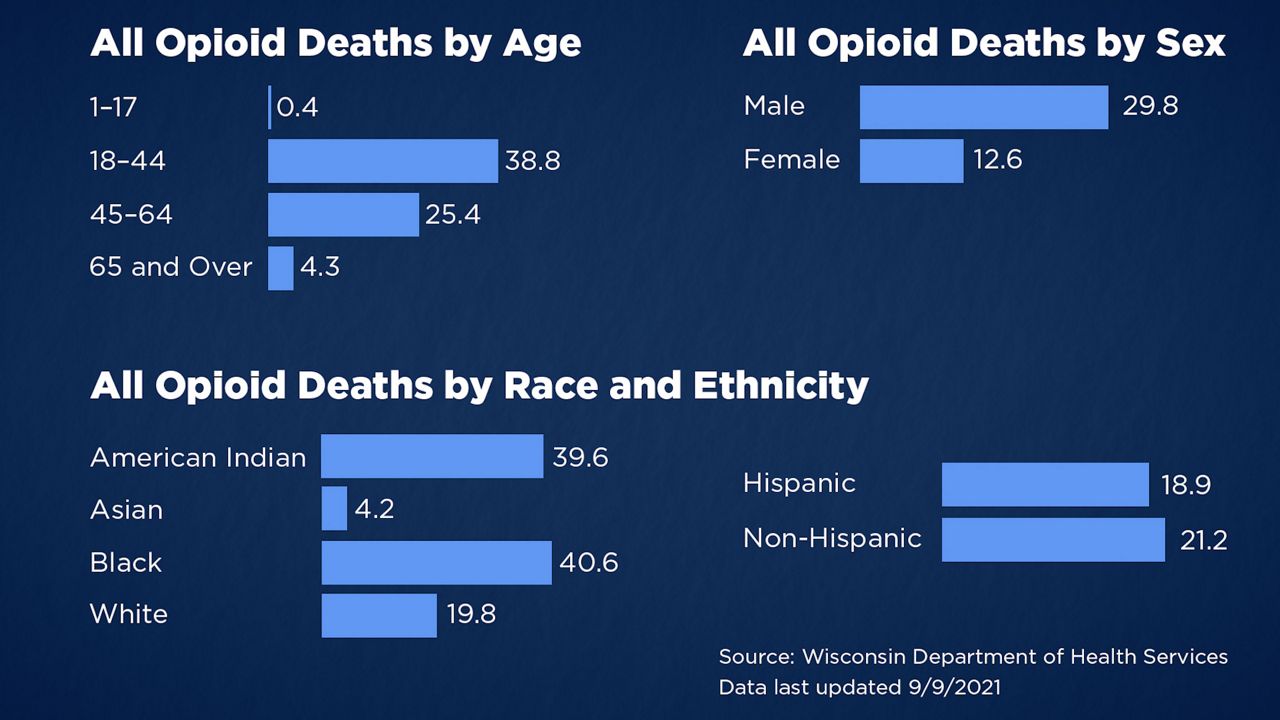 Nationally, however, adolescent drug overdose deaths doubled from 2010 to 2021, and it is not because more teens are using drugs, according to researchers. It is because drug use is becoming more dangerous.
A recent study in the medical journal JAMA showed about 500 adolescent overdose deaths in 2010 compared to more than 1,100 last year.
Fentanyl was involved in more than 75% of deaths in 2021.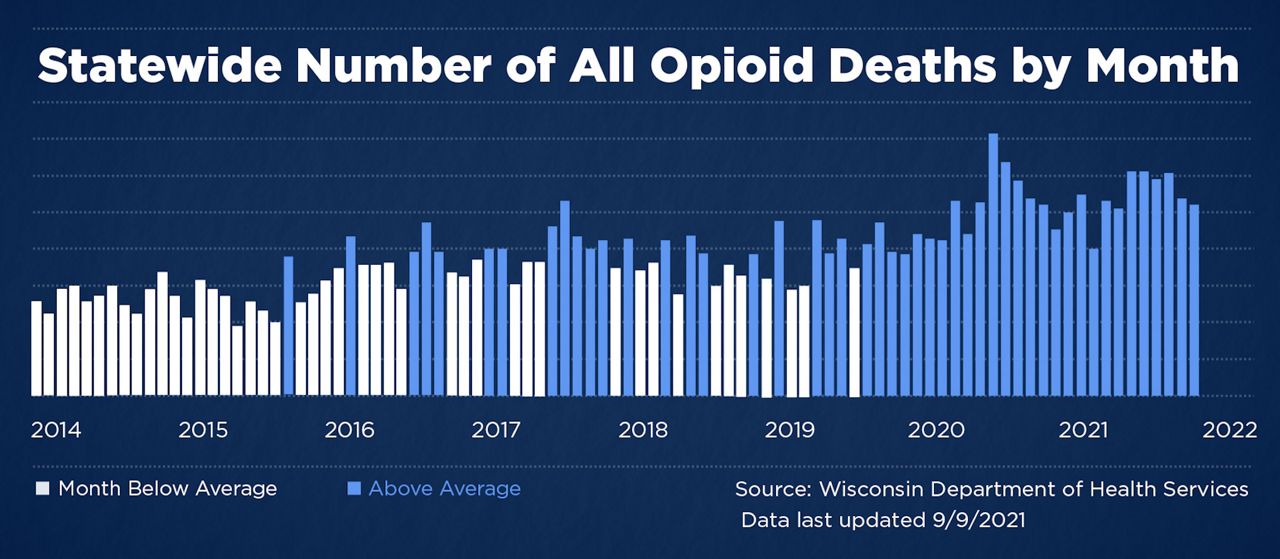 Surprisingly, the statistics shouldn't come as a shock when you consider the number of illegal pills containing fentanyl seized by U.S. law enforcement jumped a whopping 4,850 percent between 2018 and 2021, according to a study funded by the National Institute on Drug Abuse (NIDA).
Fighting fentanyl could get a whole lot easier with more than $400 million pouring into Wisconsin over the next 18 years as a result of a settlement involving three opioid distributors and one manufacturer.
With payments expected to start during the second quarter of 2022, Wisconsin Attorney General Josh Kaul said the state will get more than $50 million this year alone.
"The funds are going to go towards fighting the opioid epidemic," Kaul explained. "There are a lot of different uses they can go towards, but it includes things like treatment, diversion, enforcement efforts, public education efforts, but the funds have to be spent on issues that relate to the opioid crisis."
Based on state law, 70% of the money will go directly to local governments that joined the lawsuits while the remaining 30% is allocated to the state Department of Health Services.
"It's going to be different from what we saw with the tobacco settlements from decades ago where a lot of the states ended up spending the money on things that didn't have to do with fighting tobacco," Kaul said.
With some settlements still pending, it is unknown how much total money Wisconsin will ultimately receive.