MADISON, Wis. — With less than 50 days until Election Day, we have a better idea of how Wisconsinites feel about mainstream issues and the candidates running on them leading up to November.
An Exclusive Spectrum News/Siena College Poll released Tuesday asked likely voters in Wisconsin who they would pick if the general election was held now.
In the race for governor, the latest numbers show incumbent Gov. Tony Evers with 49% and his Republican challenger Tim Michels with 44%, well within the +/-4.5% margin of error for the poll, which makes the race neck-and-neck.
As for the U.S. Senate race between incumbent Sen. Ron Johnson and current Lt. Gov. Mandela Barnes, the margins are even tighter, with Barnes up by one percentage point over Johnson with 48%.
Spectrum News 1 partnered with Siena College to get a pulse on what Wisconsinites are currently feeling.
The poll asked 651 likely voters in Wisconsin how they feel about several political figures, including two names you will not find on the ballot this year: President Joe Biden and former President Donald Trump.
However, during a midterm election, who sits in the Oval Office can impact on down-ballot races.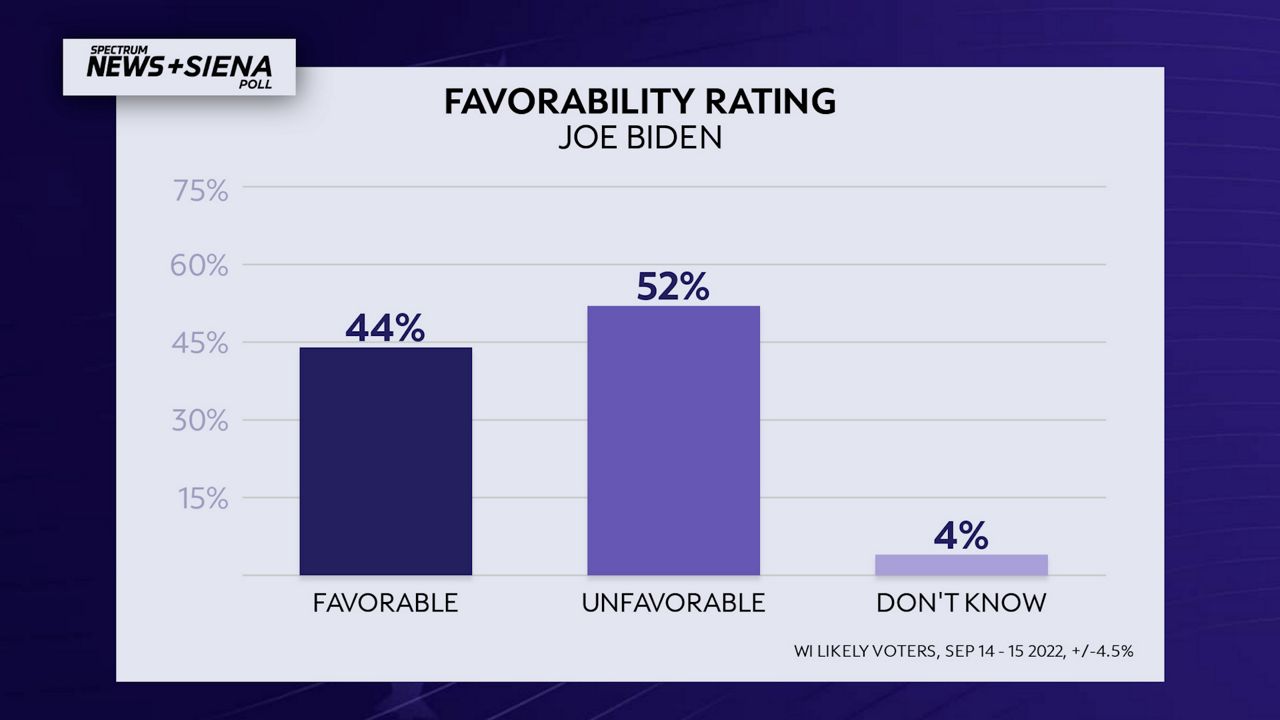 52% had an unfavorable opinion of President Biden, and, as you might expect, those opinions were hyper-partisan, with 91% of Democrats supportive of the commander-in-chief, while 96% of Republicans held an unfavorable view.
A majority of likely voters, 55%, also had an unfavorable view of former President Donald Trump, including 13% of Republicans.
As far as whose name will be on the ballot in November, regardless of where you live in the Badger State, all eyes are on the race for governor.
Republican Tim Michels' favorability is underwater as 43% held an unfavorable opinion of him, compared to 32% who saw him favorably. That means nearly a quarter of likely voters hold no opinion of the veteran turned businessman.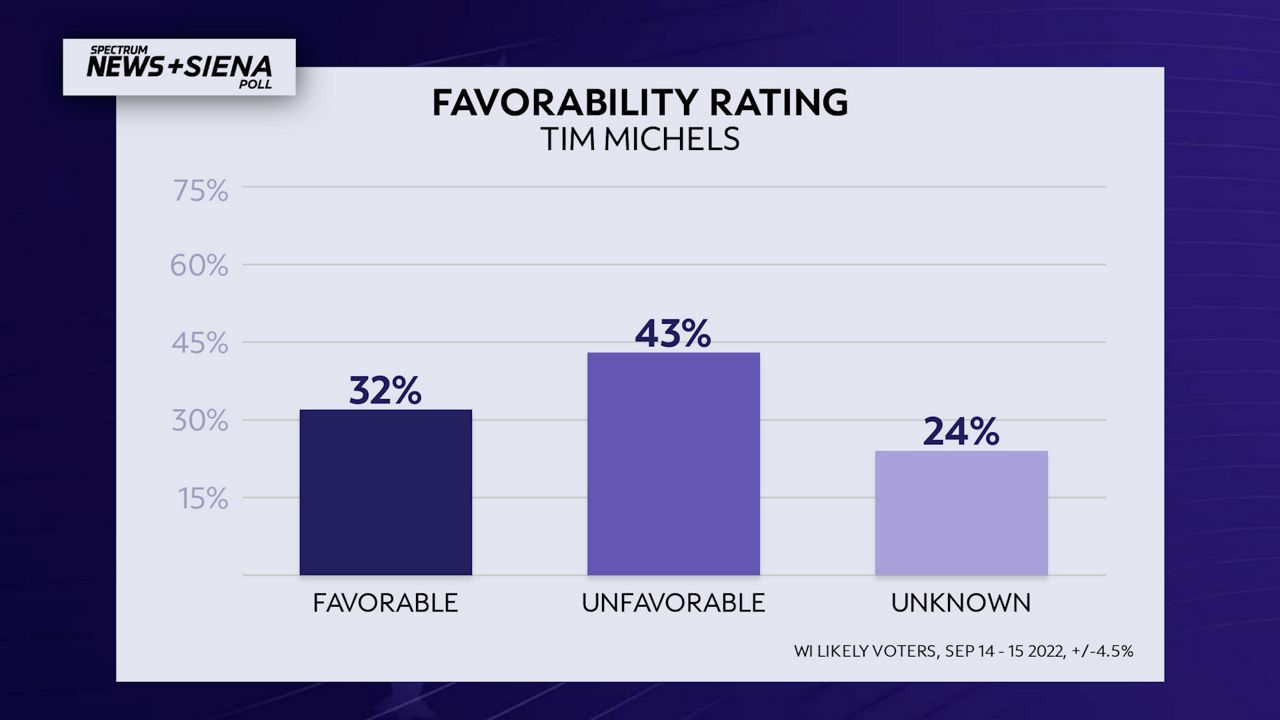 While Michels' favorability is low, there is plenty of ground to be gained. Siena College Pollster Steve Greenberg said name recognition could make the most difference come November.
"You have nearly a quarter of the electorate, 24% of voters say they've either never heard of him or don't know enough about him to have an opinion," Greenberg explained. "One could argue, 50 days out from Election Day, that's a problem for him, but it also presents an opportunity. He has an ability to try to get known to those voters who don't know him, and give them a positive impression of him and make them want to vote for him."
As for incumbent Gov. Tony Evers, not only did more likely voters see him more favorably than not, 47% compared to 43% who had an unfavorable view of him, but Democrats were more supportive of Evers than Republicans were of Michels. The poll found that 88% of Democrats backed the governor compared to 67% of Republicans viewing Michels favorably.
In the race for U.S. Senate, 50% of likely voters had an unfavorable opinion of incumbent Ron Johnson while 37% reported a positive view of him. Democrat Mandela Barnes was more favorable than not, however, only by a slim margin of 41% favorable to 39% unfavorable.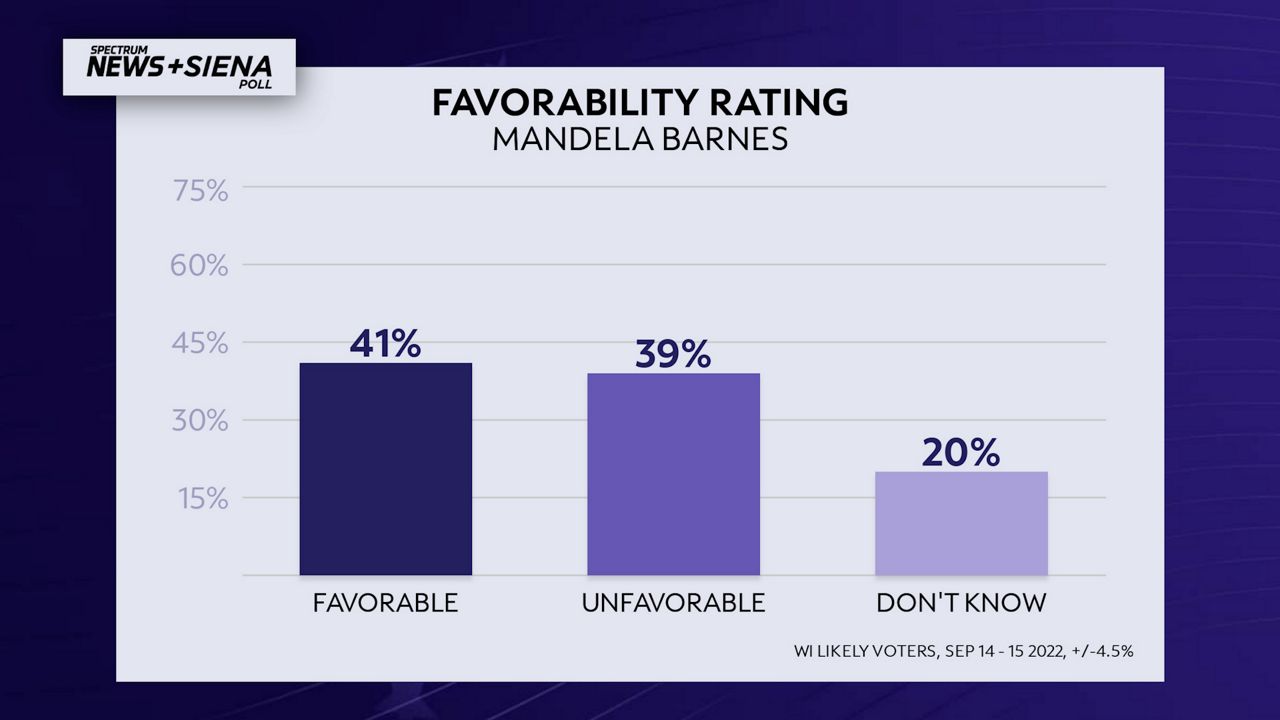 Similar to Gov. Evers in the gubernatorial race, Barnes has more support among Democrats than Johnson does from Republicans.
"He's [Johnson] got to do better with Republicans," Greenberg said. "Although he's getting their votes right now, in terms of getting their support, because they can say they're going to vote for you, but if they don't particularly like you, they may not be the voters who come out on Election Day."
The short answer: not so much, at least according to Greenberg.
A majority disapprove of the job Biden is doing as president. 54% either somewhat or strongly disapproved, while 42% somewhat or strongly approved of the president's actions.
However, Greenberg said those numbers likely won't influence voters as much as you might think.
"I think they look at the candidates, they look at the issues, they look at what's going on," Greenberg explained. "For example, for a member of Congress or a senator, they look at what's going on in D.C., and then they make a decision on which candidates meet their values the most."
Both races at the top of the ticket are going to be close ones. As obvious as it may sound, it comes down to which side can turn out more voters on Election Day.
The same can be said for Congressional races on the national level. Wisconsinites are divided over which party they would like to see control Congress. Among likely voters, 36% said they want Republicans to control both the House of Representatives and the Senate. That's the same margin that would like Democrats to hold on to leadership.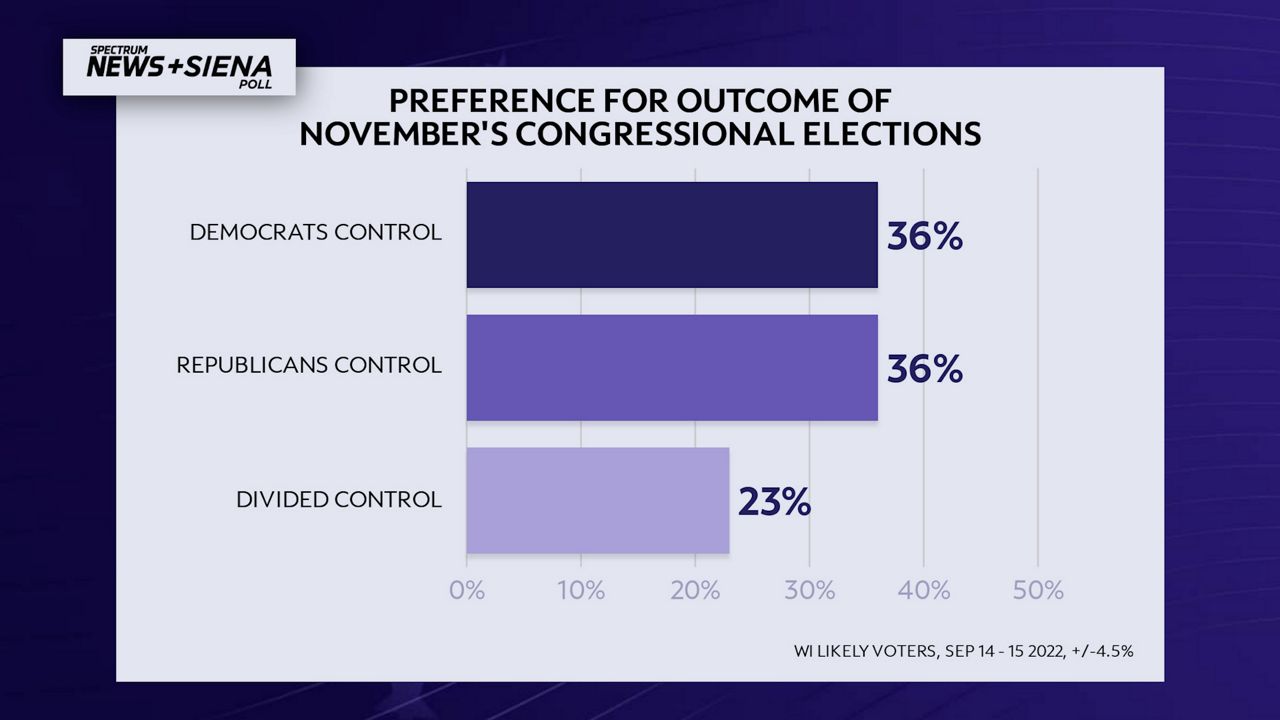 Meanwhile, 23% said they would prefer to see one party control the House of Representatives while the other party controls the Senate.
For a list of the full results, click here.
This exclusive Spectrum News/Siena College survey was conducted September 14-15, 2022 by telephone calls in English to 651 likely Wisconsin voters. Telephone sampling was conducted via a weighted stratified dual frame sample of landline and cellphone drawn from the L-2 database of registered voters. Data was statistically adjusted by age, race/ethnicity, education, regional vote pattern in the 2020 election, a combined measure of stated and derived vote likelihood, and gender to ensure representativeness. It has an overall margin of error of +/- 4.5 percentage points, including the design effects resulting from weighting.