CINCINNATI — When Greater Cincinnati residents fill out their ballot for the 2021 election, one environmental organization wants them to remember a popular adage many learned in grade school.
Think globally, act locally.
---
What You Need To Know
Green Umbrella is co-hosting a forum on environmental issues for candidates in Cincinnati's mayoral and city council races


Cincinnati has a long history of environmental leadership and Green Umbrella wants to ensure that continues under new elected leadership


Some programs Cincinnati has introduced include an all-electrical vehicle parking program, a municipal solar array and a 2030 District, which aims to cut local carbon emissions by 50%


The next iteration of the Green Cincinnati Plan is expected to start next year
---
Green Umbrella is the regional sustainability alliance for Greater Cincinnati. They bring together organizations across 10 different counties in Ohio, Indiana and Kentucky to discuss and create plans for addressing environmental issues.
Currently, they're focused on Cincinnati, co-hosting a "Local Candidate Climate and Sustainability Forum" on Wednesday, Oct. 13.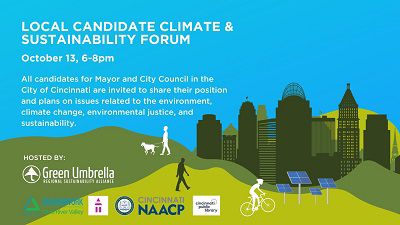 The free virtual event aims to give voters a chance to hear directly from the candidates on their goals and policy proposals related to the environment. It takes place from 6 to 8 p.m.
Green Umbrella has invited both mayoral candidates, Aftab Pureval and David Mann; both plan to attend. They've also invited all 35 candidates running for city council. So far, 23 have accepted.
Savannah Sullivan, Green Umbrella's Climate Policy lead, said according to Pew Research Center, two-thirds of Americans believe the government should do more on climate change.
"This event isn't about a single policy or decision that an elected official or legislative body will make. It's about learning which environmental issues are at the forefront of a candidate's mind," she added. "It's also about showing elected officials that this is a priority subject matter for Cincinnati voters."
Can local politics impact the environment?
Global accords, like the Paris Agreement, or national policies related to topics, like fracking and carbon emissions, are often front of mind for voters. Sullivan said they aren't wrong. But it doesn't mean local, county and state strategies aren't crucial as well.
"As the climate crisis intensifies globally, local policies to combat climate change are central to an effective and equitable response," she added.
In November, Cincinnati voters will choose a new mayor and a complete set of nine city councilors.
Over the next two years, the winners will make decisions that affect current and future generations of residents of not just the city's 52 neighborhoods, but also the broader region.
That includes affordable housing, zoning, transportation policies and new infrastructure — all of which have an environmental element, Sullivan said.
The city government also plays a role in the operation of two public utilities; they operate Greater Cincinnati Water Works and co-mange the Metropolitan Sewer District of Greater Cincinnati.
"Cincinnati is fortunate in that we've had a dedicated sustainability office and action plans for years. That said, we still have a long way to go," Sullivan said. "Extreme heat and precipitation events will become more intense and frequent in the coming decades, as will effects on our land, health and local economy. Preparedness will require all hands on deck."
Not just trees and energy, but people and places too
The Cincinnati-Hamilton County Public Library is co-hosting the candidate forum. Other co-hosts include the Cincinnati chapter of the NAACP, Groundwork Ohio River Valley and Action Tank.
Not all have missions rooted in environmentalism, but each have a vested interest in climate change and sustainability efforts. That's due to their impact on the communities they serve.
Officials from the library said they aim to be a "cornerstone of democracy." They want to connect members to "resources to help them be informed, engaged and empowered citizens."
"As a place where all are welcome to both register to vote and cast their vote, the Cincinnati and Hamilton County Public Library sees co-sponsoring events that build community members' knowledge and understanding of today's issues— such as our environment, climate, and sustainability — and candidates as one piece of our broader effort to engage everyone in the democratic process."
Sullivan said while issues, like sustainability and climate change, affect all residents, they don't affect all residents equally.
"Some neighborhoods and populations in Cincinnati are more exposed and less prepared to survive and thrive under climate threats due to systemic injustices. In particular, our communities of color and low-income communities have been most acutely impacted, and will continue to be until their voice is centered in climate action goals," she emphasized.
A history of environmental leadership
Sullivan called Cincinnati a longtime "national leader" on sustainability.
Over the years, it put many environmental initiatives in place.
The city is constructing the largest municipal solar array in the country. They use green infrastructure and planning to construct and update city facilities, including the first net-zero police station in the country. They introduced a free parking program for owners of all-electric vehicles.
Many of the the city's buildings and facilities have solar panels as well.
They won an American Cities Climate Challenge Award in 2018 and worked with the National Oceanic and Atmospheric Administration (NOAA) last year to create a map of the most heat-vulnerable locations in Cincinnati.
It was also one of the early adopters of a city-run recycling program. Over the last 30-plus years, city residents have made recycling a daily habit, diverting more than 400,000 tons of material from the waste stream.
It's not just the city of Cincinnati, either. Local agencies, corporate partners and others have played a role, too.
One of the prime examples is the Cincinnati 2030 District. It's a program facilitated by Green Umbrella, but supported by the current mayor and city council.
A 2030 District isn't a physical place so much as a collection of property owners and managers, developers and commercial tenants who have committed to reducing their carbon footprint by 50% by the year 2030. They do so by cutting down on energy use, water consumption and transportation emissions.
Some partners include Procter and Gamble, Kroger, the Cincinnati Zoo, Fifth Third Bank, and the city of Cincinnati itself. The current 42 members have committed 318 buildings to the district, equaling about 27.7 million square feet of space.
Collaboration with city staff and coordination with elected official champions have been key ingredients to the success of these initiatives, Sullivan said.
Green Cincinnati Plan
Green Umbrella partnered with the Ohio Environmental Council this spring to provide candidates with the opportunity to work with their policy experts in developing their platforms. One of the main topics was the Green Cincinnati Plan.
The Green Cincinnati Plan is a guidebook for reducing the city's climate footprint. It was first created in 2008 and includes focal points of improving resiliency, environmental quality and equity. Topics range from food production to housing to transportation.
The nearly 170-page document contains a list of goals and recommendations believed to be the "highest-impact, most feasible strategies for reducing the risks of climate change," per the plan.
An update to include 80 strategies to reduce Cincinnati's carbon emissions by 80% by 2050 was voted on and approved by members of city council in May 2018. As intended, the plan serves as a tool for informing city policy and decision-making on everything from new developments to budget proposals.
Historically, the plan is updated every five years, meaning the next iteration should take place in 2023. Based on that timeline, they'll collect public input throughout 2022.
If that's the case, candidates elected to office will have a role in helping to shape, and possibly vote on the next iteration of the plan.
"This next round of elected leaders will have an important role to play in advancing the city's green work," Sullivan said. "Whether it's voting to pass the Green Cincinnati Plan, making a decision about specific ordinances or championing key issues, their decisions will impact the future for all of us."
How the event will work
The event will be two hours long, and if additional candidates decide to join they will extend the time, Sullivan said.
The format will work like this:
Green Umbrella and co-hosts offer a few minutes of opening remarks

Each mayoral candidate has three minutes to state their position

After each has spoken, they'll receive a handful of questions and have a chance to respond

Council candidates each have two minutes to share their platform and will be asked one question
Those who want to take part in the event can register on Green Umbrella's website.
The event will air live on Zoom and live-stream on Green Umbrella's Facebook. Questions are being collected in advance through the event registration process.