EAGLE ROCK, Calif. — A heckler yelling outside the privacy fencing didn't deter city officials from ushering in the tenth tiny home village in Los Angeles Wednesday. In an under-used parking lot between the east and west on-ramps for the 134 freeway, the Eagle Rock Tiny Home Village will add 93 beds to the city's temporary shelter system when it opens next week.
"Irrespective of the cacophony of criticisms that are showered by all of those who are searching for the perfect to get in the way of the good, we move forward," City Councilmember Kevin de Leon said at the ribbon cutting for the village, as a disgruntled individual hurled insults about Mayor Eric Garcetti, who was sitting just a few feet from the lectern.
"It doesn't matter if you're on the left or the right or points in between, Angelinos want action, and that's what they're going to get," said de Leon, who represents the district encompassing the Northeast neighborhoods of Boyle Heights, Eagle Rock, El Sereno, Garvanza, Glassell Park, Highland Park, Lincoln Heights and Monterey Hills. "If we can move heaven and earth to build football stadiums and basketball arenas, we can sure as hell do the same thing for unhoused neighbors."
De Leon, who is also running for mayor, has been the driving force behind the many tiny villages that have sprung up around LA for the past 15 months. Last year, his office opened the nation's largest tiny home village in the country, about two miles down the road, in Highland Park. That project consists of 117 tiny homes and provides transitional housing to 224 individuals.
LA's first tiny home village opened in North Hollywood at the beginning of 2021. Additional villages also operate in Reseda and Tarzana. Two others are planned for downtown LA and Boyle Heights.
The city now has 678 tiny homes providing over 1,200 beds to people who are homeless. About 12,000 units of housing are open or on the way, 8,000 of which are funded with voter-approved Proposition HHH, according to Mayor Garcetti.
"This is true leadership," the mayor said at the ribbon cutting. "Leadership is defined not by when things are easy, but how you act when things are really tough — not when there's 100% unanimity but when there's voices of dissent. It's taking action when others might just be complaining or saying, 'don't move.'"
There's been no shortage of voices of dissent around homelessness in the city and the solutions its leaders are pursuing. A recent survey from the Los Angeles Business Council found that 95% of LA voters view homelessness as a serious problem, but just one third think LA County is moving in the right direction. That's despite $1 billion in the city's 2021-2022 fiscal year budget to combat LA's homelessness crisis.
Last August, LA City Council approved de Leon's A Way Home plan to bring 25,000 new homeless housing units online by 2025. According to the latest Los Angeles Homeless Services Authority homeless count, from 2019, over 41,000 individuals currently live without shelter. The most recent count, conducted last month, is likely to be higher.
At least a dozen homeless individuals live in tents under an overpass just a few hundred feet from the new Eagle Rock Tiny Home Village on North Figueroa Avenue. Like the other tiny home villages, homeless individuals who live in the area will be prioritized for the 48 prefabricated housing units, three of which are accessible to those with disabilities.
Made by the Washington-based company Pallet, each tiny home measures eight feet by eight feet and has a locking door, four windows with screens, heating, cooling and electricity, as well as a fire extinguisher, smoke detector and carbon monoxide monitor. The company provides storage and a folding bed that can be doubled up into a bunk and stowed away when not in use.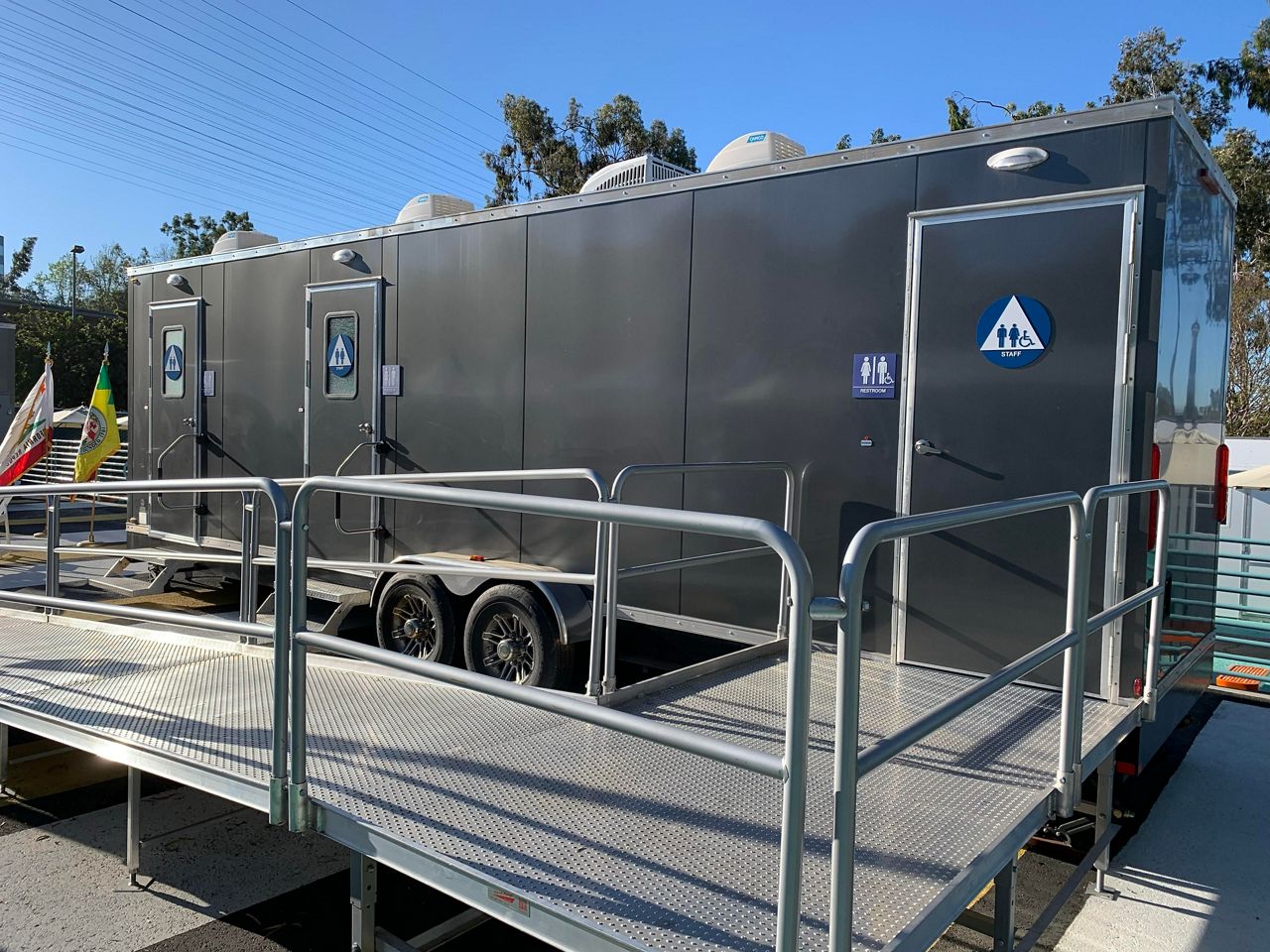 The pet-friendly village also includes a pair of mobile hygiene trailers with toilets and showers, laundry facilities and outdoor seating areas with shade.
"When we look at homelessness, we focus on getting people permanently housed. That is our goal, and that should be the goal of all of us," said Anne Miskey, CEO of Union Station Homeless Services. The nonprofit will operate the village, offering wraparound services such as mental health and addiction counseling.
Union Station Homeless Services has been working with de Leon in El Sereno for the past couple of years as he converted local hotels to transitional homeless housing.
The conversion of the former parking lot in Eagle Rock took a collaboration between levels of government and private industry. LA County owns part of the property. The LA Department of Recreation and Parks also owns a portion, with Southern California Edison owning yet another piece.
De Leon's office worked with county officials, Mayor Garcetti's office, and also met with the chief executive of the utility to work out a deal that would allow the project to move forward. The city broke ground on the tiny home village six months ago.