WEST LOS ANGELES — After serving his country for 14 years, Greg Merkel finds a new sense of freedom in painting.

"I feel like I don't have to follow anybody's rules," he said, mixing a deep blue-green color and brushing in onto his canvas. "I can just do what I want to do and however it turns out, it turns out. And I don't stress about it."
That's a welcome change because life for the Navy vet has hardly been stress-free. For a time, Merkel was homeless, and turned to the West LA VA for help. There's a safe parking program on campus for veterans who are experiencing homelessness, but Merkel didn't stay in the lot.
Instead, he lived in a small storage shed located by the Heroes Golf Course where he was hired to mow the lawn and do some woodworking. It has a Murphy bed that he built in the woodshop and not much else.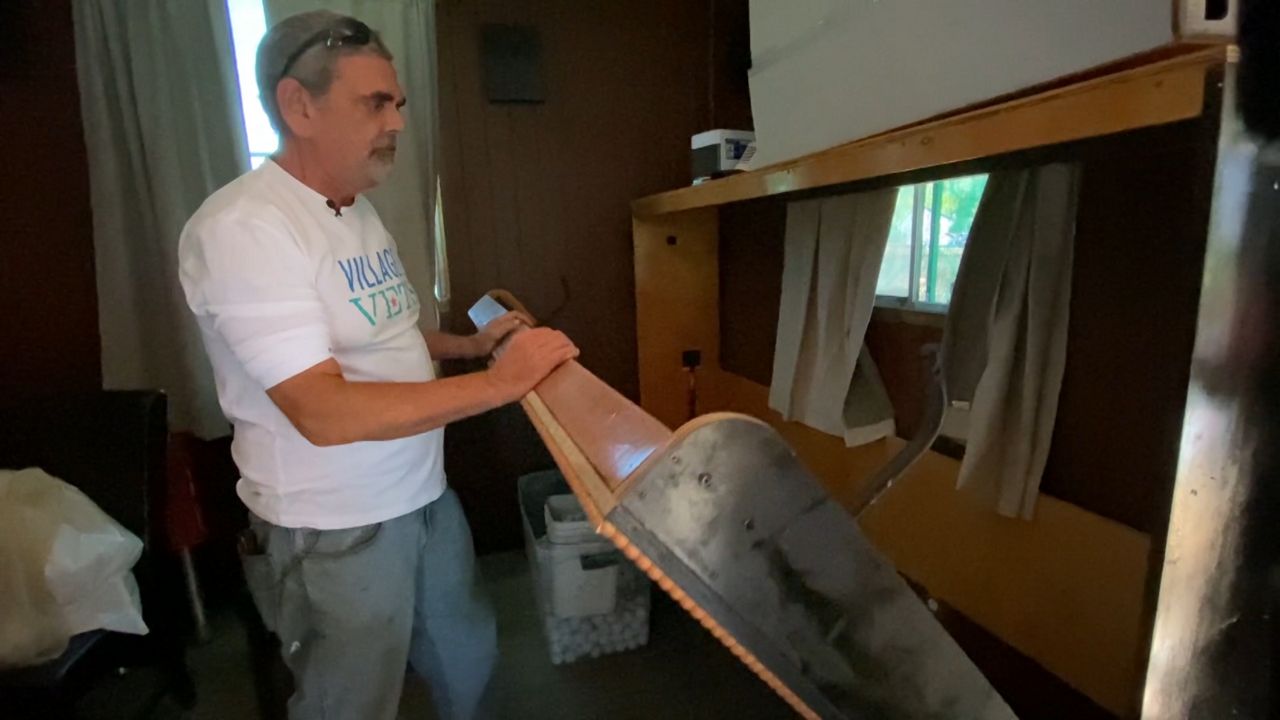 "This was my home for a year," he said looking around the small, dark space. "This was probably the low point of my life."
But the job gave him opportunities to turn things around. He crafted beautiful tables for the clubhouse, works of art using newly acquired skills.
"Online!" Merkel laughed. "YouTube!"
He saved his money and eventually got an apartment, closing the book on a painful chapter in his life.
"And that's it," he said, stepping over the threshold and back outside. "Farewell, shed."
The nonprofit Village for Vets, which serves 6,000 meals a month to veterans in the Safe Parking program, also helped him furnish his apartment when it was finally time to move on.
"I got a couch and a table and some pictures to put on the wall," Merkel said, "I have my own place now that I can say 'I've got to go home.' It wouldn't have been possible without them."
Which is why he's participating in a fundraiser for Village for Vets. Each donor received or sponsored an art kit — paint, brushes and an outlined canvas created by Nick Spano who describes himself as a community artist.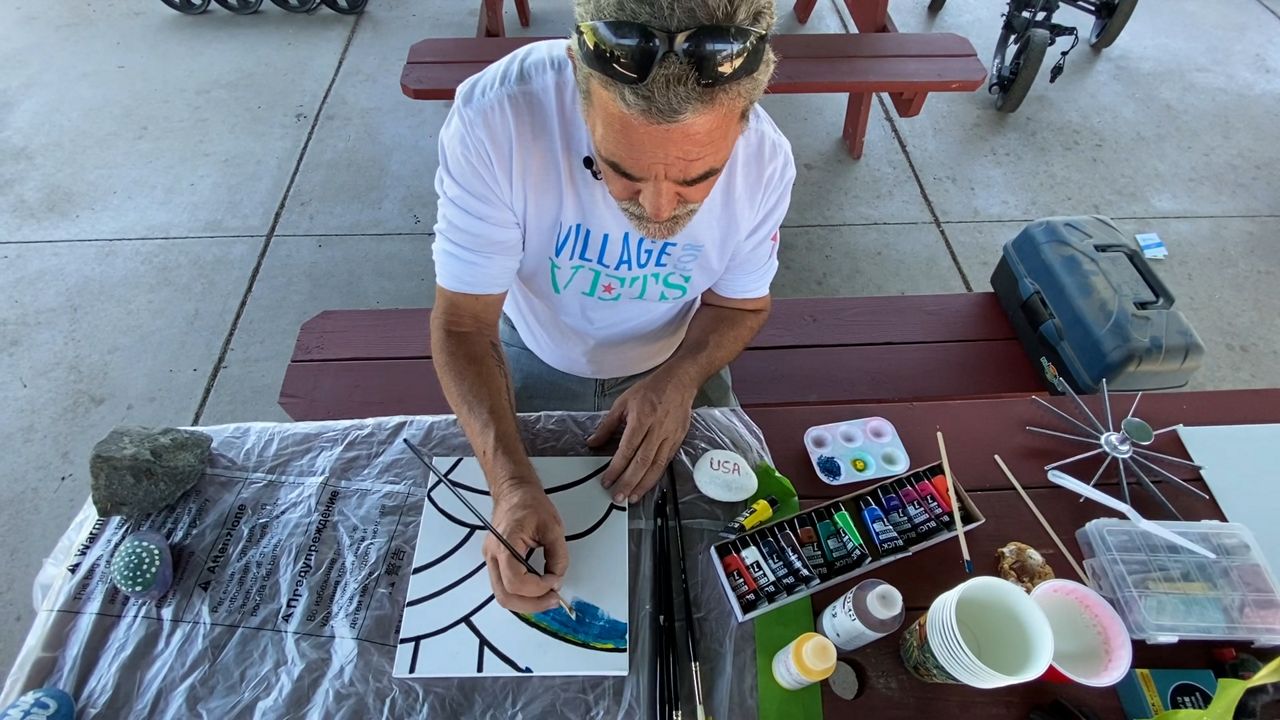 "I like to curate events that bring people together through art and music," he explained. "If my art was any one thing, it's people."
Each of the 50 canvases, about half of which were painted by veterans, comes with lines, but beyond that, no rules.
"In life in general we're always creating within a box," Spano said, "but the key is to not let that box define you."
Once the 50 finished canvases return to him, Spano assembles them into one large mural, making a few touch-ups to bring out the original design — in this case a mandala — while honoring each artist's vision. On Memorial Day, this mural will be hung in Building 209 on the VA campus, a building that houses units for veterans experiencing chronic homelessness and mental health issues.
"We're all part of one big picture whether we know it or not and this is a great reminder that we're all connected in some way," Spano said. "So there it is. Everyone's little 'co/creation'."
In fact, the creation is anything but little. Aside from creating one large piece of art, the fundraiser brought in over $11,000 to provide meals and emergency support for local veterans.
For Merkel, his contribution is a way to say thank you to the organization that helped him climb out from that lowest point.
"There's a lot of veterans that are desperately in need of housing," he said. "When they see the mural they will know that there is gratitude."
It's also a reminder that they remain a vital part of something bigger.
If you'd like to support Village for Vets and the work they do, visit villageforvets.org/donate.