Near the birthplace of Los Angeles, artist Joel Garcia looked at a space where the statue of Junipero Serra stood for decades.
"It's become a symbol of contention primarily around 2015, when Serra was being campaigned for as a saint," Garcia said.
Serra established California's mission system, but in recent history, indigenous groups have denounced his colonization and treatment of those he claimed to convert. Back in June 2020, Garcia, who has indigenous roots, was among the cultural organizers that helped tear down the monument.
"When we leave these voids and don't fill those voids with like good stuff, then it just festers," Garcia said. "I feel responsible, following through with how this space gets used."
He was one of four artists commissioned by Oxy Arts to create original augmented reality pieces that could be viewed safely outdoors.
"So, not just creating another bronze and cement statue, but thinking about a totally different way to talk and think about monuments," said Frankie Fleming, Manager of Education and Community Engagement at Oxy Arts.
"It's an oak sapling that is growing toward the stars and by bringing the stars a little closer to Earth. I'm also trying to reframe how we look at time and history," Garcia said as he described the images showing up on his phone.
His project also includes a chant from one of the Tongva's tribal members.
"LA's first people, the Tongva, the Tataviam, the Chumash, can consider themselves seen, understood, and in many ways also healed from some of these things that are occurring," Garcia said.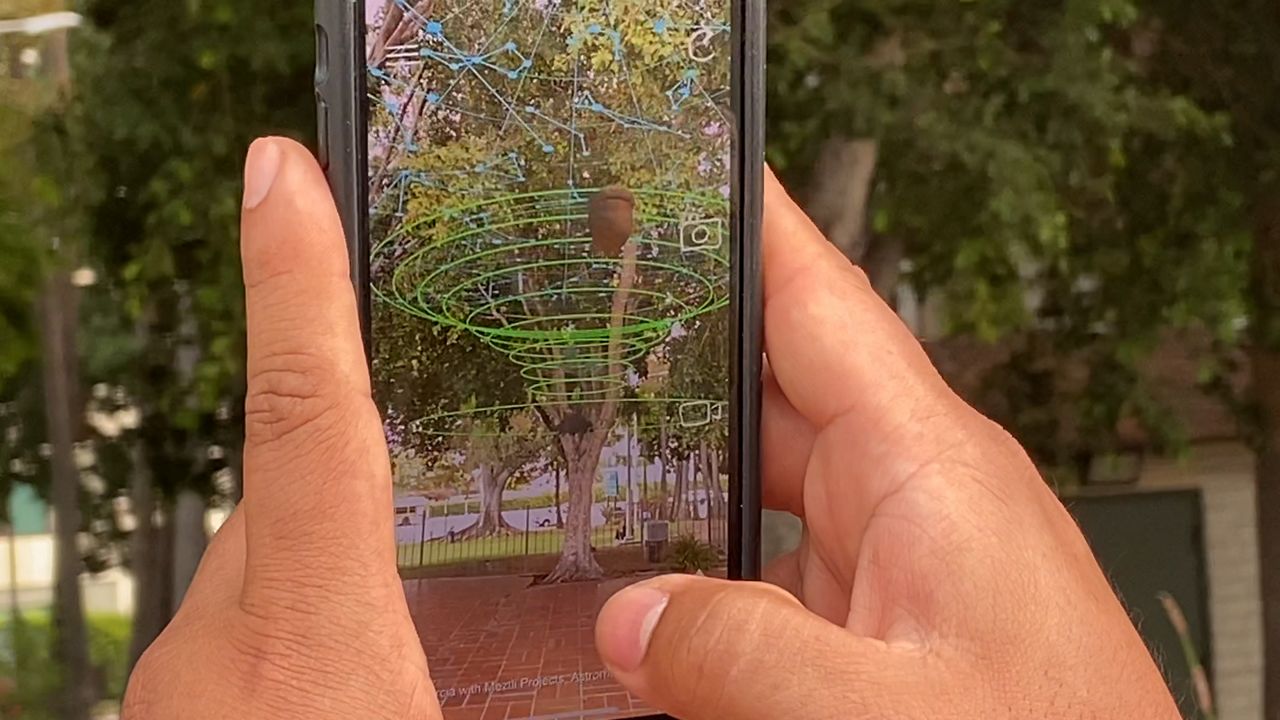 Nancy Baker Cahill is another of the artists involved in the project and the creator the 4th Wall app, which is how the public can view these pieces.
"We put them in specific places and lock them in there using geolocation, where the artworks have added resonance and impact," Cahill said.
Her piece entitled, "Motherboard" is located across from City Hall and expresses how we all need to care for each other.

"This piece actually has a human spine at its center but fanning out from that human spine are these kind of networked root arterial systems," Cahill said.
QR codes at each of the locations invite visitors to scan them to download the app and view the art.
"It's really fun to see the artworks. It's kind of like Pokemon Go," Fleming said. "You're holding your phone up. You're kind of hunting for them. The four projects are across the city, so it's kind of a scavenger hunt."
"It democratizes this idea of monuments that are erected by cities and government entities into the public hands," Garcia said.
It's a kind of hidden social commentary, using the city as a canvas to create art that's timeless.
"It'll last longer than concrete and metal," Garcia said.