MILWAUKEE — A new exclusive Spectrum News/Siena College Poll released Thursday shows the two biggest statewide races on the ballot are still neck-and-neck in the week leading up to the election.
In the race for governor, incumbent Tony Evers has a two-point edge over Republican Tim Michels. The results showed that among likely voters, 47% favored Evers, while 45% backed Michels. However, the poll has an overall margin of error of +/- 4.8%, which means the race is statistically tied.
Five days out from the Midterms, not much has changed since Spectrum News last polled Wisconsinites in September, but some of the top races have become even closer.
Evers, who previously led by five points, now has less breathing room, and he is not the only Democrat on the ballot facing similar circumstances.
In the race for U.S. Senate, the lead has flipped and incumbent Sen. Ron Johnson is now on top as 47% favor him, compared to 45% who support Democrat Lt. Gov. Mandela Barnes. Previously, Barnes led by one percentage point in September.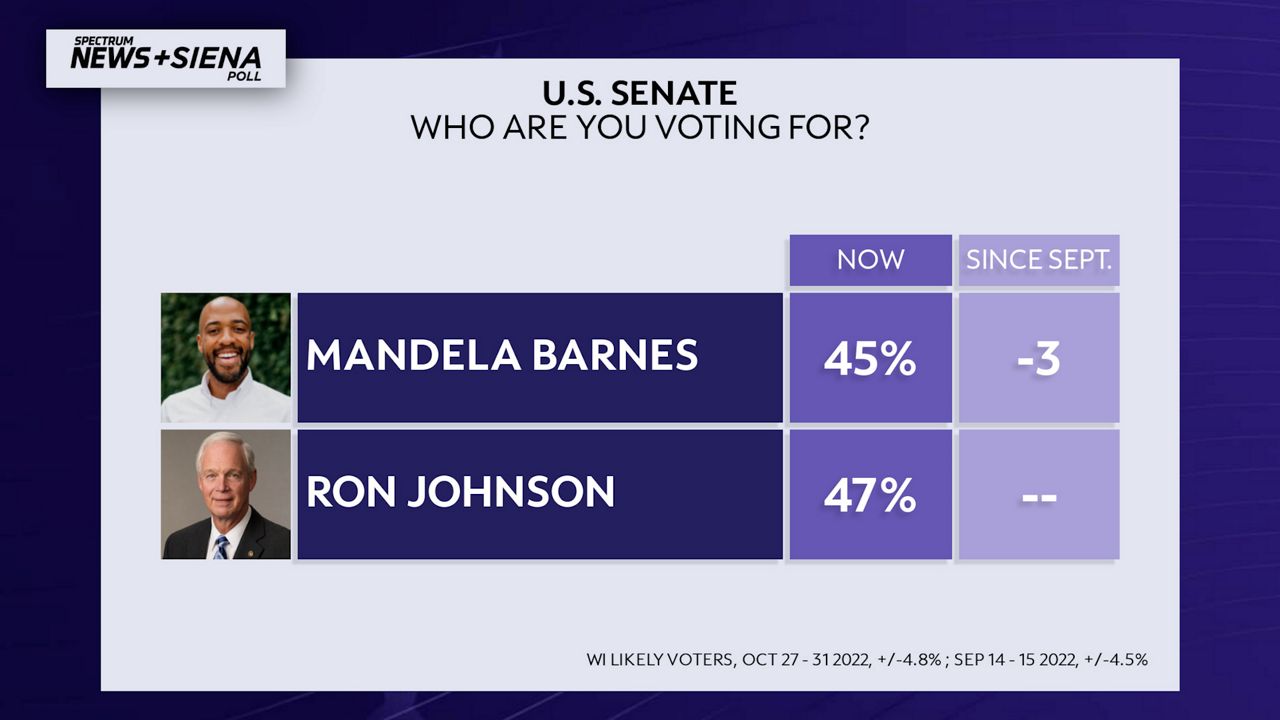 Siena College Research Institute Director Don Levy said while the numbers have not shifted significantly over the last month, the momentum for Republicans has.
"The movement has been from [Democrat] to [Republican]," Levy explained. "Both of them are still razor-thin. Both of them are well within the margin of error."
Part of the reason for a change in enthusiasm might have to do with likely voters feeling differently about the candidates as they become more familiar with their stances.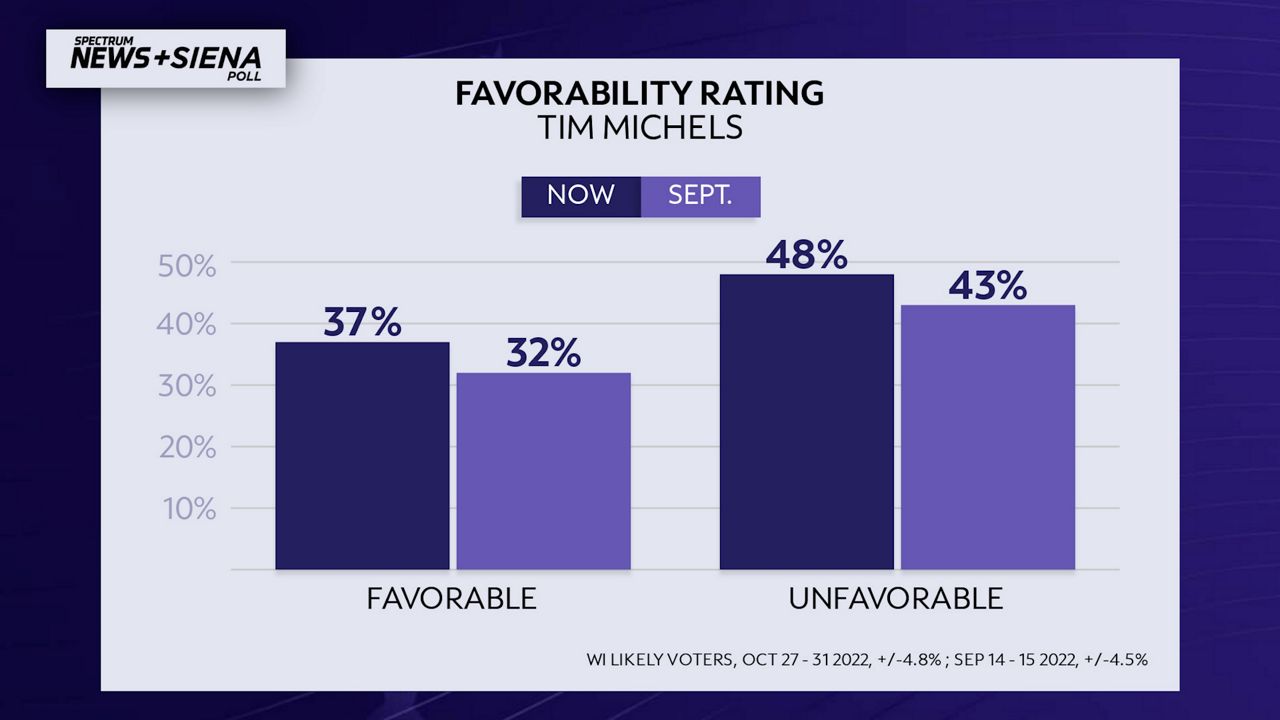 "We do see some subtle movement away from Gov. Evers," Levy said. "On the Michels side of the equation, certainly he has become more well-known to voters."
Michels' favorability was and still is underwater, but slightly more people have a positive opinion of him than they did in September.
At the same time, opinions of Gov. Evers have dipped to a point where more likely voters have a negative view of him than a favorable one.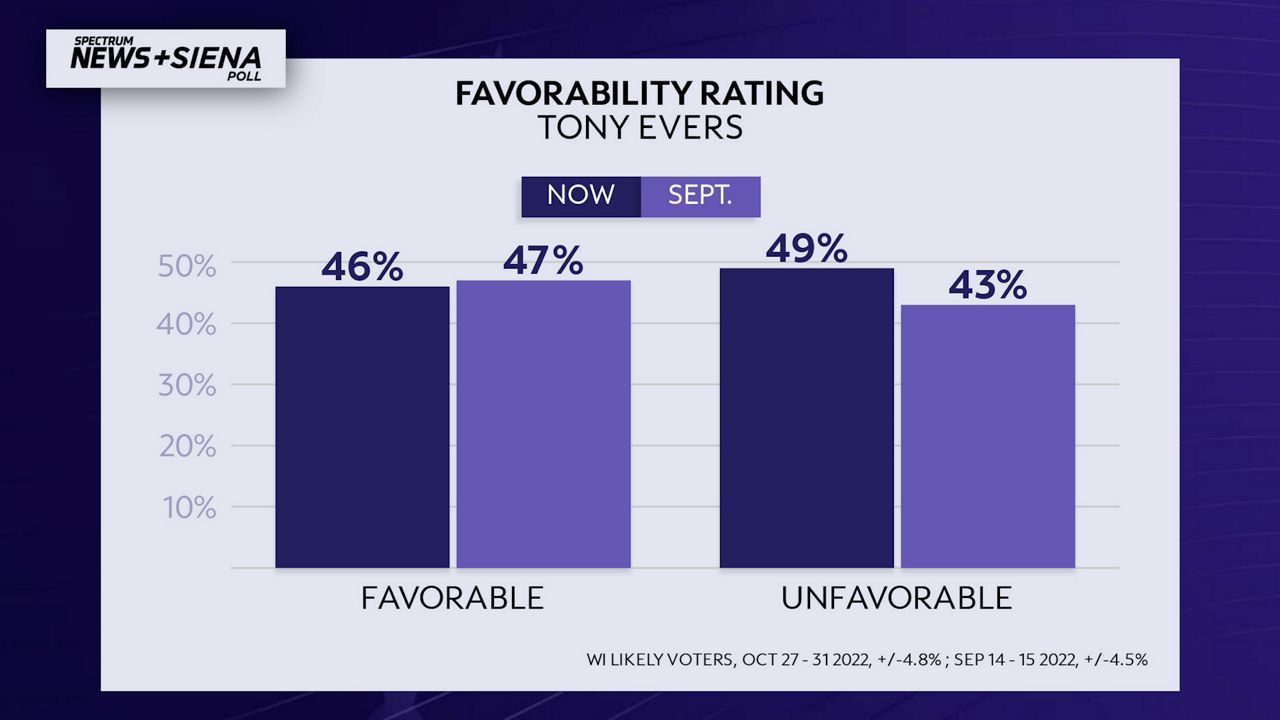 Even so, Levy does not expect that to change how Democrats vote.
"Voters are shaping up to, by and large, vote party-line, so it comes down to who is going to drive that turnout," Levy explained. "Who is going to get those last couple of rare breed of voters, the undecided, to lean their way?"
Evers holds an advantage among young people and women, however, if those voters do not turnout at the polls, that works in Michels' favor with Republicans generally more enthusiastic about voting.
Unsurprisingly, turnout will once again make all the difference on Election Day. Wisconsin's last two presidential elections were decided by roughly 20,000 votes, which is why every ballot cast matters.