COLUMBUS, Ohio — Giving the eulogy Tuesday for a Columbus resident fatally shot by Columbus police officer Adam Coy, Rev. Al Sharpton mourned the loss of 47-year-old Andre Maurice Hill and delivered the message to local officials, including the mayor seated in front of him, that the firing of Coy is not enough: Hill's family and the community demand criminal charges.
"I salute what was done in terms of firing this policeman. I salute it, but I'm not satisfied. The firing of this policeman is a personnel decision, that is not a legal decision," Sharpton said. "If anyone in this church walked out of this church and unjustifiably killed somebody, we would not go to their job and get them fired, we would go to the court and get them prosecuted."
Coy was fired Monday, one week after his body camera captured him shooting Hill, an unarmed Black man who did not commit any crime, officials said.
At the First Church of God, family, officials, and friends gathered for a private service where they grieved the loss of Hill, who relatives described as a family man with a smile that lit up the room.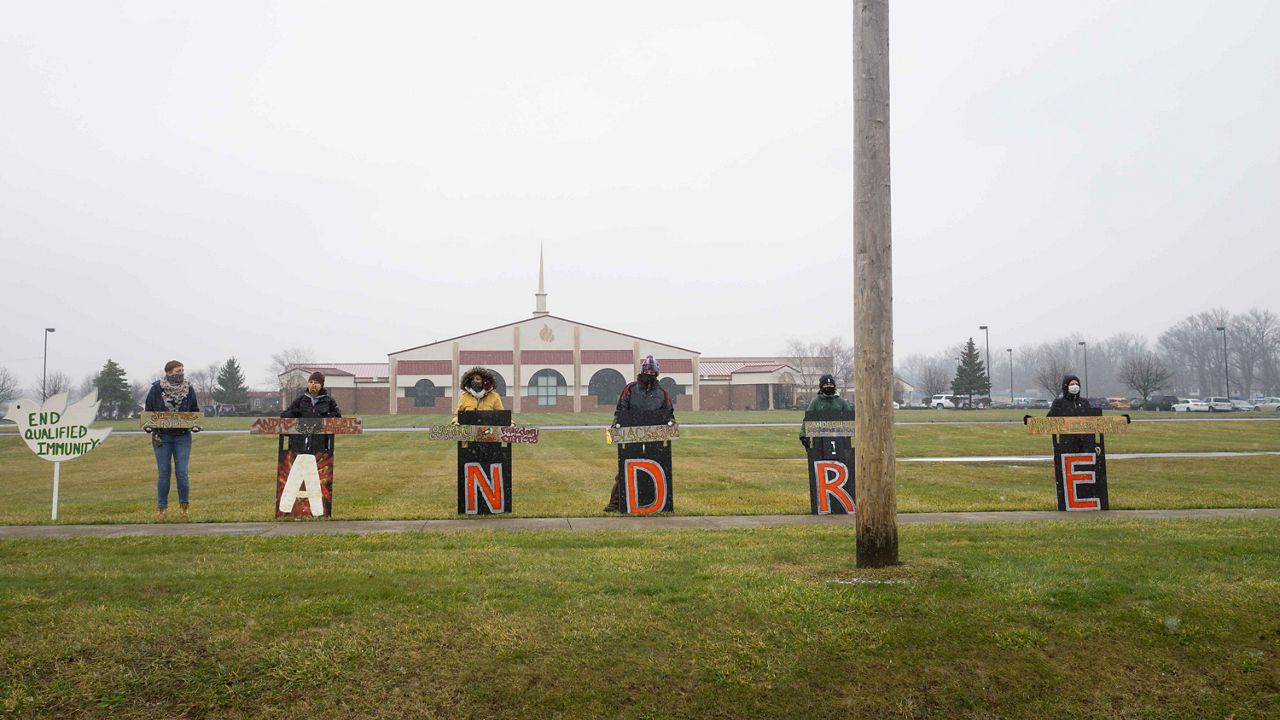 Hill's 27-year-old daughter Karissa Hill said her dad was her main support and her best friend. Karissa and her three children shared a home with her father, and he was helping to raise the children. Her dad, who was wearing a Black Lives Matter T-Shirt when he was shot, was teaching her about Black Lives Matter.
"We had a special bond that nobody understood it," Hill said. "Some of this is still unbelievable. Sometimes I think he's at work and coming home any minute. It's just very sudden and there's a void in my heart that I'll never get back."
She said her grandchildren inherited his smile, calling it "a gift that will keep right on giving" as they grow up. Hill's family said Tuesday it will be impossible to explain to the children what happened to their grandfather. And for the officer responsible, they said they want criminal charges.
Sharpton said when he learned about the tragedy from his friend, national civil rights attorney Ben Crump, who represents Hill's family, he wondered to God how there could be another Black man called by police.
"I said 'God, Why does this keep happening?' I went on about my day and later I got an answer from God. God said, 'You asked me why it keeps happening.' Al, I was going to ask you the same thing."
The reverend said legislators should push for justice in Hill's name. Crump has proposed advocacy for "Andre's Law," a rule that if an officer does not turn on a body camera and uses lethal force, they will face termination and arrest.
"I know what you can do with Andre's law. Go in to the legislative hall and accept no excuses," Sharpton said. Then he gave a message to Coy: "We put a body camera on you. When you cut it off, you cut off all your excuses. Now stand up and defend your actions."
Shawna Barnett, Hill's older sister, said her brother was the life of the party and could have been a comedian with his sense of humor and storytelling.
"'Funeral' and 'Andre' should not be in the same sentence. They don't go together. He was taken away from us way to soon," she said.
Hill's other sister, Michelle Hairston, read a Columbus police mission statement to ensure public safety with "respect, dignity and fairness," a mission she says was discarded in the police response that led to her brother's death.
Coy responded to a non-emergency call from a neighbor of a car starting and turning off in the middle of the night on Dec. 22. Arriving in separate cars with a fellow officer, Amy Detweiler, Coy instructed Hill to exit a dark garage, according to Detweiler, who told investigators she and Coy were concerned Hill was an intruder.
Mayor Andrew Ginther and other officials have confirmed Hill was an expected guest who committed no crimes.
The police department began the process to terminate Coy after Ginther called for "immediate termination" in the aftermath of the shooting.
Ginther said the video of the aftermath of the shooting was horrifying – particularly how long it took for officers to administer aid to Hill.
At the beginning of the service, the funeral attended gave the mayor applause for his role in Coy's termination.
Detweiler's body camera captured an interaction with a woman in the minutes after the shooting.
The woman said Hill was there to drop off Christmas money. "He didn't do anything," she said.
While Detweiler said the situation concerned her, she never saw a weapon in Hill's hand or felt threatened. Coy's body-worn camera footage shows he fired shots as Hill held a cell phone in the air. Before shooting, Coy said, "There's a gun in his other hand, there's a gun in his other hand," according to Detweiler. According to Crump, Hill was shot four times.
Coy had been previously put on performance improvement plans after other incidents in his 19-year career, including a time when the city paid a $45,000 settlement concerning his use of force during an arrest. In his termination of Coy, the chief said the former officer had been given enough second chances.
Body-worn camera video showed that Hill went more than five minutes without any medical attention from Coy, Detweiler, or any of the other officers who converged on the scene. Video released Thursday captures an officer asking if anyone had begun rendering aid — only then did Hill begin receiving chest compressions.
Hill's brother, Alvin Williams, said the community could play a role in addressing racist policing.
"The officers with their personal issues, we have to teach them. We have to teach them and we have to try to understand them also," he said.
Coy's termination last week followed a disciplinary hearing that the former officer did not attend. His attorney, Mark Collins, told Spectrum News he skipped the hearing because his termination was already predecided by the city. Collins said he hopes his client gets a fair chance in the investigation by the Bureau of Criminal Investigation. That investigation will determine if Coy could face further repercussions beyond losing employment.
This was the second fatal police shooting of a Black man in Columbus in December.
Sharpton said when national figures like him and Crump come to town in a situation like this, their critics call them "troublemakers" for stirring unrest.
"We didn't come to cause trouble. We come to stop trouble. When you're killing Black men unarmed right before Christmas — doing a friend a favor — that's trouble."