COLUMBUS, Ohio — Andre Hill, 47, was wearing a Black Lives Matter T-shirt when he was fatally shot by former Columbus police Officer Adam Coy, the Hill family's attorney said Thursday.
Coy was fired Monday, one week after his body camera captured him shooting Hill, an unarmed Black man who did not commit any crime, officials said.
"The fact that he had a T-shirt on under his sweater that said 'Black Lives Matter' and 'Justice for George Floyd' is so ironic when you put it all in context," said national civil rights attorney Ben Crump, who represents Hill's family.
Crump shared that detail at a Thursday press conference that followed the release earlier that morning of a large folder of body-worn camera footage from numerous responding officers, as well as audio of the second responding officer's 20-minute interview with investigators.
Officer Amy Detweiler responded with Coy to a non-emergency call from a neighbor of a car starting and turning off in the middle of the night on Dec. 22. Coy instructed Hill to exit a dark garage, according to Detweiler. She told investigators she and Coy, whom she has worked with extensively, felt they needed to figure out if he was an intruder.
"Everything was— it was weird. He didn't speak. He wasn't communicating," Detweiler said. "The hair on my neck was standing up; it was giving me an indication that he doesn't live here—we need to figure out who he is and why he's here."
While Detweiler said the situation concerned her, she never saw a weapon in Hill's hand or felt threatened. Coy's body-worn camera footage shows he fired shots as Hill held a cell phone in the air that was open to his text messages. That phone remains in the possession of authorities, Crump said. Before shooting, Coy said, "There's a gun in his other hand, there's a gun in his other hand," according to Detweiler.
Columbus Division of Police Chief Thomas Quinlan said Thursday that authorities will complete a full investigation of the case.
"Andre Hill should be alive today. A Columbus Police Officer is responsible for his death. I cannot defend it. I cannot make it right, but I will do what is in my power," Quinlan said.
Coy had been previously put on performance improvement plans after other incidents in his 19-year career, including a time when the city paid a $45,000 settlement concerning his use of force during an arrest. In his termination of Coy, the chief said the former officer had been given enough second chances.
"Officer Coy has been counseled, trained and mentored perhaps more than any other officer on use of audio and video recording equipment, use of force policy and expectation, and been subject to performance improvement plans," Quinlan said.
During the family's news conference, Hill's 27-year-old daughter Karrissa Hill said her dad was passionate about racial justice issues and taught her about the history of racist policing.
"He was teaching me about how corrupt our justice system is. He was teaching me about Black Lives Matter," she said. "My dad was really opening up my mind because that's what he believed."
She called the entire situation "disgusting." Karrissa said her dad had always been determined to provide for their family, working hard and excelling in fast food jobs, and being a great grandfather. Karissa and her three children shared a home with her father and he was helping to raise the children, she said.
"I'm only 27 years old. My son's only six years old. We have to go the rest of our lives without him, and that's hard to think about. It's unbearable — all because of this state and who they hired," she said.
Columbus should rally peacefully for justice in Hill's name, just as Hill would have done if this had happened to someone else, Crump said.
"Where is the humanity for Andre Hill? Where is the humanity for this Columbus citizen who had committed no crime, had no weapon, was unarmed only holding a cell phone," Crump said. "Where's the humanity for this citizen, for this father, this grandfather, this brother. It was a 311 non-emergency, non-criminal call for a loud car."
Body-worn camera video showed that Hill went more than five minutes without any medical attention from Coy, Detweiler or any of the other officers who converged on the scene. Video released Thursday captures an officer asking if anyone had began rendering aid — only then did Hill begin receiving chest compressions.
"You see on the video they handcuff a dying man who was unarmed, who they shot multiple times for a non-emergency 311 call," Crump said. "And what is his crime? What is his crime? Why are they handcuffing him?"
Detweiler's hunch that Hill might have been an intruder did not bear out to be the case: Mayor Andrew Ginther and other officials have confirmed Hill was an expected guest who committed no crimes.
Detweiler's body-camera captured an interaction with a woman in the minutes after the shooting.
The woman said Hill was there to drop off Christmas money. "He didn't do anything," she said.
Hill's family preferred not to talk about what Hill was doing when he was killed. Crump said he was visiting a family friend, and that is all they would share.
"That's what the family knows: He was visiting a family friend. They don't know any more than that," Crump said.
Shawna Barnett, Hill's older sister, said it is no time to be asking questions about what Hill was doing.
"Everybody seems so concerned about the person he's visiting. I'm only concerned about getting justice for our brother. Nobody cares about any of that stuff that had nothing to do with that police officer shooting that gun at my brother. So please stop asking questions about anything other than getting justice for my brother," she said.
Barnett said Coy should feel sick for fatally shooting Hill.

"How can you sleep at night knowing that you did this and left him there?" she said.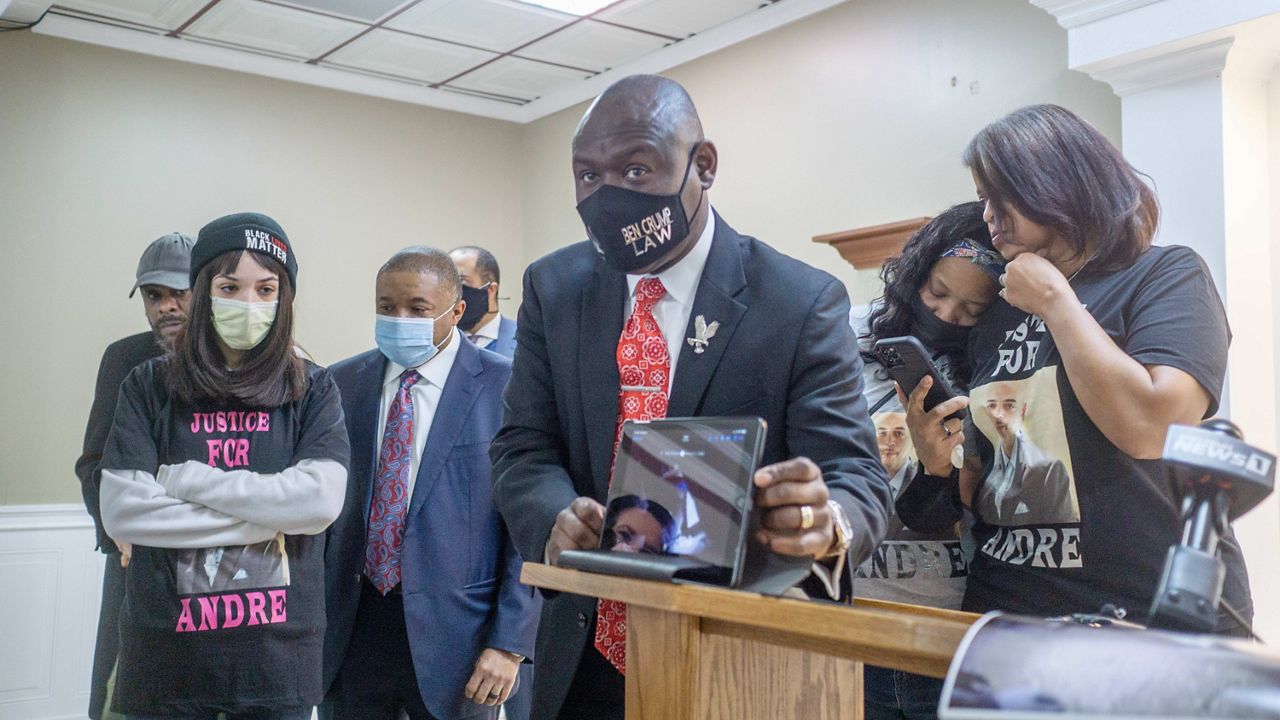 Crump said Hill's family appreciates the demonstrators who are speaking out in freezing, snowy weather.
Coy's termination followed a disciplinary hearing Monday morning that the former officer did not attend. His attorney, Mark Collins, told Spectrum News he skipped the hearing because his termination was already predecided by the city. Collins said he hopes his client gets a fair chance in the investigation by the Bureau of Criminal Investigation. That investigation will determine if Coy could face further repercussions beyond losing employment.
The police department began the process to terminate Coy after Ginther called for "immediate termination" in the aftermath of the shooting.
Crump said he hopes Ginther will be an ally in the family's mission to see Coy serve time behind bars.
"The mayor has tried to demonstrate leadership, and we hope to see that his actions will match his words," Crump said.
In a statement Thursday after the video release, Ginther said he remains "horrified" by the tragedy and how long it took for officers to administer aid to Hill.
"Our officers are trained to provide potentially life-saving care, and at the very least, comfort in these situations. One of the Division of Police's core values is compassion. None of this was evident in the video released today," Ginther said, explaining he is calling for an investigation of several officers in addition to Coy. "The family and the community deserves answers."
Hill's family said Thursday that justice would mean a conviction resulting in Coy's incarceration on charges for the improper use of force. Coy showed no care for Hill's life, they said.
"He didn't say 'stop.' He didn't say 'freeze.' He didn't say, 'Put your hands up.' He didn't give Andre Hill a chance," Crump said
The Franklin County Coroner released the results of a preliminary autopsy Monday morning, which said Hill's cause of death was multiple gunshot wounds. A full report was expected in 12 to 14 weeks. According to Crump, Hill was shot four times.
This was the second fatal police shooting of a Black man in Columbus in December.
Hill's other sister, Michelle Hairston, said her brother was treated like a target.
"He was preyed upon. He wasn't given any kind of chances," she said. "He layed there dying on a cold winter night on the garage floor. That is not the way you want to see your loved one go."
Hill's brother, Alvin Williams, asked why nothing ever seems to change.
"I want to know: How much longer do Black lives, Black people have to keep waiting for change? There's nothing that has changed from decades to centuries," he said.
To the police, Williams has a message:
"Not only for Columbus, Ohio, I'm saying this for all the police forces across this land — your hunting season is over."
Karrissa said it is a tragedy Black people like her don't feel safe in Columbus and that it feels like you can't even make a non-emergency call for help without endangering someone's life.
"I don't feel safe in Columbus. The community doesn't feel safe in Columbus. Can't even call 911, non-emergency, you might get killed, you might get somebody else killed, and it's just disgusting how they did my dad," she said. "I've got to memorize my dad on the floor for the rest of my life and how nobody helped him."