LOS ANGELES — The word odyssey means a long journey full of adventures. And Ron Sossi's life in the theater has certainly been an odyssey.
Sossi came to Los Angeles to be a film director, but that didn't go as planned, so he turned to the stage.
"They wouldn't let me direct what I want to direct in film," he remembered, "then I'll do it in the theater."
TThat was 52 years ago, and in that time, the company has put up hundreds of productions in three different locations. Their first home was on Hollywood Boulevard — "What I called the seedy end of Hollywood Boulevard!" Sossi said.
Remnants of those early days can be found in every corner of their current facility on Sepulveda, where they've been since 1987. A poster from their first production of "Three Penny Opera" lists the ticket price as $4.75 — even less for students — and the phone number has no area code. It's more than memorabilia.
"I'm a time capsule," Sossi said with a laugh.
Longevity seems to be the name of the game at The Odyssey. Sossi has been here since day one in 1969. His associate artistic director Beth Hogan has been by his side since the mid-'70s. The pandemic disrupted their official anniversary season, which forced them to close their doors immediately after opening the production of "The Serpent."
Nineteen months later, they are picking up where they left off, which also happens to be where they started. "The Serpent," by Jean-Claude van Itallie, was one of the shows they did in their very first season.
That was its West Coast premiere, and Sossi directed it. Approaching it again 50 years later was admittedly a very different experience.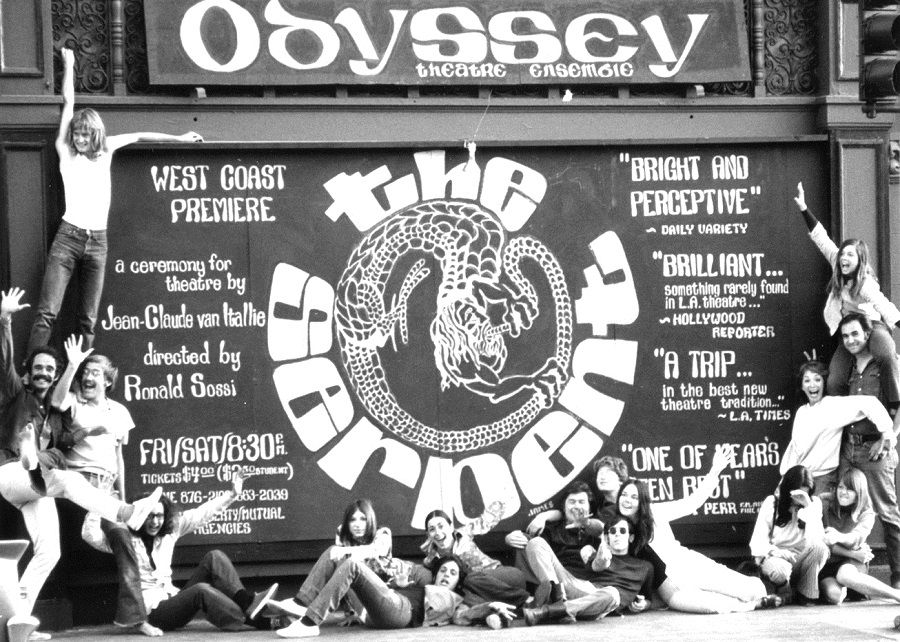 "When I directed it originally we were all a bunch of hippies!" he laughed. He said the show is very emblematic of this style of ensemble theater that emerged in the '60s and is rarely seen today. But that doesn't make it less relevant.
"Though it came out of the '60s, and is very characteristic of the '60s," he said, "it isn't really dated in sense of its substance."
AAlthough he did make one change, a pivotal scene depicts the assassination of President John F. Kennedy. Sossi wasn't sure that incident would resonate as deeply with a younger audience, so he added some contemporary references; 9/11, Breonna Taylor and George Floyd.
"That's the only change we made," he explained.
Fifty-two years is a long time to do anything. But Sossi isn't done. Each production is a new experience, he said. The building and some actors might be the same, but the work is always different.
"It's not the same at all," he said. "It's a brand-new world. It's a brand-new adventure."
But all part of the odyssey he started more than half a century ago.