One in three Wisconsin police departments cut their number of sworn officers in 2019, according to a recent analysis from the nonpartisan, independent Wisconsin Policy Forum.
The report titled "Some Cuts to Police Predate Calls for Defunding" released in August looked at police budget data from 2018 and 2019, which is the most recent available.
According to the analysis, roughly one-third of local governments in the Badger State shrank their police and fire department budgets in communities of all sizes.
While the Black Lives Matter movement has been around since 2013, the data used in this analysis was before the murder of George Floyd in late May 2020, after which police budgets have been under much more scrutiny.
Police budgets make up a bigger chunk of municipal spending than they used to.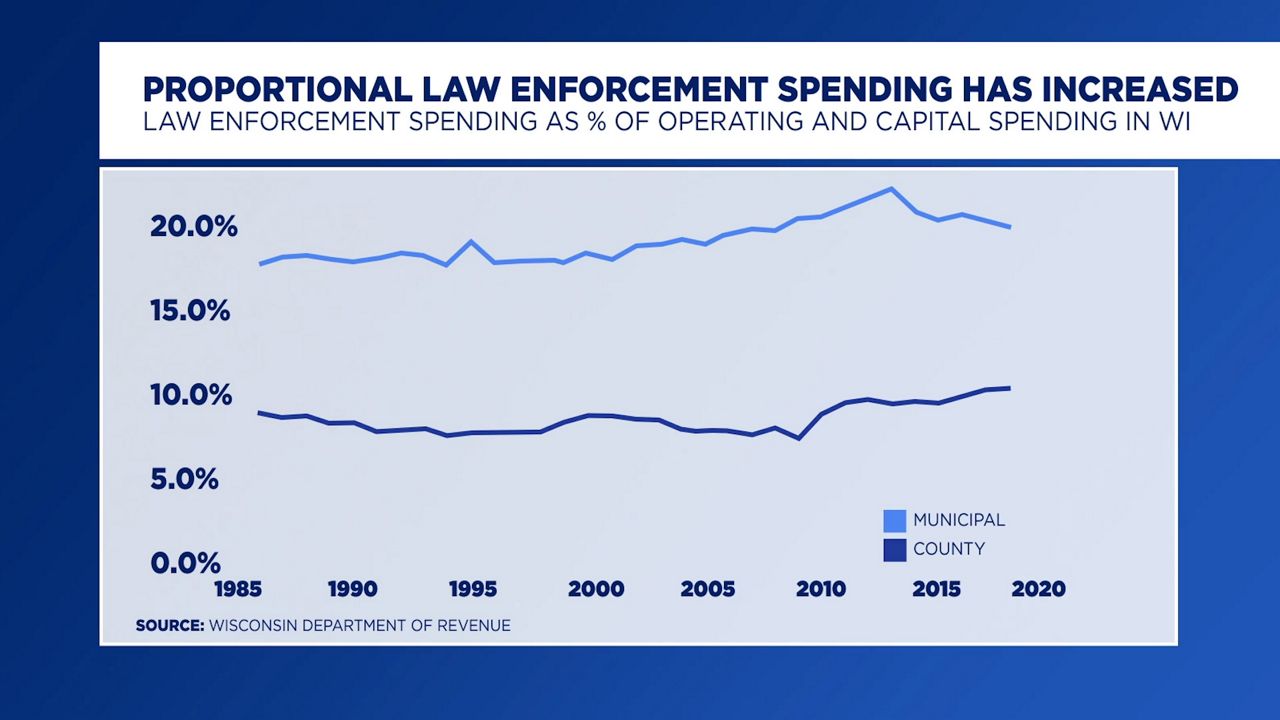 In fact, the share has grown since the 1990s and peaked in 2013, however, a bigger share doesn't necessarily mean more spending. Oftentimes, towns and cities have to cut other priorities to keep spending what they do on police and fire, so naturally, departments are getting a bigger piece of the pie than in the past.
From 2018 to 2019, spending on all law enforcement activities did increase by 1.3%, according to the report. However, figures from that same time span also show more than 250 municipalities in Wisconsin decreased their police spending despite economic growth.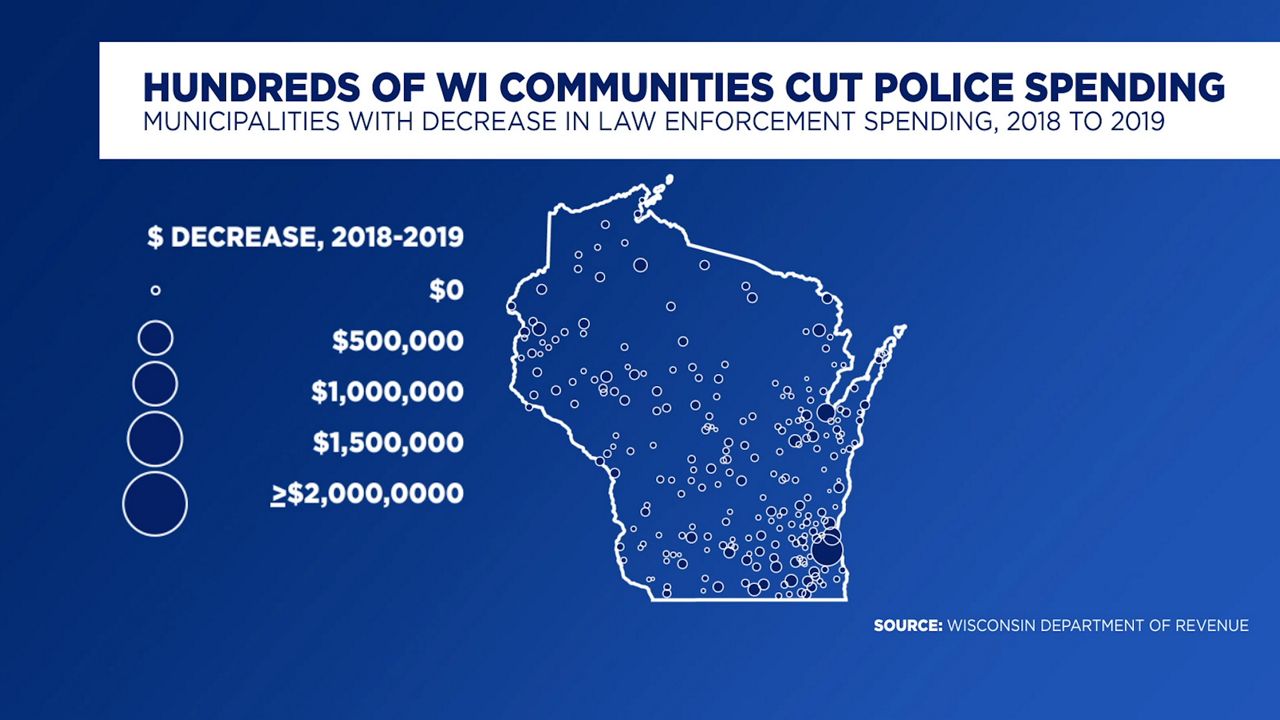 Wisconsin Policy Forum Research Director Jason Stein said the reasons for scaling back budgets can vary.
"Some of that may be, you know an actual change in what their long-term commitment is to law enforcement, as a financial priority, and in certain other cases, it may be more just the normal ebb and flow of what is happening in that community," Stein said. "What their needs are, what their priorities of the moment are."
During that same two-year span, all but 10 of Wisconsin's 72 counties had at least one municipality cut its police budget in 2019.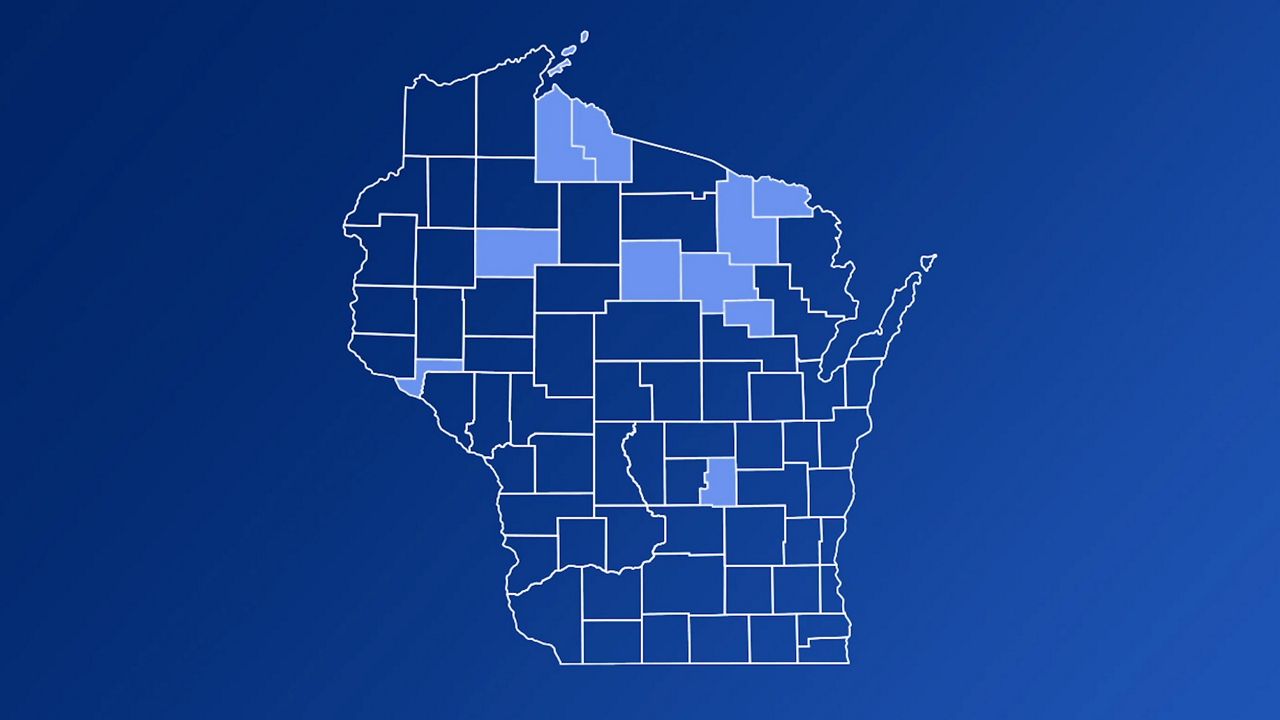 Those counties include Ashland, Florence, Forest, Green Lake, Iron, Langlade, Lincoln, Menominee, Pepin, and Rusk.
Budgets are tight and money doesn't go as far as it used to.
When departments cut officers, in many instances, overall spending doesn't change as much as you might think it would. Often, that's because pension and salary increases generally offset the savings.
"In other words, it's not a situation where the funding for the department has been cut in any significant way, but because, you know the costs are rising so much, that money is no longer able to afford the same number of officers that it once did," Stein explained.
Wisconsin Policy Forum Researcher Ari Brown also pointed to property tax levy limits, and stagnant shared revenue aid from the state, as reasons for such tight budgets constraints.
"Since 2011, for the last decade, municipalities have been under these very kind of tight levy limit restrictions where they can only raise property taxes in their municipality by the rate of net new construction in their community, so essentially the property value from new construction divided by the total property value in the municipality," Brown said.
You may remember, a recent bill (Senate Bill 119) vetoed by Gov. Tony Evers would have essentially penalized municipalities that decreased police spending or cut positions by reducing the amount of state aid they get. There were exceptions, however, and limits based on the number of people a department employs.
That measure was largely in response to the then-growing "Defund the Police" movement, but based on the findings of the Wisconsin Policy Forum's analysis, communities across Wisconsin were already reducing budgets or cutting staff.
The reasons for doing so, in many cases, had more to do with finance than social justice movements calling for reform.