MILWAUKEE — Had a few things gone differently, Milwaukee Brewers' prospect Thomas Dillard could have lost his life after a freak accident during a summer football practice in high school.
But today he is back playing baseball, pursuing his professional dream with the Wisconsin Timber Rattlers, the Milwaukee Brewers' high Class A team in Appleton.
Following is what will be an occasional question and answer profile of one of the Brewers' young prospects:
THOMAS DILLARD
Age: 23.
Residence: Greenwood, Miss.

Height/weight: 6-0, 230 lbs.

Bats/Throws: Switch/Right

College: University of Mississippi
Acquired: Selected by Milwaukee in the fifth round of the 2019 First-Year Player Draft, 163rd overall pick remove period

Miscellaneous:
Hit .249 in 55 games in 2019 between rookie league in Arizona and low-A Wisconsin.
Hit .246 for the Timber Rattlers with 6 homers and 24 RBI in 51 games.
In his final year at Mississippi, started all 68 games (62 in left field, six at catcher), hitting .310 with 14 home runs and 61 RBI.
Set single-season record with 61 walks and tied school record with 135 career walks.
Currently batting .179 with one homer and seven RBI for the Timber Rattlers.
FAVORITES
Favorite team growing up: St. Louis Cardinals
Favorite player: Joe Mauer (Minnesota Twins)
Job as a kid: I didn't really work too many jobs, with playing baseball all summer and then whatever sport was in season, whether it was basketball, football or soccer. But I always kind of enjoyed mowing the lawn for my dad, it was kind of fun.
TV show: I'm really big into Criminal Minds. It's easy just to turn it on and watch it, and I just recently finished all 15 seasons.
Movie: I like any movie in the Fast and Furious series. I know it's pretty corny, but I just think they're pretty exciting.
Musical artist: I'm a big country fan. Cody Johnson, he's a Texas country singer, he's one of my favorites; but honestly any type of country.
Walkup song: "Still Goin Down" by Morgan Wallen.

Q&A:
Q: So when you grow up in a state like Mississippi without and professional sports teams, how do you go about picking a favorite team and a favorite player?
A: It's kind of interesting, you kind of pick what your parents liked, what your grandparents liked. So I kind of hate to inform you, I was a (St. Louis) Cardinals fan growing up. So, that's kind of tough being a Brewers fan now. And just being a catcher and a left-handed hitter growing up, I always liked watching (Twins catcher) Joe Mauer play; just loved the way he went about it, his professionalism and everything. So probably not good, being a Cardinals fan and liking Joe Mauer.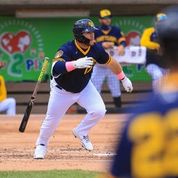 Q: Better state of Mississippi college quarterback: Eli Manning or Brett Favre?
A: Does the NFL career count in this, or just in college?
Q: This is just your opinion; you can factor in whatever you want.
A: I'm going to go Eli at Ole Miss and Brett Favre in the NFL.

Q: Well, that was a nice, diplomatic answer.
A: You've got to make every group happy.

Q: Can you think of one nice thing to say about Mississippi State?
A: I don't think I can.
Q: Most famous person you've met?
A: Mark McGwire maybe? That's the first thing that comes to my mind.
Q: Where did you meet him?
A: Actually, I got to be a bat boy for the Cardinals one spring training through Mike Matheny and Mark McGwire was their hitting coach at the time, so I got to meet him.

Q: How cool was that?
A: It was really cool. I played against (former St. Louis manager Mike Matheny's) son in a tournament, me and my home town. And I got to talking to him and he invited me out there, and (9-time Cardinals all-star catcher) Yadier Molina ended up giving me two of his bats, so it was pretty cool.

Q: Best advice you've received?
A: I think the Brewers do a great job with leading their players in the right way. I can't think of anything right off the top of my head but, honestly, anything from (Timber Rattlers manager) Matt Erickson is great. He is one of my favorite coaches that I've ever played for. It's easy to relate to him. He's a player's coach. He's been there before and knows how hard it is. But he does a great mix of giving you some crap, then leading you the right way. He'll make fun of you all day, but he's the first one in your corner. So, basically anything from coach Matty.

Q: What is your must have item in the refrigerator?
A: Ranch. That was a pretty easy answer.

Q: After COVID-19 halted the start of the season, how'd you spend your time last spring/summer before getting invited to the Brewers' Alternate Spring Training Site?
A: I think I played five or six rounds of golf a week. I live on a golf course in Oxford, Miss., and I just played as much golf as I possibly could. It was fun to get a little bit of taste of summer, because baseball always takes up the summer. Then, getting the call to Appleton was definitely a relief to get back to doing my job.
Q: What was the biggest benefit for you being at the Alternate Spring Training Site?
A: Just playing with a lot of the guys who have been there before. Jace Peterson was really instrumental in a lot of things that I learned there. Him just taking me under his wing and going golfing with him and random stuff like that. But he just taught me how to be a professional and stuff like that. And catching guys with that kind of stuff was really beneficial to me and just learning from those guys who have been there before, like I said, a lot of good guys there who were willing to tell you anything. I just tried to soak up as much as I could.

Q: So did you kind of feel like you were back in a classroom then?
A: I almost wanted to carry around a notebook on the field all the time and write everything down.

Q: Since you brought up golf, you won your age division at the Mississippi State Golf Championship when you were 7 and advanced to the U.S. Kids World Championship in Virginia. What happened to your golf career?
A: At that point, I kind of had to choose between baseball and golf because they were both very time consuming. I kind of think I picked the better one. I wish I could have seen if golf would have worked out, but, I think, picking baseball was the right decision.

Q: Let's talk about the injury. For those who are unaware, you're in a seven-on-seven summer football practice heading into your sophomore year in high school, you're playing linebacker and get an accidental knee to the stomach, causing your pancreas and small intestines to separate and spilling the contents into your body. As it turned out, having just a Powerade for breakfast and your dad deciding to take you to the hospital instead of taking you home to rest – because at the time, the thinking was you just had the wind knocked out of you – probably saved your life. Is that something you've ever stopped and thought about, or did you just put that in the rearview and keep going?
A: It's definitely something I've thought about. I think everything happens for a reason. It was definitely an instrumental moment in who I am and where I am today. There's definitely different things where you go back and think, 'Well, if that wouldn't have happen it could have been a really different situation.' But overall, I'm pretty grateful for that day. Everybody thinks it was a bad day in my history, but I think it molded me into who I am today and taught me about life.

Q: After you were initially discharged, you end making three emergency room visits in the first two weeks, your wound ruptures and opens back up and you develop pancreatitis. At this point did you ever think you'd participate in athletics again?
A: My mom always talks about it, I wake up from a four-hour surgery and the first thing out of my mouth was, 'I can't play football anymore.' I really didn't have any doubt that I would be back to playing baseball. I knew I was going to have to quit football and basketball, but with the support system that I had and the doctors that I had, I would get back to playing baseball. It was just a matter of time when.

Q: Can you put into words how much your dad meant to you during your recovery?
A: I don't think I could put into words what my dad means to me in my life. He's done everything. He's given up everything for me. During that recovery process he was by my side, making me protein shakes and things like that, doing whatever he could. And my mom, she was my wound-care specialist for a while because my dad would basically bust into tears every time he saw it, saw his little boy hurt. So he couldn't even be in the room and see my (9-inch) scar. My mom would have to pack my wound for me and clean it up and make sure it was OK. Both my parents couldn't have done a better job throughout that whole situation.

Q: How long did the entire recovery process take?
A: It took me about 5 months before I could do any sort of athletic activity. I remember late fall going out to our baseball field and lightly hitting baseballs off the tee. I remember asking my dad, 'Think you could throw me a few?' He said, 'Well, the doctor said you're not supposed to do that yet.' I said, 'Give me like five.' And he threw me a few and I had the biggest smile on my face, even though I couldn't even hit it out of the infield at that point because of all the weight that I lost. But it was just a feeling of, 'I'm back. I can do this.'
Q: So describe the feeling you had when you could once again walk on to baseball field, fully healthy?
A: It was kind of a surreal moment. Just doing something that I really love. It just felt right to get back out there. I actually had a custom shirt made. Evoshield made me a shirt that had to cover up my whole stomach because, for a while, my scar was still healing when I was playing, so I basically had a thigh pad from football that was flattened on my stomach, so that if a ball hit me there I would have some protection. But just getting back out there was an amazing feeling.
Q: You had a scholarship offer in hand from Ole Miss prior to the injury. What did it mean to you that they stuck by you throughout this entire process?
A: That just means the world. Because it was a very serious injury and there was a chance that I might not be able to play again. I was talking to a few schools and some of them wanted to see me play another summer. I remember the coaches from Ole Miss telling me, 'Hey look, if you can come do a winter workout at one of our camps this December and show us your healthy, we know what kind of player you are, so if you can show us you're healthy you can commit whenever you want.' So I went to the camp and committed within the same week.

Q: Doctors did clear you to play football again your senior of high school, but you decided not to play. Any regrets at all?
A: Oh, yeah. I have dreams about it all the time; probably about four times a week I'll have dreams of playing football. I transferred schools after I hurt my stomach and I went to Briarcrest (High School) in Memphis (Tenn.) and I went to summer workouts for football for about two weeks, playing outside linebacker, little slot receiver/tight end type thing. Then, me and my parents sat down and, kind of like, 'Is it worth it?' The chances of it getting hurt again were very slim, but it could have been fatal, and this is the second time, so … Football has been a huge part of my life. My grandpa played football at Ole Miss. My dad's favorite sport was football, but it was time to hang it up and do the smart thing.
Q: So you decided to join the bowling team that fall. I'm guessing that didn't quite fill the void, right?
A: It definitely took up some time because we would practice three times a week. One of my good friends at school that I bowled with, his name was Von Watson and played at Lipscomb University. Von was about 6-4 and 230 pounds of pure muscle. So when me and Von walked into the bowling alley, it was interesting because there's not too many big bowlers out there.

Q: In high school you got to play in the Under Armor All-Star game at Wrigley Field. Where did that rank on your list of thrilling things to do?
A: It was amazing. Obviously you know all the history there, but to go out there and to be able to participate in a game like that is a blessing. Me and my dad tried to go see every major league park before I graduated high school, but then baseball kind of took the place of that in the summer. But I got to go see Wrigley and it was just surreal. One of my best friends, Trey Kessinger, his grandpa (Don) played there for 15 years, Cubs hall of famer, so being there with him was awesome. For DK to get to go back there and watch us play was awesome.

Q: Buy anything special with your signing bonus?
A: I didn't really. I bought a car, which I'll probably have for the next 10 years. But nothing special, bought some golf clubs, but tried to be smart with it and keep most of it.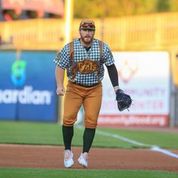 Q: You've played some infield, outfield and at catcher with the Timber Rattlers. Do you have a favorite or preferred position?
A: I'm getting a lot more comfortable at first base. Catcher is definitely fun and you're more into the game. You get to call the pitches. I feel really comfortable in the outfield from playing there in college, but I think I'm just trying to play wherever coach wants me to play and just compete at it. Hopefully stuff the boxscore three times a night.

Q: Going back to high school you've been noted for home runs – one writer called you a 'serial murder of baseballs' in college. Do you have a favorite?
A: My last one in high school was a walk off to win the state championship game and to take the national lead (in home runs). So I gotta say my last high school home run was my favorite, hit it at the Mississippi Braves Double-A stadium.

Q: Finish this sentence: Playing baseball in Wisconsin in early May is …
A: Cold, but exciting. The fans of Wisconsin – I've told a lot of people: It might be the most loyal state there is. From baseball to football to their beer, anything you can think of, they think Wisconsin is the best in it. So it's awesome to play there.
Story idea? You can reach Mike Woods at 920-246-6321 or at: michael.t.woods1@charter.com