CLEVELAND — Paint company Sherwin-Williams submitted its final designs on Tuesday for its proposed downtown Cleveland headquarters that would be adjacent to Public Square.
The designs continue to call for a 36-story tower to be built just west of Public Square. The tower would be connected to a two-story pavilion overlooking Public Square and a six-story parking garage.
The designs showed the type of signage and lighting that could be used on the building. The designs indicate that the building will be illuminated in red and blue panels, but those could change for special events, for instance being illuminated in rainbow panels for Pride.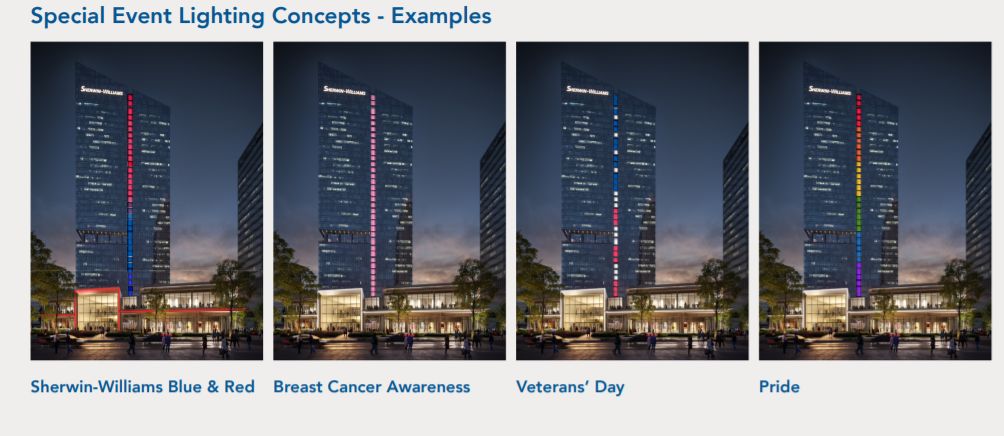 The final designs keep two skybridges extending from the tower, connecting the tower to the parking garage and the pavilion. Skybridges drew some criticism during the initial public comment period when Sherwin-Williams first unveiled designs.
Downtown Cleveland currently has several skybridges, including two that are connected to Rocket Mortgage FieldHouse, one that is attached to Tower City Center and another attached to Cuyahoga County administrative offices.
Out of 16 public comments that addressed the skybridges, 15 voiced concerns or opposition to the skybridge. Their concerns ranged from the aesthetics of such walkways to how the public interacts with downtown.
Sherwin-Williams said that the total investment would be $310 million. The headquarters would house 3,100 employees, the company said.
A city review board will consider the final designs on Nov. 30.
The company's goal is to break ground on the complex by the end of 2021 with the headquarters set to open by 2024, pending approval by the city.