COLUMBUS, Ohio — One of the largest four-mile races in the U.S. took place on Ohio State's campus Sunday morning and included a surprise finish for one runner.
Thousands took off running in the ninth annual Ohio State 4 Miler that finished at the 50 yard line in Ohio Stadium celebrating football and fitness. Over the years, the race has raised millions of dollars for the James Cancer Hospital and Buckeye Cruise for Cancer. The race was virtual last year due to the pandemic.
Race coordinator, David Babner, says he's glad his only obstacle this year is the weather.
"For us to be able to do this live and give everybody high fives, it just boosts my energy and I just love being down here with everybody," Banner said.
At the end of the four miles, most runners just receive a medal, but Kellie Hannan got the surprise of a lifetime. Danielle Hannan, a soldier in the U.S. Army, has been deployed in Saudi Arabia for 11 months. Communication between Danielle and her mom went from every day to every so often.
She returned to the United States a few weeks ago and had been planning the perfect reunion. Along with a poster and handwritten letter, she also got her a bear that she can hold onto whenever she is away.
"The little bear is to hopefully give her the same hugs that I give her on the usual," said Danielle. "The end of the card actually says I'm flying right now back to the United States. She still thinks I'm overseas, but I'm actually behind her."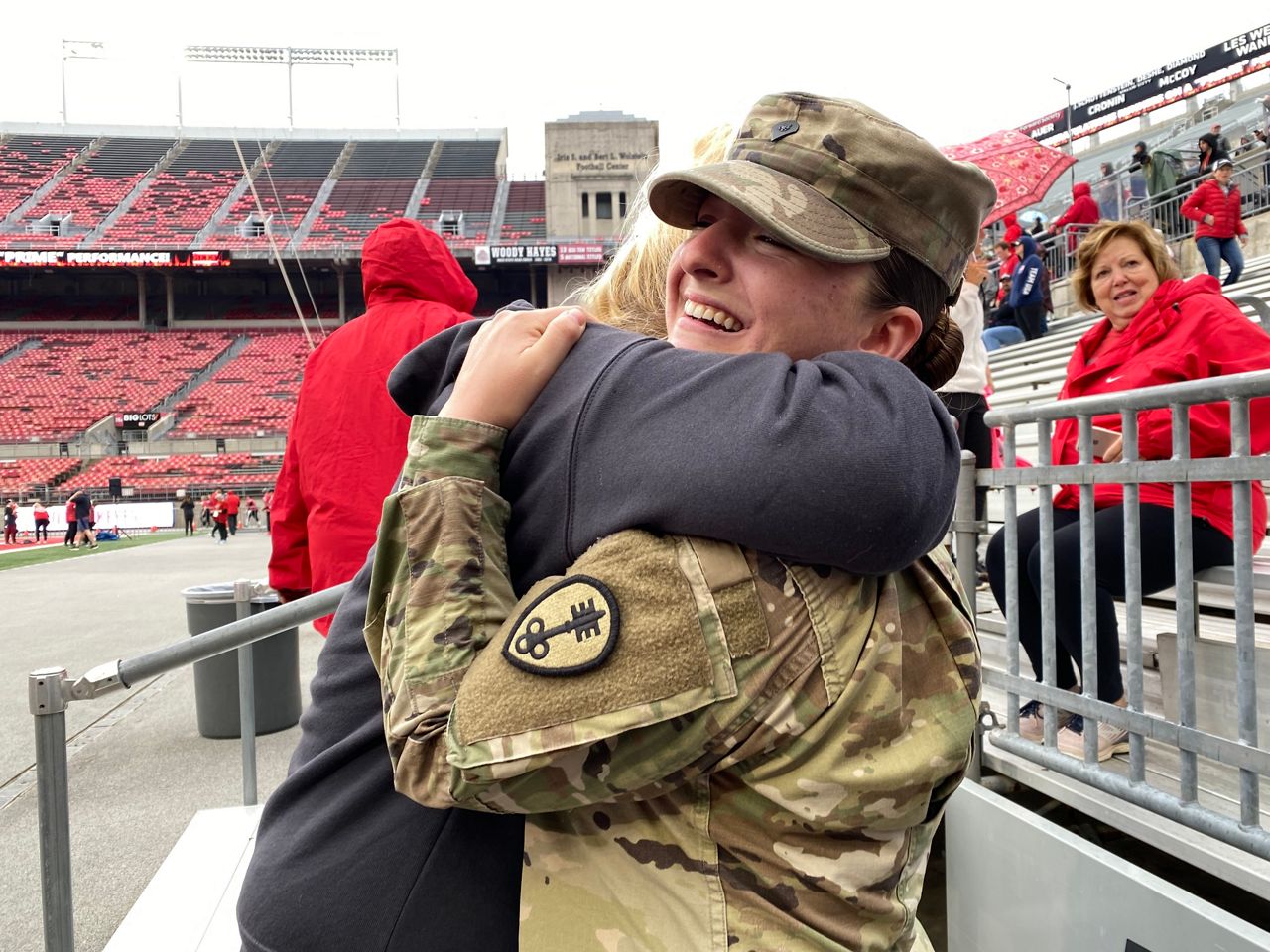 Danielle waited nervously behind the stands for her mom to cross the finish line. Kellie stumbled upon Danielle's gift.
"I did it in record time, I did it in 50 minutes," said Kellie, but she had no idea she was walking toward a reunion the entire time. Apart for over 300 days, Kellie was overcome with emotion when she finally got to hug her daughter.
"When you don't know where they're at and you don't know what they're doing and you don't hear from them for days," said Kellie. "It's not normal and I'm used to hearing from her daily."
Reunited at last, Kellie said this moment is surreal and hopes she and her daughter are never apart again.
"I plan to stand like this for at least the next 24 hours," said Kellie. "She's not leaving me, ever."
Danielle Hannan is home until she gets called for another deployment. She plans on spending time with her family and friends in the meantime.
According to officials, 5,676 athletes participated in the race. James Zeuch of Hilliard was the winner on the men's side with a time of 20:17. On the women's side, Diann Gaysunas of Westerville won with a time of 25:57.