MASON, Ohio — Kings Island's historic Eiffel Tower is being repainted ahead of the theme park's 50th anniversary in 2022.
The giant project will be handled by one Greater Cincinnati company that's no stranger to the job.
Newport, Kentucky's Baynum Painting has painted the 314-foot structure twice before.
Founder Chris Baynum said it's an honor to be able to take care of the makeover.
"In 1989, we did it the first time, huge, huge learning experience for us then," Baynum said. "But now, counting these three times here at Kings Island and three times at their sister park at Kings Dominion in Richmond, Virginia, this is the sixth time to take care of the re-coating of the Eiffel Tower."
Tony Hopkins is a third-generation painter from Batavia, a village near Cincinnati.
He took part in the Eiffel Tower repainting job in 2005.
"My first one I did was back when I was a teenager, out in Virginia," Hopkins said. "It was actually right before Christmas. We were actually pressure washing, had to pressure wash some of (the) ice off the steps before we walked down. That was probably one of the biggest challenges we've had."
He said the weather is always the biggest challenge his team faces.
Baynum said a solid safety plan has worked flawlessly over the past 30 years.
Hopkins said gaining all the experience has proven to be invaluable over the years.
"Yeah, it makes it a lot easier," Hopkins said. "Once we've already dealt with most of the challenges that we've had, so we kind of know what to do and how to do it."
Hopkins is one of the many men and women working to throw a new coat of paint on the iconic Eiffel Tower at Kings Island.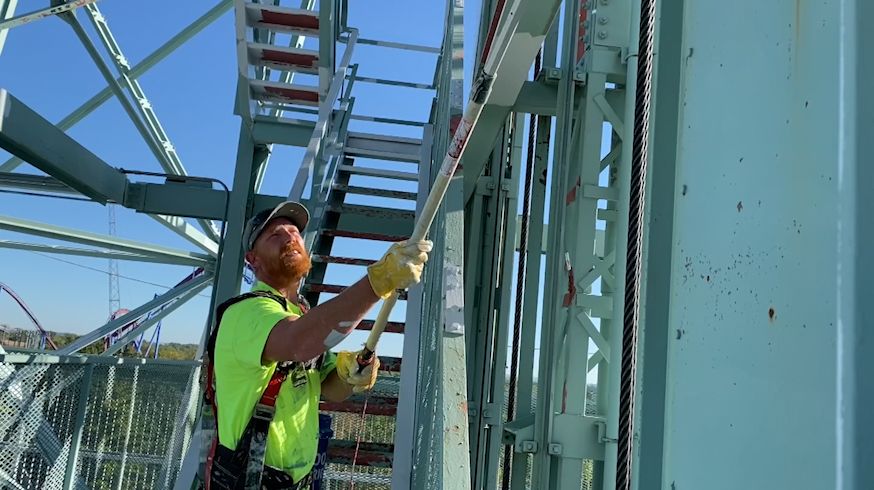 "Started back in 1988 where we first did, right over your shoulder, The Beast, was our first coaster ever. Here, 300 coasters around the world, we're back home where everybody wants to be; here at Kings Island."
An estimated 1,300 gallons of Eiffel Tower Green will be applied to this structure to make it like new; as it was in 1972.
"Nearly 50 years ago, Kings Island opened to the public," said Kings Island Director of Communications Chad Showalter. "And one of the things our guests were most excited about was seeing the Eiffel Tower here at the park. It was unique to this area, not just for the park, but for the entire region. As we prepare for our 50th anniversary in 2022, we had to put a fresh coat of paint on this."
The project itself is a lot more than just applying paint.
"Everything is pressure washed with 5,000 PSI water, then it's hand-scraped, and as you can see the white specks everywhere, everything is spot primed with an epoxy primer," Baynum said.
It takes about 10 weeks to complete the project.
Guests can view the progress through October if they visit during Halloween Haunt.
Baynum said it's such a unique connection to have his and the Hopkins family working on this project once again.
"It was special then and it's more special now, believe it or not, 33 years later still working here, doing various projects for Kings Island."
Hopkins couldn't agree more.
"It's always nice to be in town working on something that my father and his father also already painted back in '89," Hopkins said. "It's kind of got a sentimental value of doing a big tower like this."