COLUMBUS, Ohio — More than three dozen cases of the COVID-19 Delta variant have been identified in Ohio, but officials said the state is seeing far fewer cases than the national average.
---
What You Need To Know
Multiple research labs have now detected the Delta variant in Ohiop


Officials expect the variant to continue to spread in the coming weeks


The variant is more contagious than previous strains of the virus
---
The Delta variant represents less than 1% of all variants tested in Ohio, health department spokesperson Alicia Shoults told Spectrum News Tuesday. State officials said they expect the proportion of COVID-19 samples that are the Delta variant to rise in the coming weeks.
In the most recent sequencing, the Delta variant represents a greater share of Ohio's samples, according to a global database for tracking mutations in COVID-19. Of sequenced Ohio samples collected in the last month, 3.4% were the Delta variant.
Dr. Anthony Fauci said during a press briefing earlier Tuesday that the variant makes up 20.6% of recent U.S. cases, up from just 1.2% on May 8.
One of the labs that has detected the variant in Ohio, Gravity Diagnostics, is seeing Delta account for 1.5% of its cases and that number is rising, said JP Canner, the company's vice president of regulatory, clinical and research programs.
Fauci said Tuesday the variant has clearly demonstrated its more transmissible properties, and he warned it appears to be associated with increased disease severity.
"The Delta variant is currently the greatest threat in the U.S. to our attempt to eliminate COVID-19," Fauci said.​
Gravity's lab performs COVID-19 testing lab work for hospitals and physicians' offices. Canner said they are now finding a couple Delta variant cases each week in their sequencing, which includes samples from Ohio as well as Indiana and Kentucky.
The company is funding its COVID-19 sequencing out of its own pocket as a public service, reporting its Ohio variant cases to the Ohio Department of Health. Canner said the research could be critical to informing public health response as this dangerous variant spreads.
"From the reports that we've seen, patients are showing up a lot sicker, and it seems to be a quicker onset for symptoms," he said. "People are having very slight exposures and they seem to be catching it.
The Cleveland Clinic has detected 11 of the Ohio cases of the variant, six of which were reported on Sunday.
"The Delta variant continues to be detected and identified by our laboratory, but this variant currently comprises a small percentage of the circulating SARS-CoV-2 in northeast Ohio," the hospital said in a statement to Spectrum News.
Dr. Daniel Rhoads, a Cleveland Clinic microbiologist and pathologist, said the arrival of the variant is concerning, but not necessarily surprising after COVID-19 made a resurgence in the U.K. due to the variant, despite high vaccination rates.
"These new waves of infections show that the pandemic is not close to being over yet," Rhoads said.
University Hospitals in Cleveland has detected a couple cases of the variant. Infectious disease specialist Dr. Keith Armitage said in a video message Monday that the variant may be 60% more contagious.
The Delta variant contains multiple spike protein mutations that officials said may be concerning, most notably "L452R" and "E484Q" mutations.
The highly contagious variant fueled an unprecedented COVID-19 surge in India, and it is now the dominant variant in a number of European countries, including the U.K. and Portugal.
In the U.K., health officials said the variant has caused COVID-19 cases to more than quadruple in the last month, delaying reopening.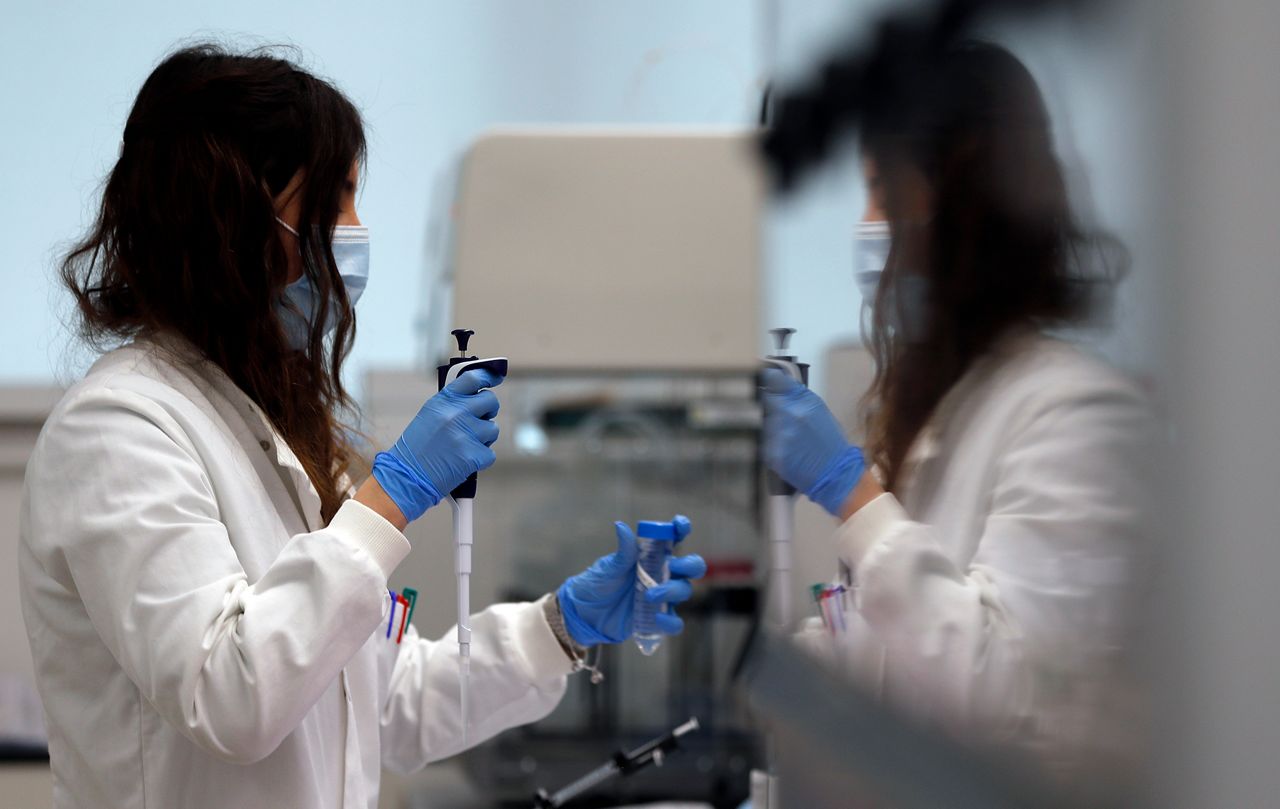 Ohio Gov. Mike DeWine said Thursday he is concerned by the arrival of the more contagious variant in Ohio.
"We know the variant is out there," DeWine said during a press briefing. "So if this will continue to evolve, I don't think anyone can predict where we will be in the fall, where we'll be in the winter. I'm optimistic, but no one knows," he said.
Officials have shared mixed assessments of the virulence of the variant.
During a June 10 press briefing, Ohio Chief Medical Officer Dr. Bruce Vanderhoff stated that while Delta is more contagious, it's likely not more severe than the previous strain. Armitage also said it "doesn't seem to be more virulent."
In regard to the U.K. surge, Public Health England reported a more than twofold increase in hospitalization-risk associated with the Delta variant, and Fauci on Tuesday agreed with the assessment that's it's more likely to cause severe disease.
A World Health Organization Official said in a news conference Monday the variant could be "more lethal because it's more efficient in the way it transmits between humans and it will eventually find those vulnerable individuals who will become severely ill, have to be hospitalized and potentially die."
U.S. officials said Tuesday the variant appears to be spreading at such a pace it's doubling every two weeks.
"This is concerning, but expected knowing what we do about how efficiently this variant spreads and by what we saw in the United Kingdom with this variant," Centers for Disease Control and Prevention Director Dr. Rochelle Walensky said.
Walensky said the variant represents nearly half of all infections in HHS regions seven and eight, which together account for the states between Nevada and Illinois in the northern part of the country.
Health experts and state officials said vaccination is the best way to protect yourself from the Delta variant.
In terms of preventing hospitalization against the Delta variant, initial study shows the Pfizer vaccine is 96% effective and AstraZeneca's 92% effective, Fauci said. Another study on the Delta variant showed the Pfizer vaccine was 88% effective at preventing infection and 93% effective at preventing symptomatic illness, he said.