DAYTON, Ohio — Dayton-area cyclists, Judy Stutes, David Cox, Mark Dinkins, and Doug Sellars, are logging thousands of miles these days as they prepare for the ultimate feat of cycling endurance, Race Across America, a cross-country bike ride that will test their strength, teamwork, and commitment on the ride of a lifetime.
---
What You Need To Know
A group of Dayton-area cyclists are training for Race Across America


The race will take riders from California to Maryland


The riders are raising funds for wounded veterans and cancer research


One of the riders was diagnosed with thyroid cancer in 2019


She is determined to ride and lead her team on the weeklong race
---
Race Across America starts in Oceanside, California and takes riders to Annapolis, Maryland. The route is more than 3,000 miles and riders need to climb 170,000 feet, in nine days or fewer.
"We all enjoy that endurance," Stutes said. "We enjoy the competitive part. We enjoy the training part, the camaraderie part."
The riders consider Stutes their leader, as she brought the team together and set the lofty goal, though the team didn't need too much convincing.
"It wasn't just about riding our bikes," she said. "We found that there was a greater purpose for us."
Two of the riders, Cox and Sellars, are veterans, so they're using their ride to raise funds for the Gary Sinise foundation, which offers programs and services to wounded veterans. Dinkins chose the Stefanie Spielman Fund, to help raise money for breast cancer research. His wife is a survivor.
Stutes though, has the most personal connection to her charity. She chose thyroid cancer survivors as her charity, a group she hopes to join someday soon.
"I say cycling saved my life, but really it was wrecking my bike that saved my life," she said.
Stutes injured her shoulder in a cycling accident in 2019, so she went in for X-rays.
"They had seen a lung nodule and that lung nodule was concerning, so they ordered a cat scan of my chest," she said. "So I went from days being the strongest I was, to being diagnosed with thyroid cancer."
Rather than prompting her to put her cycling goals on hold though, Stutes said it made them all the more urgent.
During the next year and a half, Stutes underwent surgery and radiation treatment, all while doing her best to stay active. During her recovery, she resolved to try Race Across America.
"That's when I approached David about doing RAAM, and he knew my diagnosis at the time, and Doug and David and I went for a ride and talked about it and we were like game on," she said. "I mean, we were ready we were ready to do it. Even though I wasn't at full strength, I mean, I entrusted to be a part of a team together."
At this point, Stutes is still not cancer free. She said doctors are still monitoring her to see if the tumor might return and she might have to return to treatment, but Stutes said she is ready to ride and she's back to full strength.
"That's why I say live life everyday," she said. "We don't know what tomorrow or next month may bring."
Stutes also considers herself lucky to have a team to lean on. Cox, Sellars, and Dinkins will take on the ride with Stutes in shifts. Two will ride while the other two rest. Meanwhile a team of supporters will follow them with an RV to keep them safe and on track.
"This is where all the food prep will be taking place and, you know, we'll be sleeping," Cox said.
Everyone involved is called Team Enso, named for the imperfect ring on the front of their jerseys.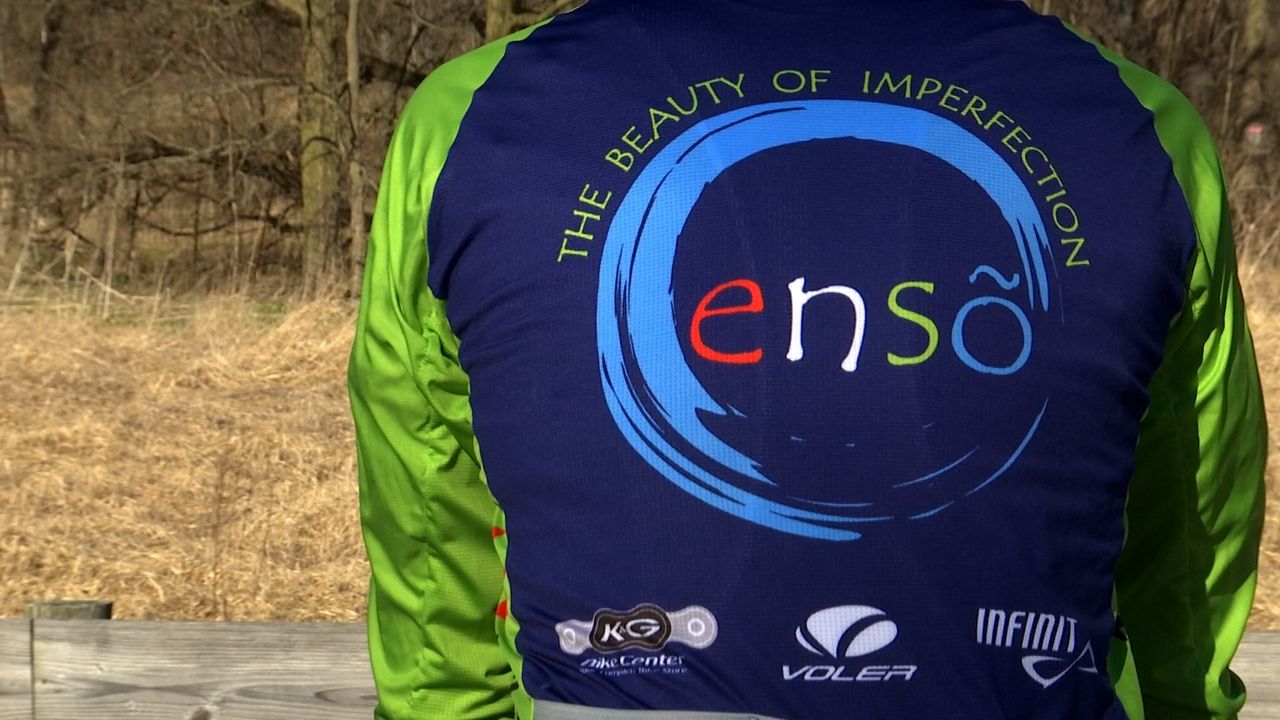 "The beauty of imperfection is kind of what we take from it," Stutes said.
The race starts in June, so the group still has a lot of training to tackle. As the weather warms up, they plan to travel to some of states the race runs through to practice the course, starting with some familiar territory, the ride from Oxford to Athens.
"If we don't nail Ohio something's gone horribly wrong," Cox said.
The race starts June 19. Team Enso hopes to finish in seven days.