COLUMBUS, Ohio — Hundreds of protesters gathered in front of the Statehouse Saturday demanding justice for Casey Goodson Jr., a 23-year-old Black man who was allegedly killed by Franklin County sheriff's deputy Jason Meade eight days ago in Columbus.
​​In the second day of protests, demonstrators said they are standing up to bring attention to the cause of police violence and what protesters say was an inexplicable use of force by the deputy.
The details of the incident remain unclear as investigators have released little information so far. What is known is that Goodson was shot three times in front of his home, bringing sandwiches to his family after a dentist appointment.
Speakers stepped up to the podium in front of the Statehouse, one by one, talking about the importance of Goodson's life and called attention to the issue of police brutality.
"It is our job as a community to support this family," said one speaker.
Payne, Goodson's mom, thanked everyone for their support and said she is overwhelmed.
"He was an honorable man. He was a brave man," Payne said. "I want justice."
In tears, Goodson's brother told the crowd how great of an older brother he had.
"He would do anything for us," his brother said.
His family surrounded the podium in tears, trying to speak about Goodson, but many of them couldn't finish what they wanted to say. They spoke about how Goodson was "the best" because he was always there for the family.
"I just want justice for my brother," his little sister said.
Other organizers spoke their demands for transparency and justice in the case. One speaker said the minute it happened, it should have immediately have been reported. They're also calling for Meade to face charges and lose his position.
Columbus Pastor Mike Young held a prayer with organizers for Goodson and his family.

"We want to see the truth about this case," Young said. "We want transparency. We want accountability."
Goodson's 6th grade teacher also spoke, saying his mom is "fighting for her baby."
Goodson's family said they saw what happened this summer with the Black Lives Matter protests in the streets. But it got quiet, and they said knew that the promises made by corporations and businesses to support Black lives went silent.
"So now, we must protect Casey's legacy."
Speakers said they are tired of being patient, and this situation has happened too many times. They're hoping what happened to Goodson will stop it from happening again.
"At some point, we deserve to heal and to grieve ... And this country needs to stand up to protect us," said one speaker.
Once the speakers stopped, organizers passed out Subway sandwiches and keys to the crowd, saying they were the only items Goodson had when the incident occurred.
Protesters marched together in solidarity across the city, holding signs, puttingg their fist up and chanting in honor of Goodson.
Lindsey Johnston, one of the protesters, wanted the Goodson family to know the community is behind them.
"I really want to be here first and foremost for Casey's family, so that they know the love and support we have for them in this trama," she said. "Unfortunately, it's so common."
Tareya Jefferies, another protester, echoed Johnston's comment.
"People need to be out here to hear from the family about who Casey was. People need to be out here to stand with the family because this is not an isolated incident," Jefferies said. "We want to see accountability from the police department. We want to see accountability from Mayor Ginter. We want to see accountability from Shannon Hardin. We want to see accountability from Joyce Beatty. We want to see accountability from Black leaders."
Meade's attorney said in a statement he was defending himself after Goodson allegedly pointed a gun at him. No other party in the case has stated Goodson pulled his firearm on the deputy, which is was licensed to carry.
Another protest is planned for Sunday at the Statehouse. The investigation is ongoing.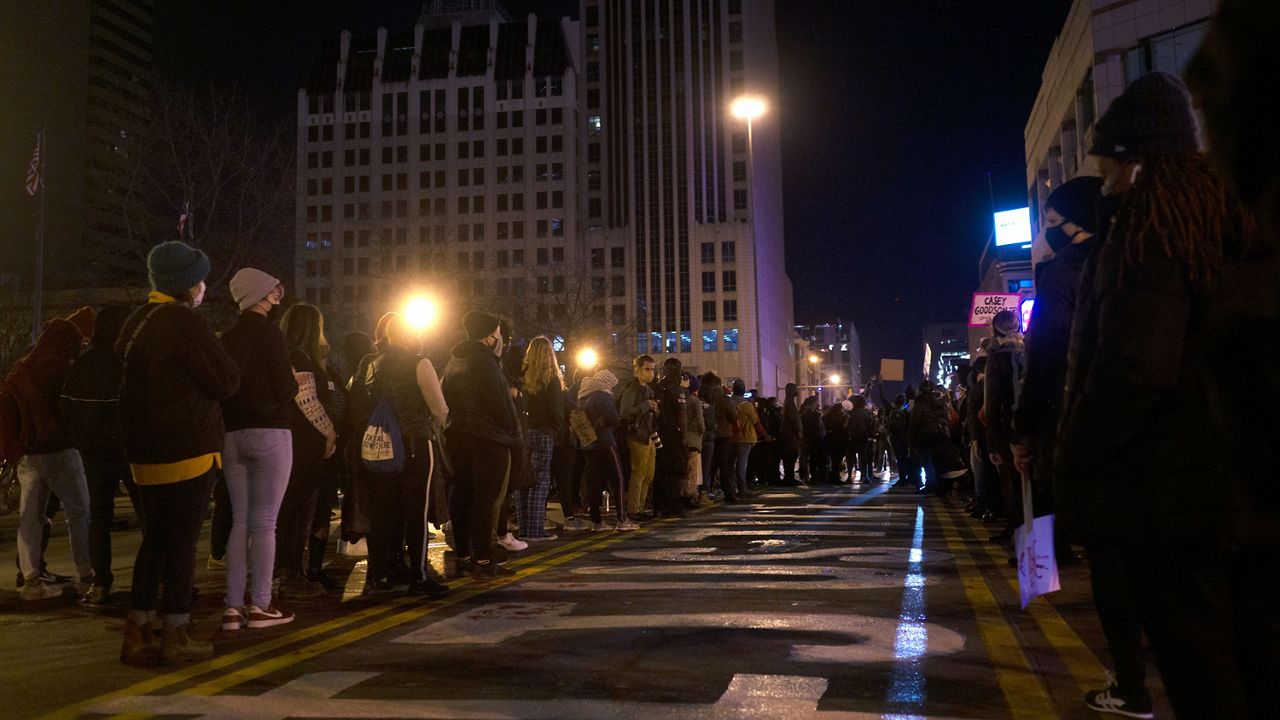 Meade said he acted in self-defense after Goodson pointed a gun. Goodson's family says he was not the suspect authorities were after and was mistakenly shot in the back.
Goodson was licensed to have a weapon in concealed carry, which his family said he carried to protect himself and his family. He was entering the home with Subway sandwiches for the family when the incident occurred. His family heard shots and said they found him bleeding in the doorway.
The Franklin County Sheriff's Office has yet to release the warrant that brought Meade to the scene on Estates Place in the Clinton Estates neighborhood of north Columbus.
According to Columbus police, the address for the original warrant was not the home where Goodson and his large family reside.
Scanner audio one of the original calls for help from authorities: "We've got shots fired, officers involved. The officers are OK. We've got one down."
Columbus police released audio calls to 911 from family members who were on scene at the time of the shooting. Family members told dispatchers they would sue.
"Somebody breaks into the house and shot my cousin," a woman said. "There's two people that look like police. I don't even know if they really police… Can we please get an ambulance ASAP? We're suing. We're suing for sure. There's a whole family in this house."
The woman said she was in the bathroom and heard gunshots. She said her cousin was on the ground dying.
Goodson's grandmother Sharon Payne called dispatchers as well. She said Goodson lives at her house.
"My grandson just got shot in the back as he came in the house," she said. "He's not a bad kid. He doesn't have a police record. He works. I don't know what happened."
Payne told dispatchers Goodson had gone to the dentist that morning with her car.
The call captured authorities instructing the family to leave the home. "We need everyone out of the house," an officer.
Other callers reported hearing gunshots, ranging in number from four to "a ton."
An attorney said Goodson had no criminal record. Goodson's brother, speaking at the demonstration Friday, said the only mark against him was driving with a suspend license.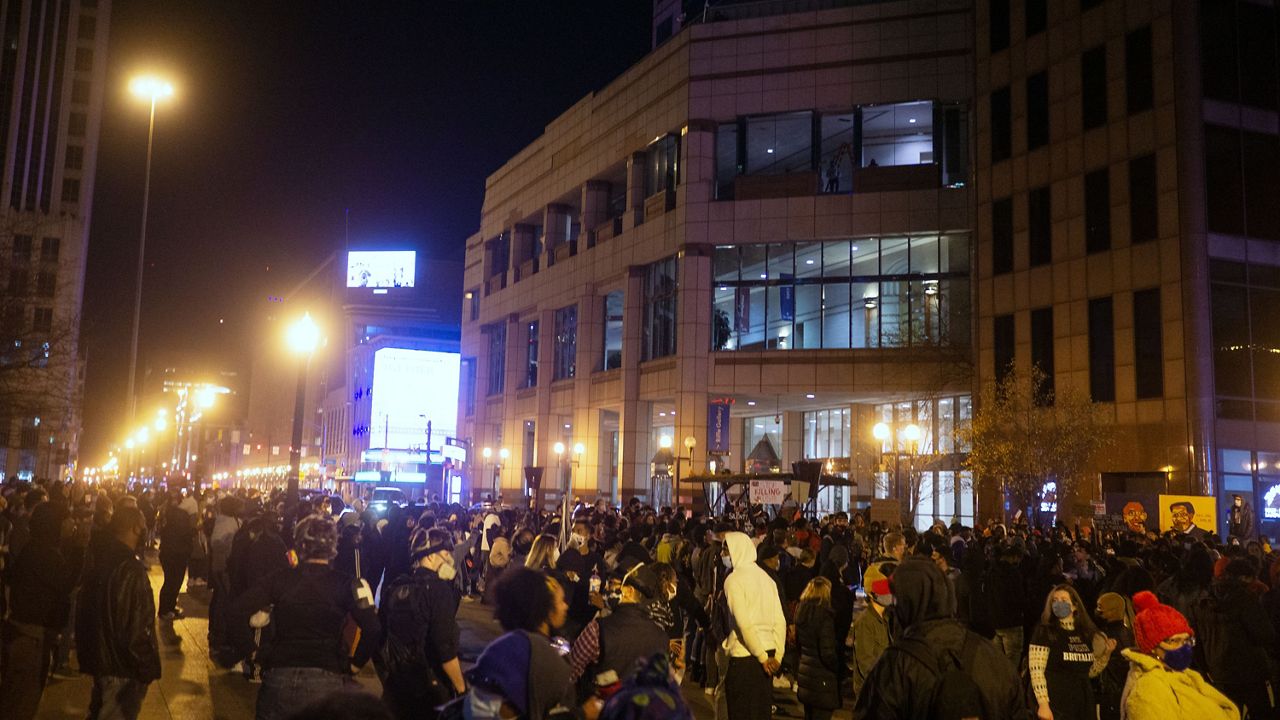 The final autopsy report isn't expected for another 12 to 14 weeks because of an outstanding toxicology report.
At the protests, marchers said they were demanding answers and justice.
"I'm out because this happened right down the street from my buddy, and this happens so frequently," said Danny McCallum. "It's important that we come out and make our voice heard in a way that's concise but also peaceful."
The Ohio Attorney General's office declined to investigate because it wasn't aware of the confrontation until three days after interviews with witnesses had been completed. However, David DeVillers, the U.S. attorney for the Southern District of Ohio, announced this week he is reviewing the case alongside the Columbus police (CPD), the F.B.I's Cincinnati office, and the Civil Rights Division of the Justice Department.
Earlier this week, Franklin County Coroner Dr. Anahi Ortiz released preliminary results of Goodson's autopsy, saying he was shot multiple times in the torso. They family's attorneys said it didn't answer key questions, such as if he was shot from the back or the front.
Tamala Payne, Goodson's mother, and the attorneys held a press conference Thursday morning calling for more transparency in the case.
"That is all I am calling for. I want justice. I want Jason Meade arrested. I want Jason charged."
Shortly after, Mark C. Collins CO LPA, the lawfirm representing Meade, released a statement in response saying the deputy acted in self-defense.