SCOTT COUNTY, Ky. — Hundreds of bags fill the office of the Georgetown Crossroads Church, each assembled by parishioners and volunteers to be delivered to nearby medical facilities and frontline healthcare workers.
"Fuel for the Fight" is a church initiative to provide support for those on the frontlines in the battle against the COVID-19 pandemic. Pastor Griff Ray said it's a way to thank them for their tireless work.
"Fuel for the Fight is the desire to let our healthcare workers that are working with COVID know that they have not been forgotten about, Ray said. "It's an effort to just say, 'Hey, we're in this with you. Here's some snacks, here's some energy, here's some well-wishes and prayers to let you know that we are with you in the spite and we appreciate you.'"
Each "fuel bag" includes a personal note of encouragement, handwritten by people of all ages from throughout the community to remind those fighting that they're supported one-hundred-percent. Heather Johnson, a member of the church, said it's important to let healthcare workers know that they're not forgotten.
"We asked our community members to fill out some blank note cards, but not just with any note, we asked them just to take a couple minutes and pray and ask God how they could encourage a healthcare worker, what prayer they might have, or what would be those words that would bring hope and just a little bit of peace and healing for them because they've suffered through this as well," Johnson said.
"We wanted them to know that we haven't forgotten. We've been praying for them and we care about them. And we want to re-up our commitment that we are behind them as well community."
Ray said in Georgetown, they've identified 346 healthcare workers to assemble a fuel bag for, but the outreach operation is happening all around the area.
"Locally here in Georgetown, we identified 346 individuals that are working with COVID and we have a bag for each one of them, but over Central Kentucky and Ohio area, there's going to be over 10,000 bags delivered to healthcare workers locally in their areas to say thank you to them," Ray said.
One of the first deliveries of the day is to a nearby Georgetown fire station. Scott County EMS Chris Runyon said all the support is greatly appreciated.
"This pandemic has been extremely hard on all of us and for our folks here that are fighting that fight regularly, just to know that people are thinking about us and caring for us and bringing things in here, it means really more than what we can express," Runyon said. "And it's with genuine sincerity that we'd like to say thanks for them thinking about us and praying for us and bringing us some treats."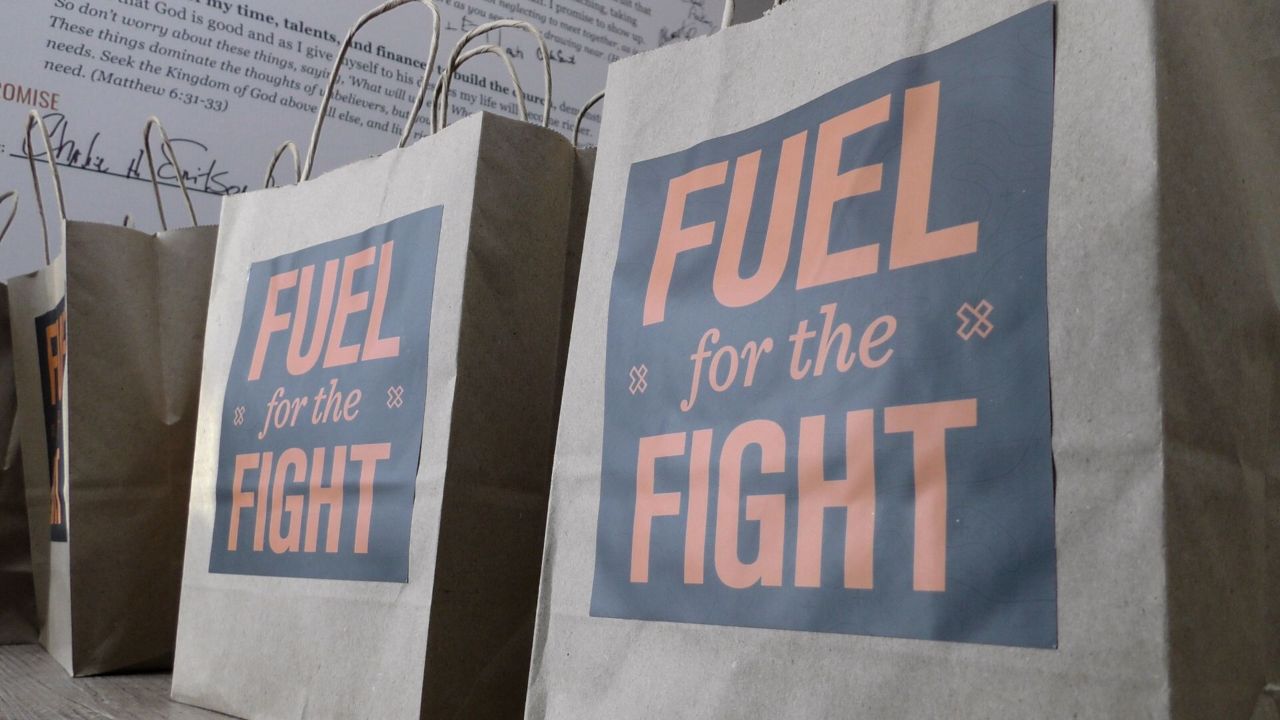 After that, a stop at Georgetown Community Hospital brought hundreds of "fuel bags" for the medical staff that work endless hours battling the pandemic.
"The support is incredible from this church," said Chelsea Smitson, a Georgetown healthcare worker. "This is not the first time they've showed up to support our employees who are the frontline with COVID-19. We truly appreciate them taking a moment to say, 'Thank you. We're here for you.' And to them, we appreciate them so much."
Georgetown Crossroad Church and its sister churches across Kentucky and Ohio hope to bring some peace of mind to those who put their lives on the line each day to keep their communities safe.
"We appreciate your calling, we appreciate your commitment, and we know it's been a really long fight, and we hope that this is a little more fuel to get us across that finish line," Ray said.