WOODFORD COUNTY, Ky. — It's a way to celebrate Kentucky's rich horse racing tradition leading up to the Kentucky Derby. A classic game of bingo.
Executive Director of Visit Horse Country Anne Savatino Hardy said, "Derby Bingo was an idea that the Woodford County community came up with as a way to really celebrate the traditions of the Derby and Oaks in Woodford County."
Each year during derby week, Woodford County becomes a destination for those headed to Churchill Downs. This year however the COVID-19 pandemic has not only delayed the race but impacted the heart of horse country.
Hardy said tourism is taking a hit because of COVID-19. "Traditionally Oak's Day would be one of the biggest days of tourism when we'd be welcoming lots of guests and folks for parties and events. And we just thought, how can we inspire Kentuckians and our neighbors to get involved in those favorite things and those favorite places that normally we would participate in Derby? And that's where we came up with Derby Bingo."
Derby Bingo was created by Woodford County Tourism as a means to draw tourism to many destinations across the county. Game cards have been created allowing both adults and family's the opportunity to visit key locations across the area that have a tie to both the Oaks and the Derby.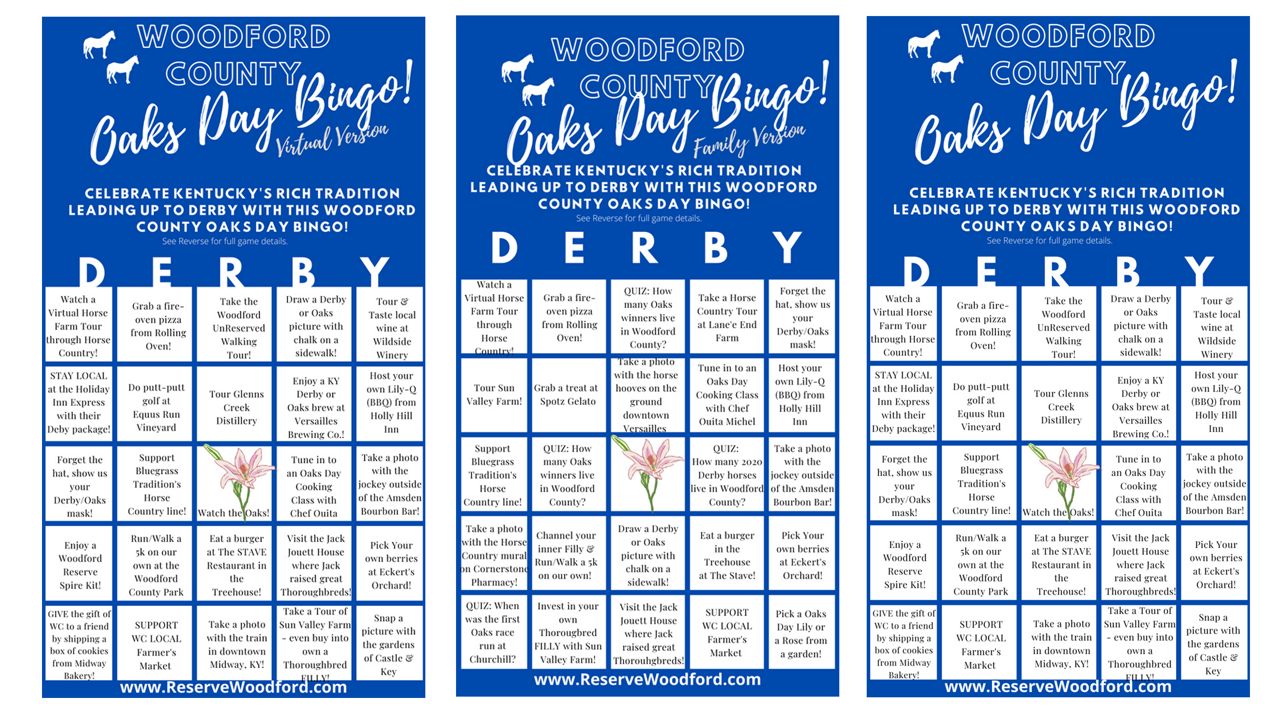 If you're lucky enough to win place, or show the prizes can be pretty impressive.
Owner of Sun Valley Farm Jan Butzer is offering a unique prize. "The prize that we have for the Woodford Oaks Derby, Bingo, is you can win a share in one of our Phillies that we have raised here at Sun Valley."
Here at Sun Valley Farm, the "Thoroughbred Nursery Tours" hold a square on the bingo card. Tourists traveling from near and far to visit the farm, can claim that bingo square, all while gaining insight into the world of Thoroughbred breeding and racing.
Kyrus and Bobbette Taylor visited Kentucky from Alabama.
"If you've watched the races, if you watch the Kentucky Derby, if you've watched, if you know about those, then you come here and you experience touching these horses. And then you know, one day you might see one of these horses in the Kentucky Derby. It's a rare experience. It makes you go, Wow."
Woodford County Tourism hopes that Derby Bingo gives horse racing fans, the chance to celebrate Derby week, all while giving the area's attractions a much-needed economic boost.