CYPRESS, Calif. — Winnie Wong is still in disbelief.
The feeling still hasn't really sunk in, she said. Wong is the mother of Justine Wong-Orantes, the former Los Alamitos High School volleyball star and member of the Team USA women's national indoor volleyball team that recently captured the program's first gold medal at the 2020 Tokyo Olympics.
"Can you believe it? My daughter is not just an Olympian but a gold medalist," Wong said.
Wong was able to feel the weight of her daughter's gold medal when Wong-Orantes and the rest of the Team USA delegation arrived in Los Angeles from Tokyo Monday morning.
By the evening, Wong invited family and friends to her Cypress home to celebrate both her daughter and teammate Haleigh Washington, who is staying over for a couple of days before she reunites with her family in Colorado.
"Being back here with family, it's overwhelming with emotions, mainly happiness and just excited to just sink it in with them," said the 25-year-old Wong-Orantes with a gold medal still draped over her neck.
With the 2020 Tokyo Games over, local Olympians are coming home to family celebrations with their medal spoils. The coronavirus pandemic pushed the Olympics to this year.
Meanwhile, Allyson Felix — the most decorated U.S. track athlete in Olympic history with 11 medals — reunited with her daughter and family in LA.
Hundreds of fans waited and cheered for U.S. gymnast and gold medal winner Suni Lee at the Minneapolis St. Paul international airport.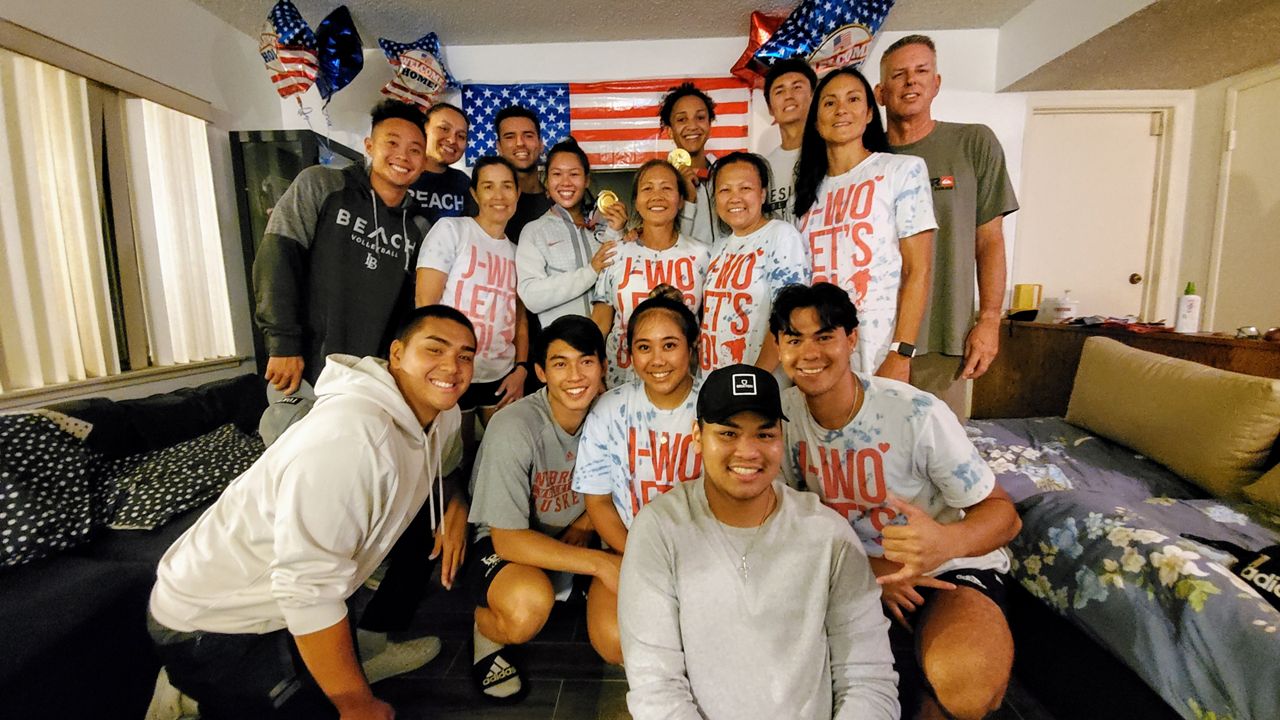 At the Wong residence in Cypress, it's evident that a parent of a U.S. Olympian lives there. Several signs on the sidewalk, lawn and the front door either welcome Justine or read, "proud parent of an Olympian." Inside the home is a wall draped with the U.S. flag and decorated with red, white and blue star-shaped balloons with "Welcome Home" lettering on each end.
Washington explained how the experience of winning gold, at times, still doesn't feel real.
"It comes in waves," she said. "I'd look at her [Justine] and say, 'Did you just win a gold medal? Did we just win a gold medal?'"
The team had never won an Olympic gold medal in their program history since qualifying in 1984. The group first qualified in the 1980 games but couldn't play because of a U.S. boycott.
In the past three Olympics, the women's indoor volleyball team has been the bridesmaid in two of them, settling for silver in both the 2008 and 2012 Olympics and a bronze medal in 2016. But the win against Brazil on Sunday lifted the heavy burden off the team.
"It hit me on that last point when we ran out onto that court," said Washington. "I really thought I was going to be calm, cool and collected, and then I was not. As soon as I got on that court with the rest of the women, I collapsed, and the wave of relief released that we have done this hit me like a truck."
On the way home, Washington couldn't take the medal off her neck. She cuddled up with it and slept with it on the 10-hour flight from Tokyo to LA. There are already kinks and scuffs on the side of the medal from her biting it.
"I've been going to town on this," she said, laughing. "I regret nothing. My medal has personality."
Wong-Orantes has been a bit gentler with her gold medal. She draped it over her mom's neck and passed it around for anyone that wanted to wear it. She said that along with the gold medal win, it's going to be a summer of celebrations. Some members of the team are going to get married. There are birthdays and other celebrations off the court, she explained.
"That's the great thing," she said. "At the end of the day, we're humans, and we have lives outside of the volleyball court."
But an assistant recently sent her photos of Paris. The next Olympics in Paris is only three years away in 2024. Is it too early for members of the No. 1 ranked Team USA volleyball team to think repeat?
"I'm already thinking about Paris," said Washington.
"All right, Paris 2024," said Wong-Orantes.