ANAHEIM, Calif. — At times, Charles Wright couldn't keep his emotions in check.
The former Marine's voice cracked. As the 61-year-old stood on the podium, he looked at a piece of paper and had to pause at times as he told his story. At one point, Disneyland President Ken Potrock rose from his seat to hand Wright a water bottle.
On Monday, in front of more than 50 people and members of the media, Wright stood on the podium at the opening of Anaheim's newest affordable and permanent supportive housing development and told his personal experience of being homeless to now having a place of his own.
Just a little over two weeks ago, he was living in his car, a beat-up 2006 Nissan Altima.
"I really didn't have no place to stay. Nothing," said Wright. "I was looking for hope. I had hope in my heart that I would find a place sometime soon. I stayed in my car and prayed and prayed… and prayed to God that I would find a place."
And his prayers were answered.
Wright is one of more than 70 new low-income and vulnerable residents who now call Buena Esperanza home.
Buena Esperanza is Anaheim's newest permanent supportive housing development and the first of its kind motel conversion to come online since the city passed its motel conversion ordinance.
The motel conversion program passed in 2019 streamlines the approval process to convert outdated motels into affordable housing.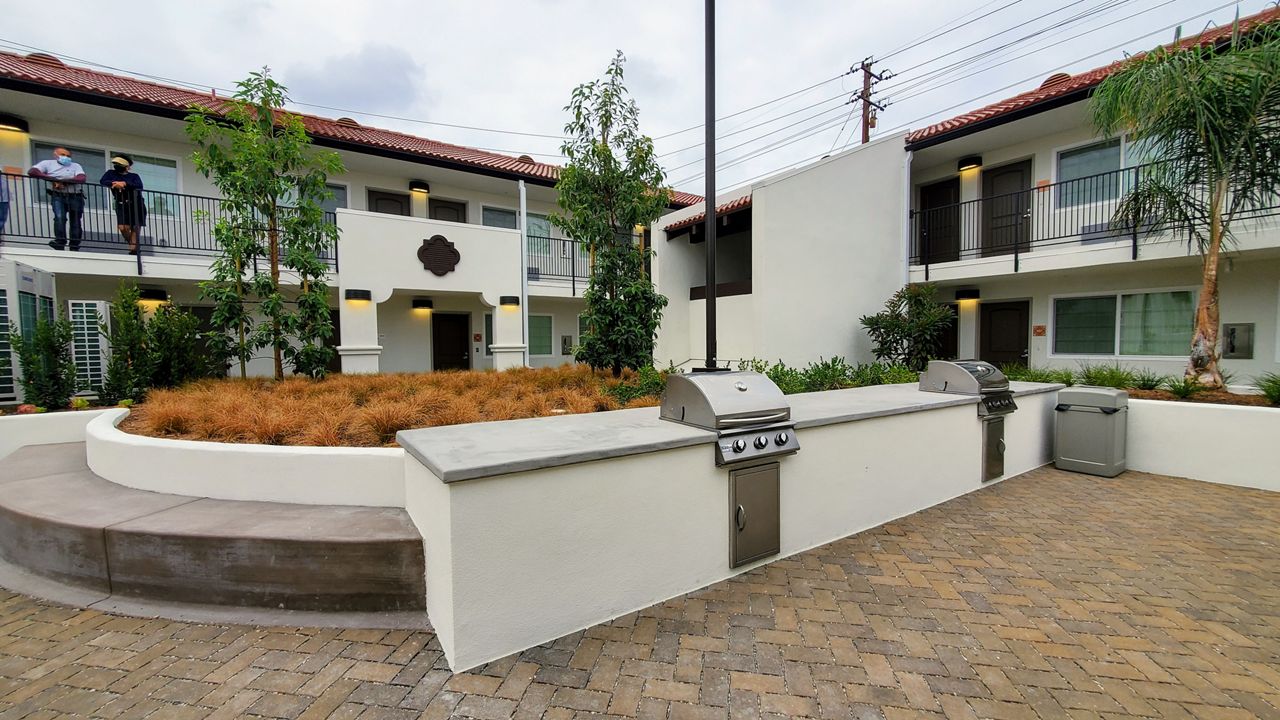 The city teamed up with Irvine-based affordable housing developer Jamboree Housing Corp. to turn a former Econo Lodge into a $25.4 million, 69-unit home for veterans, individuals with mental illness and formerly homeless individuals.
The two-story Spanish-style building is comprised of 69 fully furnished studio apartments and a one-bedroom unit for an on-site property manager.
The permanent supportive housing development at 2691 West La Palma Ave. features a 1,800-square-foot community center, counseling rooms, community kitchen, barbecue area, a community garden and more. The project also provides much-needed on-site services, including medication-management assistance, mental health counseling and general life skills training.
The residents, who earn 30% of the area's median income, pay about $283 a month, Jamboree officials said.
The new development is also part of the county's plan to help build 2,700 housing units to house the nearly 5,000 homeless Orange County residents.
City Councilman Stephen Faessel said this development helps those who were chronically homeless a path forward.
"Every bed is important," said Faessel to Spectrum News. "In this case, we have a whole facility, a former motel that is now going to be home to those who suffered homelessness and now have an opportunity to move forward."
Property records show Jamboree acquired the motel for $9.5 million in 2019 and shortly began the conversion process.
It wasn't an easy process. Financing an affordable housing development is often complex, said Michael Massie, chief development officer at Jamboree.
The money and financing to convert this property came in from Anaheim, the California Housing Finance Agency, Orange County Housing Trust, U.S. Bank, California Community Reinvestment Corp., Providence Hospital and the Walt Disney Co.
"We've been eyeing this as an opportunity to be as responsive as we can to the housing and homeless crisis," said Massie to Spectrum News. "We see motel conversions as a shortcut to getting units online as quickly as possible."
Jamboree President and CEO Laura Archuleta said Buena Esperanza would serve as a blueprint as more motels and hotels convert into permanent and supportive housing under the state's Project Homekey. Buena Esperanza is Jamboree's ninth motel conversion.
For Wright, his journey to homelessness wasn't atypical. After serving five years in the Marines, he worked odd jobs. He was married for more than 30 years, has children and grandchildren.
But his marriage didn't work out. Wright didn't want to elaborate.
"I'd rather have them have a home than me," said Wright.
Wright said he has been living inside his car, motels and couch surfing at a friend's home for the past five years. He's dealt with anxiety and other breakdowns.
Living on the streets is tough. Finding overnight parking is difficult, Wright told Spectrum News after the press conference.
"It was scary," said Wright, who works at CVS. "You're out here; you're out on the street. You always have to watch your back. I stayed up most of the time."
He recently went to the Long Beach Veteran's Affairs office, and they referred him to Buena Esperanza. He applied and got in.
Since moving in two weeks ago, he has acclimated to his new place. He's met other veterans and his neighbors, and is making the best of his new home.
"This is a place of hope for me, for all of us," said Wright.
In a way, it seems fitting that Wright, who for years hoped and prayed to change his circumstances, finds himself living in a place called Buena Esperanza.
It means "Good Hope" in Spanish.