LOS ANGELES — "It is what it is," Amy said as she used a gloved hand to push empty containers into an overflowing trash can.
Only this isn't her trash and her name isn't Amy. Concerned about her safety, she asked us not to reveal her identity.
Amy has been living in a tent on the edge of Toriumi Plaza on and off for three years and tries her best to clean up. Sanitation doesn't always come to empty the bins, according to Amy.
"If you don't do it at some point, no one else will and then you live in trash," she said.
This may be Amy's final few days here. On Thursday, they will erect a fence around the Little Tokyo plaza, following a yellow line that's been painted on the sidewalk. The plaza belongs to the Department of Transportation and is due for what Councilmember Kevin de León says is "hundreds of thousand of dollars of much needed repairs."
He's been working with the population here for some time and so far, has been able to get 80 people from this community off the streets and into some form of housing.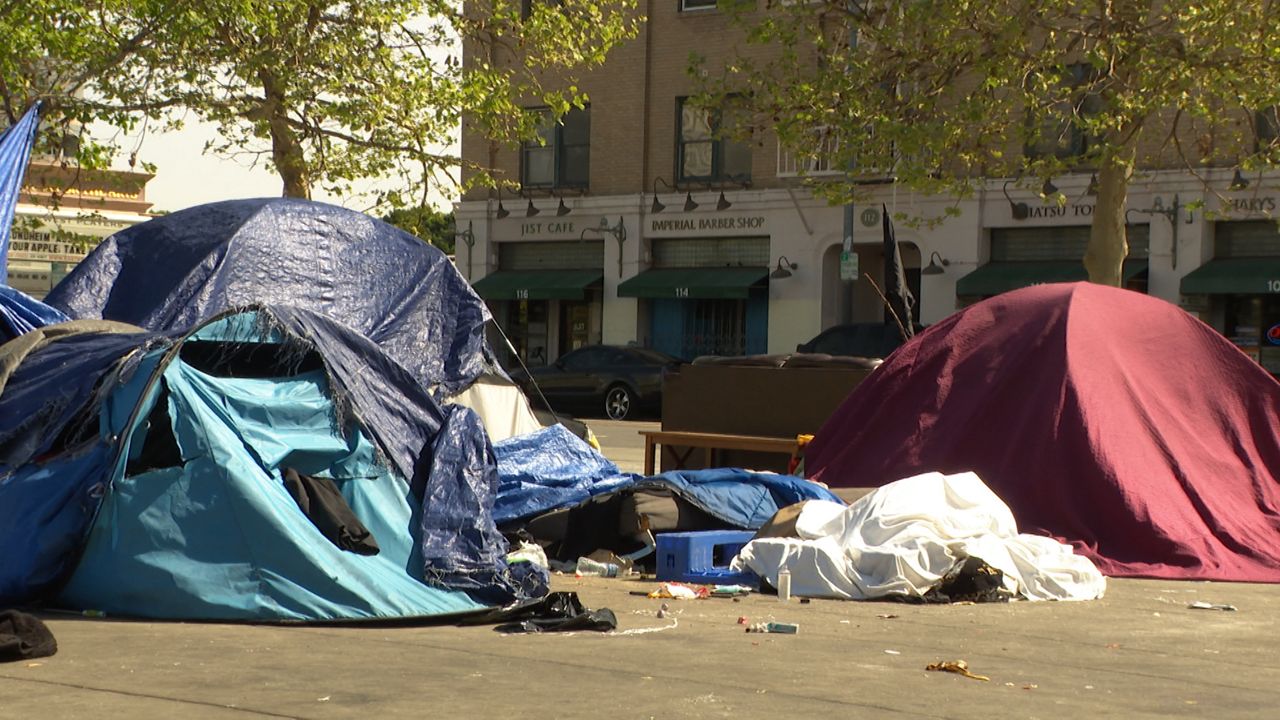 "Nine times out of 10, our unhoused neighbors will take housing immediately," he said, with a snap for emphasis. "We can quickly get them in a hotel room in the short-term period and then we can provide that permanent housing later on."
But Amy is hesitant. Shelter programs work for a time, she says, but eventually funding runs out.
"You're out of luck and you're back out on your own," she said. "People have left here within the last three years and within a matter of months, they're back."
Sunday afternoon, the group J-Town Action and Solidarity in Little Tokyo held a rally against what they see as a sweep of this plaza and the displacement of the unhoused population that has been living here. Organizer Steven Chun is one of the people spearheading the rally that drew about 100 protesters.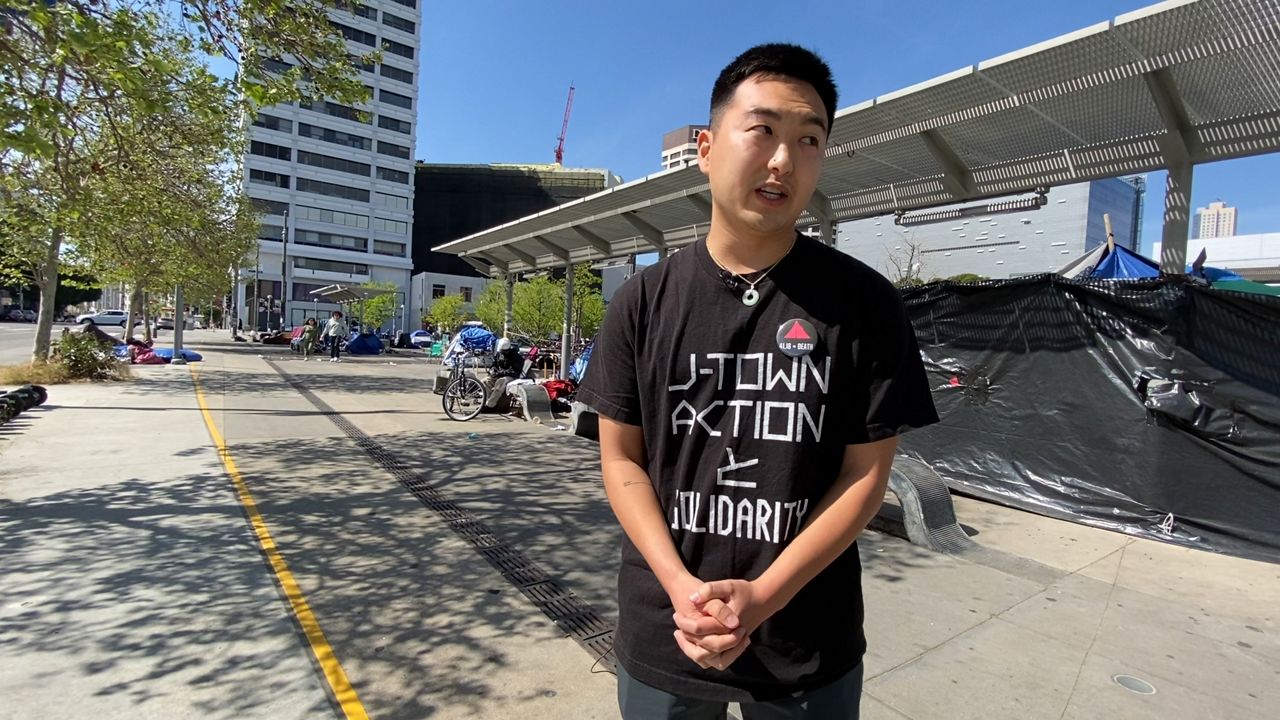 His group has been coming here for 59 consecutive weeks, bringing meals, PPE and other supplies during what they call Power Up events. Walking through the plaza prior to the protest, he described the way he views the population.
"I see lots of people that really just need help at the end of the day," Chun said. "Really, what this is for us is just a massive displacement and a violation of people's human rights."
He says many of the residents who remain on the plaza don't like the options available to them — options that either don't meet their specific needs or leave them feeling, as he put it, like they are in jail.
"So why should they be forced or coerced into accepting this housing that makes them feel like they're a prisoner?" he said.
Activism is in his blood. His father worked in this neighborhood in the '70s and '80s, Chun says, fighting for reparations for Japanese Americans who had been interned during WWII. Signs around the plaza are designed to evoke executive order 9066, which authorized the internment. Chun doesn't take credit for the signs, but he agrees with the comparison.
"I don't think it's exaggerated at all," he said. "These people have been dehumanized, much like our Japanese American people were dehumanized 80 years ago."
However, Councilmember de León finds the rhetoric offensive.
"To equate [the internment of Japanese Americans] with getting people housing, food, a warm bed, it's just highly irresponsible," he said.
He points out that District 14 has the largest homeless population in all of Los Angeles, larger even than the cities of Houston or Phoenix.
"The sad reality is that our public sidewalks, our streets, have become the de facto bathrooms and quite frankly graveyards," he said, pointing out that five people experiencing homelessness die every day in the county of Los Angeles. "Any folks who come out and try to block our efforts are actually making sure they continue to live in utter misery on the streets of LA."
This isn't the first time Chun and de León have clashed over this issue. During a recent mayoral debate at LMU, Chun was one of the protesters who interrupted the program, at one point rushing the stage.
He claims his group has been trying to get a meeting with the councilmember to discuss homelessness.
"When the community is not being heard, sometimes you have to take extra peaceful measures and make your voice heard," he said.
He says his group plans to be in constant contact with the residents of Toriumi Plaza for the duration of this week leading up to Thursday and are "ready to support them in any way they need."
As for Amy, she plans to stay with her tent set up outside the fenced area on the city sidewalk — public property not owned by the DOT. And she has advice for politicians looking to work with the unhoused: offer individualized services for individual needs, like drug addiction or mental health issues.
"If you're not going to deal with that, you can't just put them in a hotel room and think they are going to be able to get a job and support themselves," she explained. "If you really want to help people, you need to meet them where they are."
While different sides fight over different solutions, she'll continue taking matters into her own hands, keeping her corner as clean as she can for as long as she can.