LOS ANGELES — Four stories above 7th and Main streets in DTLA is a green neon artwork called "Estamos Aqui." It is part of a site-specific installation called "Where Do We Go From Here?" It prompts Angelenos to think about what the city's future might look like following a tumultuous time.
Located in LA's Fashion District, the building that hosts the public art installation is the former Dearden's furniture store that served many communities for over 100 years. "Estamos Aqui" is the creation of artist Ginger Q. She specializes in neon and mixed media art that reflects her unique artistic skill set and her cultural heritage.
"I really wanted to make something that felt inspiration for the LatinX community, especially here in downtown LA," said Ginger Q from the rooftop of the building, which has undergone a renovation and is now called 7 Main. "[The piece] activates you to look up while you're walking down the street because I really wanted to create something hopeful," added Ginger Q.
The neon and metal pieces had to be securely anchored from the rooftop, so it is a bit of an engineering feat as well, and Ginger Q said she had to get some help rigging it up.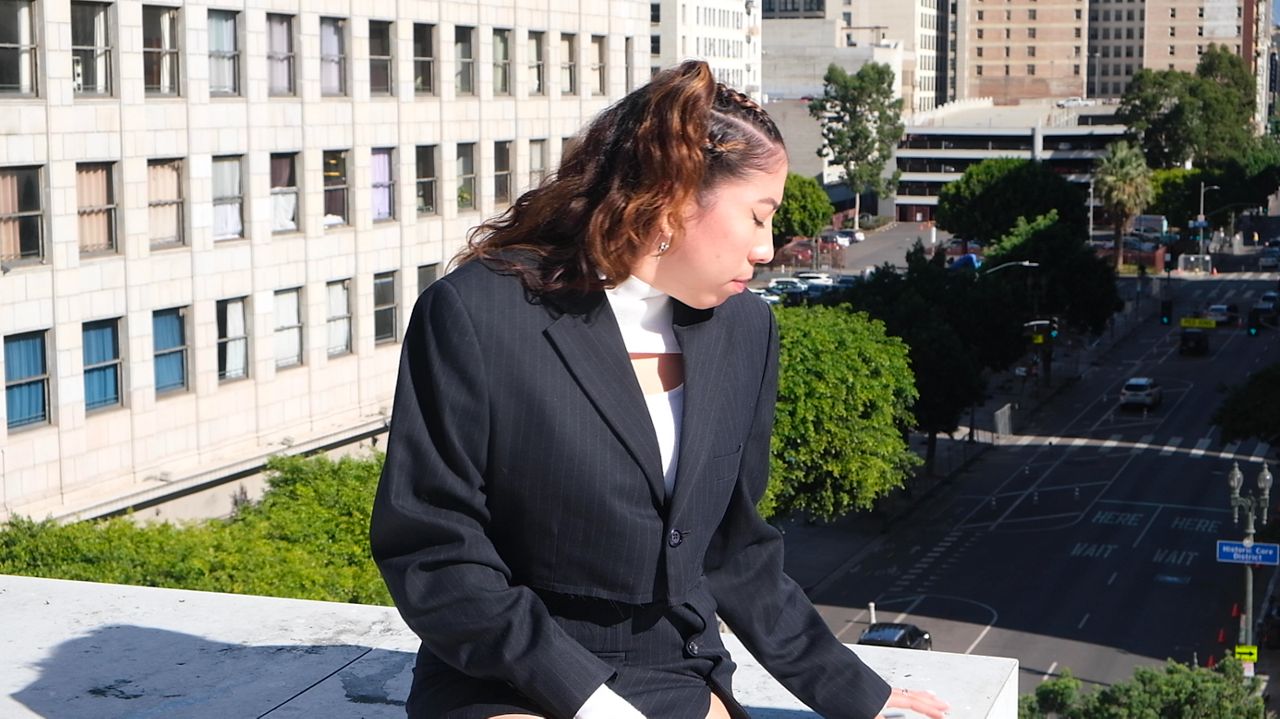 "They were all LatinX installers, and they really helped me put this piece together. So, I just wanted a shout out to 'mi gente,'" she said.
As she was putting the piece together, Ginger Q started hearing stories from many friends and family who had connections with the historic Dearden's furniture store.
"As I was posting on Instagram, people were reaching out to me, 'Oh, my uncle worked there. Oh, my mom used to shop there all the time.' And my cousin even reached out to me and was like, 'Oh, my grandpa, like literally work there.' I didn't even realize how deeply the connection was and that it was even so close to me."
Ginger Q learned that for many in the Latino community, Dearden's was known as one of the only places in town that would extend credit to undocumented and recent immigrants, and often the receipts people received at Dearden's would serve as proof that they were here and help them get established in the U.S.
The project's curator Tré Borden explained that the importance of this location for many immigrant communities gives the installation an added layer of meaning, especially when looking to the future.
"I always wondered, what is this going to become?" Borden said. "And I hope that there's some way to activate it to really speak to the community before it becomes a really big company or, you know, some kind of commercial space."
"Where Do We Go From Here?" also includes works from the 2021 Womxn in Windows project, which is an annual exhibition focusing on themes of identity, culture and society told through moving image. Five women artisits from underrepresented communities are on display for passersby to reflect on. While the works tackle many issues that the pandemic has brought to the fore, Borden said they do not offer ready-made answers.
"We are not solving the housing crisis," Borden said. "We are not putting people into shelters. We are not a public health organization. But what we are, is a way for people to take a second to disrupt their day and say, 'Hmmm, where do we go from here? What is going on around me? What would look better? What would feel better? Who should this place start to work for?'"
Ginger Q added, "The amazing part of having this installation here is a recognition of our community being here."
The public also got a chance to add their voices to the installation by submitting responses online to the prompt, "Where do we go from here?" A selection of these responses will be on display starting Nov. 15, forming a conversation with the artwork already here.