LOS ANGELES — At the Skylight Theatre in Los Feliz, some of the storylines playing out include COVID compliance, isolation, financial hardships and the amplification of diverse voices. Also among the storylines is the plot of Inda Craig-Galván's "A Hit Dog Will Holler," which "investigates Black trauma openly."
In fact, the play comes with a trigger warning because the content pushes the envelope, but there are lines that even director Jon Lawrence Rivera of Playwright's Arena will not cross.
---
What You Need To Know
Skylight Theatre and Playwright's Arena have crafted a 4 show collaborative season


"A Hit Dog Will Holler" by Inda Craig-Galván begins previews on October 31. It will also be available virtually.


Set in 2020, the two-character piece "investigates Black trauma openly"


Production rehearsals had to be structured to comply with AEA's COVID guidelines
---
"I can't," he said, standing at the threshold of the dressing room. "I just have to stay here and talk to them."
His toes rest inches behind a line of tape that marks a zone where only actors and the stage manager can enter. The costume designer can cross it, too, for the purpose of fittings.
It is an adaptation made in order to create theater in the current environment.
"It's a whole new way of working," Rivera said.
Even out in the house, Rivera stays separate from the cast, projecting his notes across a literal divide. The set, which includes portions of the rarely seen fourth wall, was designed to evoke a sense of entrapment, to give the audience the feeling that they are peering into the apartment where the action takes place.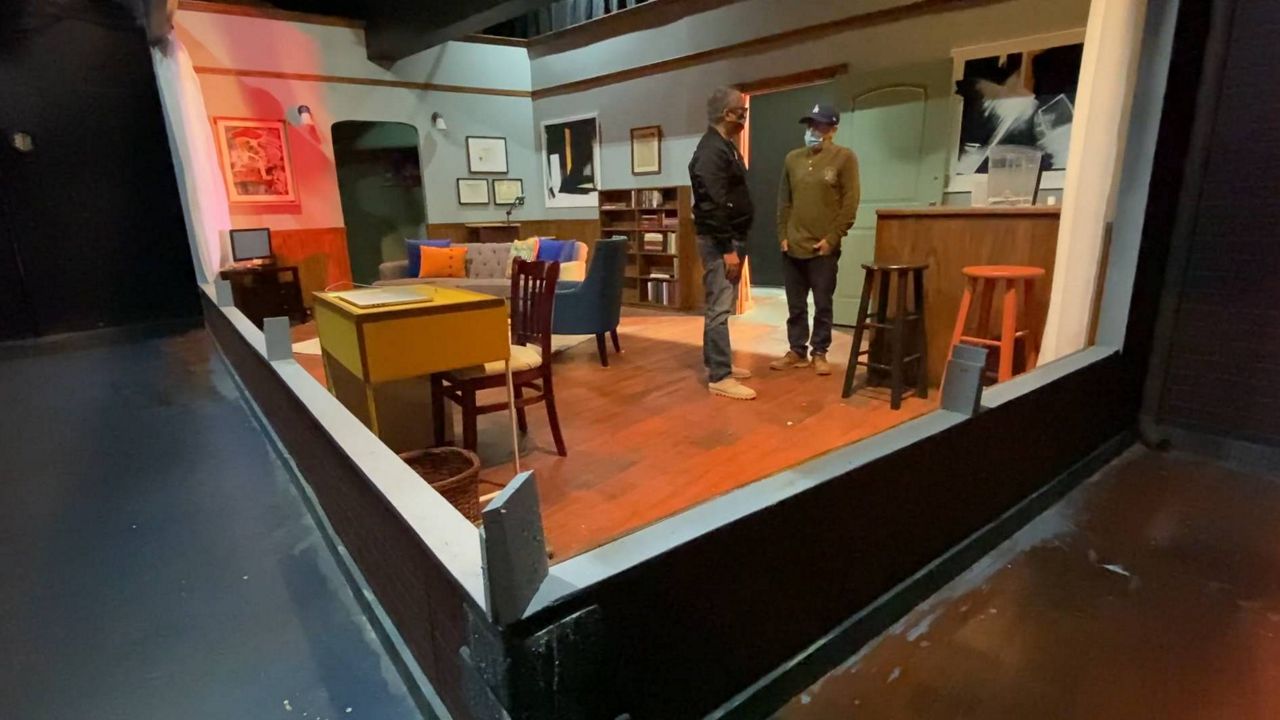 It also serves a practical purpose.
"The audience has to be six feet apart from the cast, right?" Rivera explained, indicating the distance between the downstage corner of the set and the first row of seats. "So this point right here, which is the closest point to the audience, this is where our six feet starts."
The one thing that moves freely throughout the space is sound, which is almost a third character in "A Hit Dog Will Holler."
"I can turn up the siren," sound designer Howard Ho told Rivera as they made tweaks during a Sunday afternoon tech rehearsal.
When he arrives at the theater, Ho goes straight to his pod – the only workstation in a row that is set aside just for him.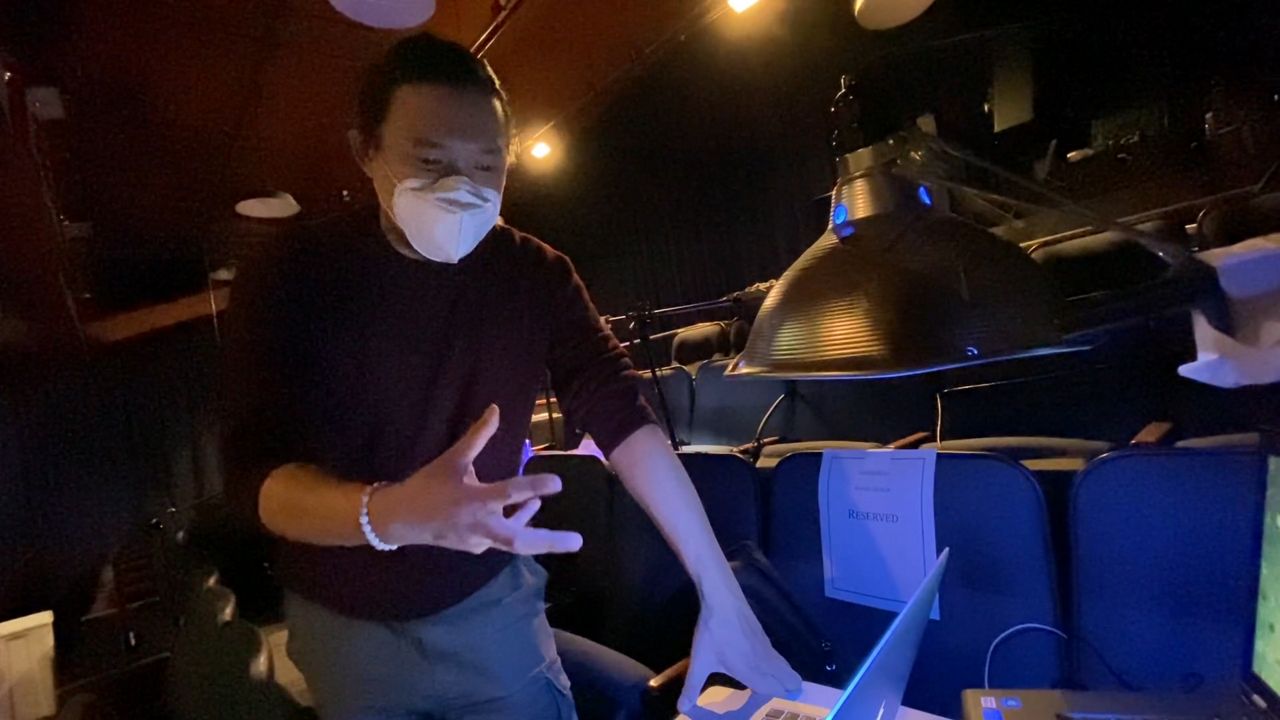 Rivera's pod is at the other end of the row behind Ho's. A few rows back and across the aisle sits the video designer, and so on, blue work lamps checkboarding throughout the space.
Until tech week, designers were rarely in the theater at the same time as the actors.
Most of his early interaction with the cast was digital, which flies in the face of what Ho sees as an essential component of theater – collaboration.
"The actors have given input about through email," Ho said of creating that important, recurring sound. "You know, I was in on that discussion even though it wasn't here and I couldn't really be a part of it."
He also was not able to walk around the space to experience the sound from different locations as he normally would, and creating at home, with a headset on is hardly the same.
While COVID has created many extra hurdles for small theater production, Ho said waiting any longer was not an option.
"It's 100% necessary that we do theater now," he said. "We've had no outlet and we've had no sense of community."
In addition to pandemic related economic losses, the cost of producing a show has dramatically increased since the passage of AB5.
For Playwright's Arena, producing a play in their 50-seat space in Atwater Village used to cost about $25,000. Rivera said that figure has now doubled.
"And how do you do that and keep it sustainable in a 50-seat configuration?" he asked.
So when Gary Grossman of Skylight Theatre approached him about a partnership between the two small theater companies, it made sense, Rivera said.
Skylight's 99-seat Los Feliz theater means the partners can pool resources while reaching a bigger audience and most importantly, continuing to serve their already shared mission.
"We are supporting playwrights," Rivera explained of both Skylight Theatre and Playwright's Arena. "We are always doing new work and world premieres."
Like "A Hit Dog Will Holler," Grossman and Rivera had worked with Craig-Galván before on some of her previous plays.
As they began crafting their four show collaborative season, Rivera suggested this piece, which he had hoped to produce earlier this year.
"This production felt to both of us as the show that we needed to open the season," he said. "It deals with racism. It deals with women's point of view. It's written by a Black woman playwright."
Earlier this month, Center Theatre Group came under criticism for including only one female playwright in their upcoming season at the Mark Taper Forum.
Among those voices was Rivera who wrote on social media, "Oh, CTG... you can't let us keep producing women playwrights. You've got to do your share."
Center Theatre Group has since committed to featuring only woman-identifying or nonbinary playwrights in the 2022-2023 season.
Rivera, however, finds the conversation frustrating.
"We have been doing that for a long time," he said, exasperated that the work his and other small theaters have been doing all along seems to go unnoticed.
"Yes, they are not doing the work but it's happening over here," he said. "It's happening at Skylight. It's happening at the Fountain Theatre. It's happening at Echo Theatre Company.
"That's why 99-seat theater needs to stay alive," Grossman said, and why he suggested this partnership between the two simpatico companies.
Small theater needs to survive however possible, the two artistic directors agree, because they're the ones opening the door to lesser heard voices.
"A Hit Dog Will Holler" runs from October 30 through December 12. The run includes "Pay What You Want" performances, an ASL interpreted performance as well as two Black Communities Performances "dedicated to inviting Black communities to experience this piece together."
It will also be available virtually.