LOS ANGELES — Glass is a material that has both strength and fragility.
The dual nature of glass as a material has been a perfect metaphor for artist Kazuki Takizawa who, for the last 15 years, has been honing his skills creating works that are at once delicate and strong, transparent and opaque.
These dualities have another meaning for Takizawa, who has also struggled with a bipolar disorder that has become a theme in his work.
"Repetition is a big thing in glass blowing," he said. "You always want to do things repeatedly to hone your skills. So that's also really been helpful in getting structure in my life, too."
Takizawa's work has been both therapeutic and a means of exploring themes of mental health in a way that disarms taboos that often surrounds such discussions, and although Takizawa's work is much sought after, he says he hasn't yet mastered the medium.
"That's why I'm here," he said. "You know, if I feel like I finished mastering, then I think I'll get bored."
Part of the challenge of mastering glass blowing is that working with molten glass is tricky and potentially dangerous. Pieces are fired in a 2,000-degree oven and when malleable one has to know how the material will behave and work quickly before it cools, all the while avoiding shattering the piece.
"Because if you let the glass cool down really fast, it's gonna crack, right?" Takizawa said. "So, you have to cool it down overnight slowly."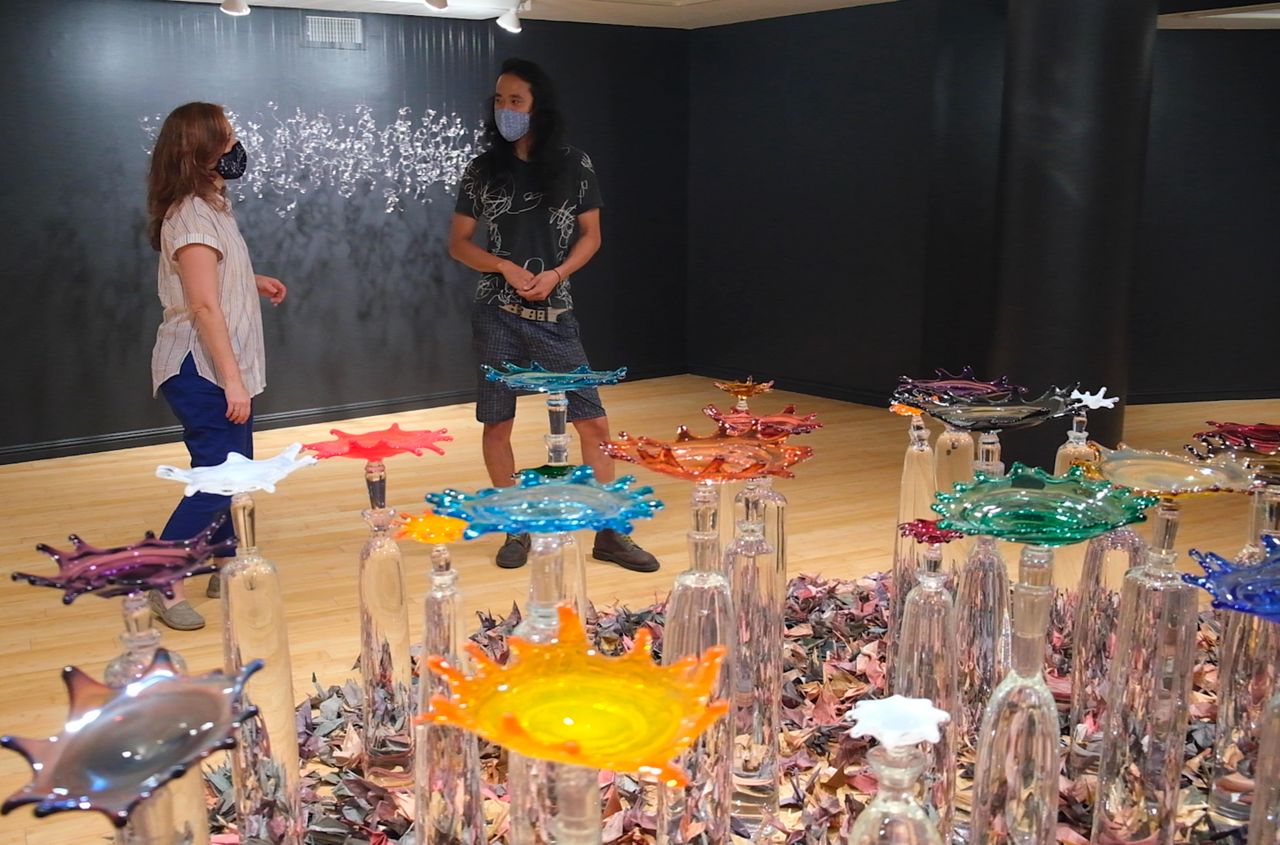 Takizawa's first solo exhibition is now on view at the Craft Contemporary Museum along the Miracle Mile. The show is called "Tomoshibi," a Japanese word meaning light or lantern. Craft Contemporary's exhibition curator Holly Jerger said the museum focuses on artists with a strong sense of the materials they work with.
"They are both knowledgeable in the way that they work with them technically, as well as understanding the histories and sort of the metaphors that those materials carry," said Jerger.
From the sentinel-like totems that greet visitors at the entrance to a glass sphere which Takizawa dropped off a bridge and pieced back together after once having suicidal thoughts, the sculptural pieces speak of the artist's process of navigating his mental health, which has been as complex and multifaceted as the pieces themselves.
"He's work very beautifully illustrates that, I think," said Jerger. "Also, because it's set up through the vehicle of art, that also allows metaphor and people's own interpretations to layer on."
One ornamented chalice-like piece is called "Blue Bird" and is inspired by a book Takizawa had as a child. For him it represents innocence, happiness and hope.
"That simple story is like a combination of a lot of different things," he said. "But what makes me stable, I felt like it was something very close to me."
Although Takizawa said his work explores the dark parts of his journey, as the word "tomoshibi" might suggest, he also hopes his glass art brings light to show the way forward.