SANTA MONICA, Calif. — For theater-makers, the last two years have been tough.
"Child, who you telling?!" Roger Q. Mason boomed, although they also admit that this past year and a half has been a time of growth and opportunity for them.
During the pandemic, the self-described Black, Filipinx, plus-sized, gender non-conforming, queer artist of color continued creating.
They wrote "The Duat" for Center Theatre Group's Not a Moment but a Movement series. They also wrote and starred in the short film "Taffeta," currently playing at festivals.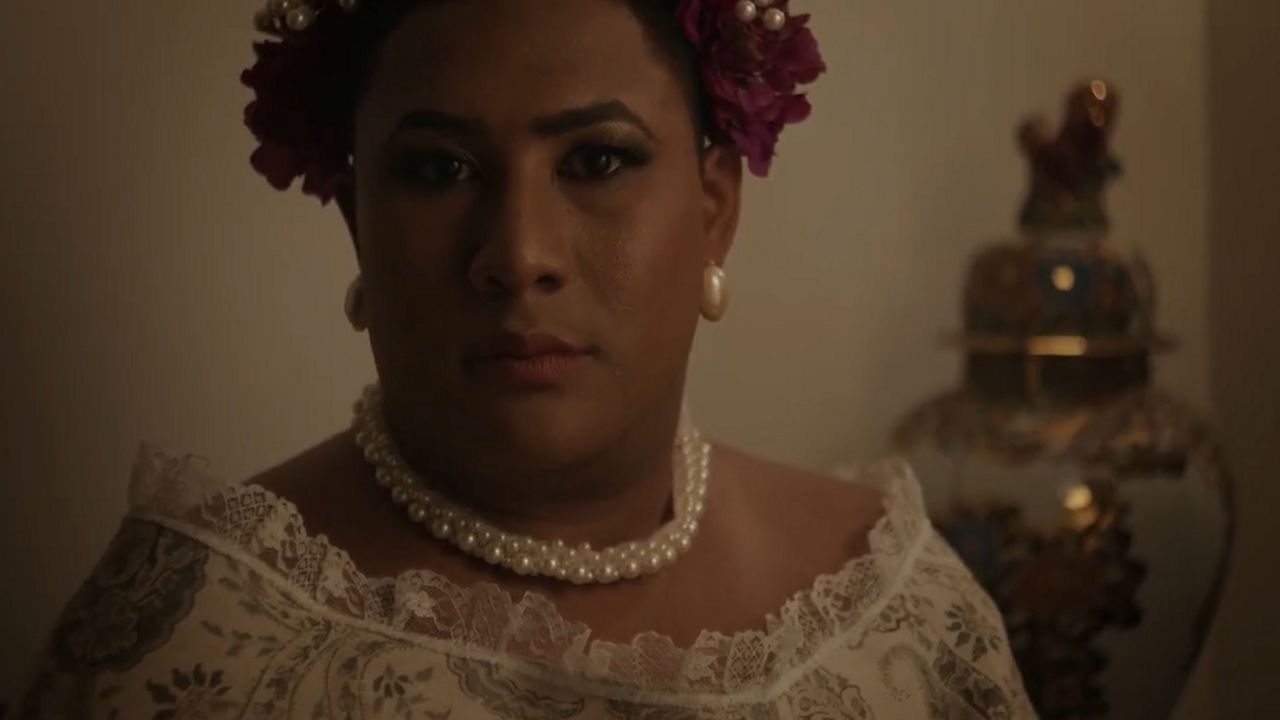 For Mason, theatre is a sacred tradition, a place where we go to see ourselves.
Mason gravitated to the art form in middle school because they wanted to sing the blues but eventually turned to the power of the pen, learning to use words to fight for who they are.
It's a fight Mason can trace back to their early childhood when they were punished for questioning their teachers.
"I was taught to understand that my way of thinking and being in the world were to be punished and silenced. And that left an indelible impression on who I was not only as a person but ultimately as an artist," Mason explained. "Sounds like the beginning of a writerly life to me."
A true wordsmith who seems to speak in poetry at times, Mason points out that the word "theater" stems from a Greek word that means "the seeing place" – a past they'd like to see the institution embrace as its future.
"I think we need to be a reflection of who we are and who we've been and who we will be," Mason said, a serious look punctuating the statement.
That means showcasing all kinds of stories on stage, including stories of trans and gender-nonconforming experiences, a recurring theme in conversations Mason has been having with theater-makers from coast to coast.
"There's a movement right now amongst theatres around the country to really invest is diversifying stories," they said.

It's a movement that's already underway in LA.
"Head Over Heels," which recently ran at the Pasadena Playhouse, was a celebration of gender identity. An upcoming production of "A Little Night Music" at Greenway Court Theatre will explore gender roles by casting trans and nonbinary actors to play some of the leads.
Center Theatre Group has "Everybody's Talking About Jamie" coming to the Ahmanson Theatre in January, and in the spring, "To T or Not to T? A Comedic Trans Journey through (T)estosterone and Masculinity" will be presented at their Kirk Douglas Theatre.
CTG's CEO Meghan Pressman also stressed that the 2022-2023 season being programmed for the Mark Taper Forum would feature all women-identifying playwrights, a population noticeably missing in their current season.
"Theater is about bringing people together," she said, "and part of the way we do that is bringing diversity on our stages. That's about diversity of race and ethnicity. It's also about gender."
Mason will take the stage in 2022, as well. Their play "Lavender Men," which features the Taffeta character, will have its world premiere at Skylight Theatre in August.
Mason is also serving as the lead mentor for the New Visions Fellowship, a program run by the National Queer Theatre and Dramatists Guilds designed to spotlight Black trans and gender-nonconforming playwrights around the country.
But honing their craft and writing plays is only the first step. The only way for these works to be seen is if they are programmed, and for a long time, Mason says, theater companies were reluctant to take risks and chances.
"It's not a chance because queer folks, women, people of color, differently abled people, differently aged folks, we have all been here and we have always been here," they stressed. "So it's not a risk to bring our bodies to the stories that are supposed to be in the seeing place. I'm supposed to be seen in there too."
For 2022, they'd like to see theatres "embrace the unknown and unguaranteed," experimenting with form and style and casting so that the seeing place can be a learning place, an empathizing place, an inclusive place.