MILWAUKEE— Milwaukee's new chief of police has more than 25 years with the department. Born and raised in the city, Jeffrey Norman understands the fragile relationship the Milwaukee Police Department has with some in the community. Chief Norman said the biggest challenge his department faces these days, is trust.

The new chief knows he has a lot of work to do when it comes to earning back that trust. He pointed out the police are the community and vice versa.
"It's a symbiotic circle. We need to understand and embrace that," Norman said.
Norman said he knows there are dark parts of history police need to own. In return, he asked the public not to judge his department by the actions of other law enforcement agencies.
"This is very fragile," he said. "I know that we are dealing with a lot of different challenges, that we're being held accountable to those particular acts. We have to be sensitive to it, but also we can stand up for ourselves too. Saying, 'I get it; I don't sign off on what happened there either. But judge me on me. Judge us on what we're doing,'" Norman said.
His strategy is to make what he called "trust deposits" in the community. One approach is being accountable as a department.
"As we continue to showcase and show ourselves to be transparent and hold ourselves to accountability that's where you build the trust, that's where you build the relationships," Norman said.
The chief pointed out MPD operates on information, and good police work requires cooperation.
"When you're reporting behavior on your block or in your community, that's not snitching. That's being committed to a better neighborhood— a workable, sustainable neighborhood," he said.
Since he became acting chief in December of 2020, Norman worked to close the divide with the community.
"Being part of town halls, being part of community engagement, residents need to know that we are open to work together to find a way," he said. "How we can do better? Because yes, we do make mistakes. But how do we move on from that? And learn from that? Only by working together can that be done."
Norman acknowledged policing has changed. It's not just about enforcing the law anymore. As police are called on to do more, many departments are dealing with budget cuts and fewer officers.
Back in 2000, MPD had more than 1,900 sworn officer. As of this January that number is around 1,600. A decrease of more than 17%.
Norman called the current state of things a balancing act and said the department has to be honest about the realities of the situation.
"Look at what are the other opportunities. Understand that if you try to take on the load yourself, shame on you," he said.
The chief pointed out this has been a trying time for everyone; that includes first responders who showed up every day in the pandemic.
"The men and women of the Milwaukee police force are ultimate professionals in my mind. Having those commitments to show up in spite of the challenges or narratives out there," Norman said.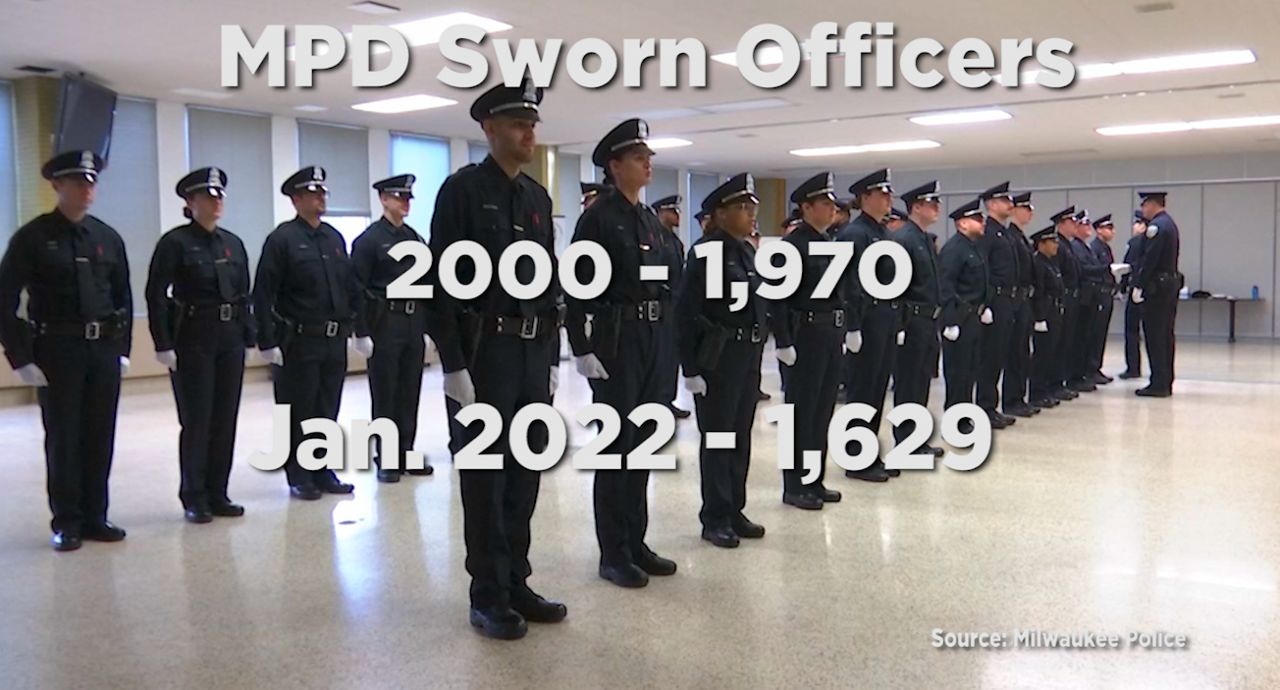 Norman said he is big on boosting morale in the department. He likes to show up at roll call in different districts and thank officers directly.
"We have done a really good job at taking care of each other with check-ins, ensuring we are being our brother's or sister's keeper," the chief said.
As a role model, Norman explained he expects a certain standard from others.
"If I can show you how it's done, I expect to see you do it. I want you to be the best version of yourself when you're policing," he said.
To Norman that's the path forward: Making sure the department aligns its deed with its words.