WASHINGTON — Lines at COVID-19 testing sites have become common around the country. Ana Rodriguez, a parent in D.C. said scheduling tests for herself and her two daughters has been stressful.
"You can see the lines wrapped around the building and you're trying to figure out, 'Where do I go?'" said Rodriguez. "You can't get an appointment at CVS; can't get an appointment at Walgreens; can't get an appointment at Walmart."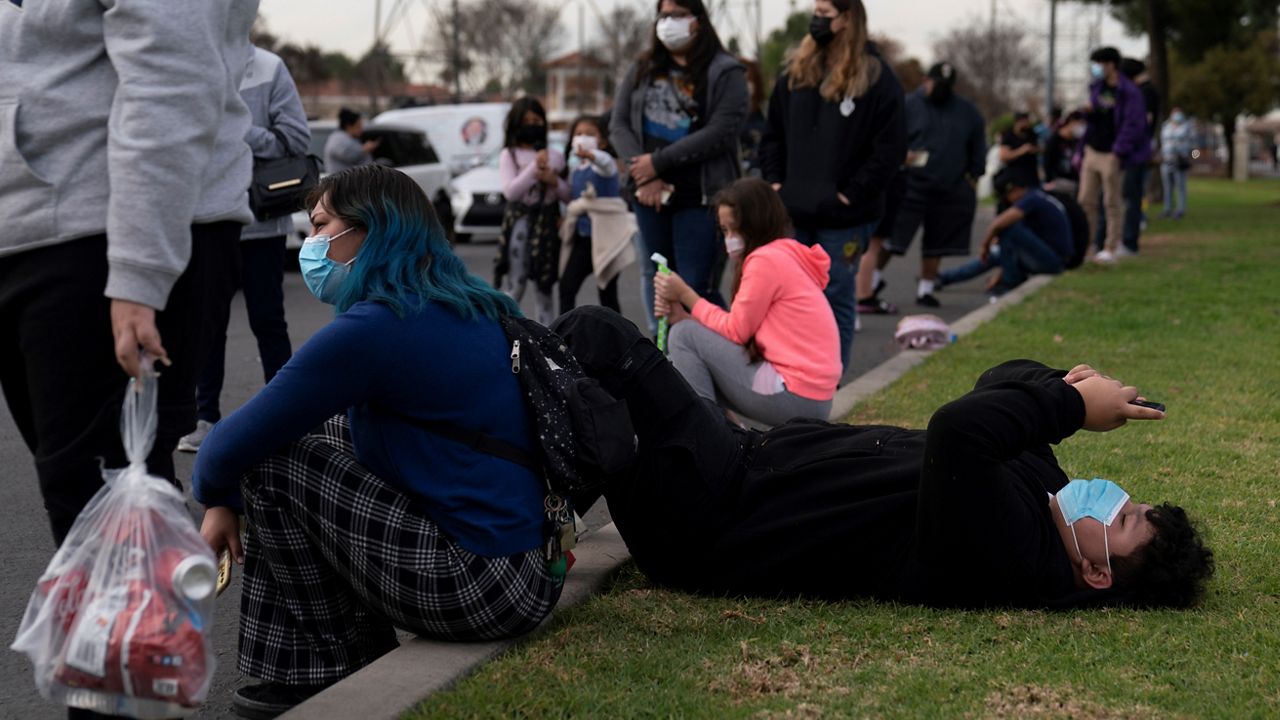 In Washington, lawmakers criticized President Joe Biden's administration's response. Fifty Democrats sent a letter to the White House last week, asking the administration to ramp up supply. Sen. Tammy Baldwin, D-Wisconsin, also wrote to the Health and Human Services Secretary asking for clarity on its plan to roll out more at-home tests.
"The department made one of its experts on the rapid test strategies available to us — most of the signers of the letter — for about an hour," said Sen. Baldwin. "We want to make sure there's not confusion. We want to make sure that there's equity and we want to make sure that this is something that people know about as it ramps up throughout this month."
The Biden administration announced Friday that a new website to distribute free at-home COVID tests will launch Wednesday. The news comes one day after the president said his administration was doubling the number of tests it is distributing.
"In addition to the 500 million tests that are already in the process of being purchased and shipped to you for free, today I instructed my team to purchase an additional 500 million tests," Biden said during a health briefing on Thursday.
The Administration added schools will receive an additional 10 million free tests per month as part of this new plan.
"This is critical to continuing to keep our test-to-stay programs working so that we can keep our schools open and limit disruptions to learning for our students," said Miguel Cardona, U.S. Department of Education secretary. "A lot of the push for testing in schools came from what we've been hearing from teachers, from principals, from superintendents who have worked heroically to support our students, everyone agrees in person learning is the best way to go. They need some support with some of these tools, and we're responding."
That response is somewhat comforting to Rodriguez. While both of her children have been vaccinated, her oldest daughter is immunocompromised. Her youngest's school is currently running remotely. But she doesn't know if a return to in-person learning is imminent.
"It's hard being a parent right now deciding whether do I take a chance and put them back in the classroom and get her exposed or do I stop her from learning?" said Rodriguez.
She said she's cautiously watching how the roll out of these at-school tests will go.
"Let's have safety protocols and make sure everyone understands that we have enough test kits and that they're free," she said.