APPLETON, Wis. — A fine polystyrene dusts floats through the air as Jasper Sheckles pushes pieces of styrofoam into a new machine at the Outagaine County Resource Recovery Park.
The machine grinds ups and heats the styrofoam. It's then extruded out of the side as a hard material that can be recycled.
"A reason for everybody to start paying attention to this stuff is to keep it out of the hole in the ground. You're going to run out of space," said Sheckels, who works for Leadpoint, a company partnered with the county to run recycling operations.
That space is top of mind to waste and recycling officials as they work to get the most our of landfills.
At the beginning of the year, Brown County started preliminary operations at new landfill in the southern part of the county.
For the past 20 years Brown, Winnebago and Outagamie counties have pooled their landfill and recycling operations. Outagamie County is currently the primary landfill site and it is expected to reach capacity in the next few years.
Mark Walter with Brown County's Port and Resource Recovery Department said as part of that agreement Brown County is now gearing up to take materials at the new landfill.
"Landfills are finite. They only hold so much stuff and then you've got to find another home for it," he said. "The more we recycle, the more we reduce, the more we recover the less goes into the landfill."
Keeping items that be recycled or repurposed — like plastic bags, scrap metal and furniture — out of landfills extends their life.
"When it goes into the landfill, that's basically the end of life," Walter said. "If you have some scrap metal, when it goes into this transfer station, once it's in there, it's going to a landfill and it's going to get buried, and that's it."
Marissa Michalkiewicz with Outagamie County Recycling & Solid Waste said efforts like the polystyrene recycling — which is a drop-off program at the Resource Recovery Park — allows the material another life as a useful product.
"One of our potential buyers takes this product and turns it into picture frames and interior trim molding," she said. "There are lots of opportunities for remanufacturing this product not other polystyrene products."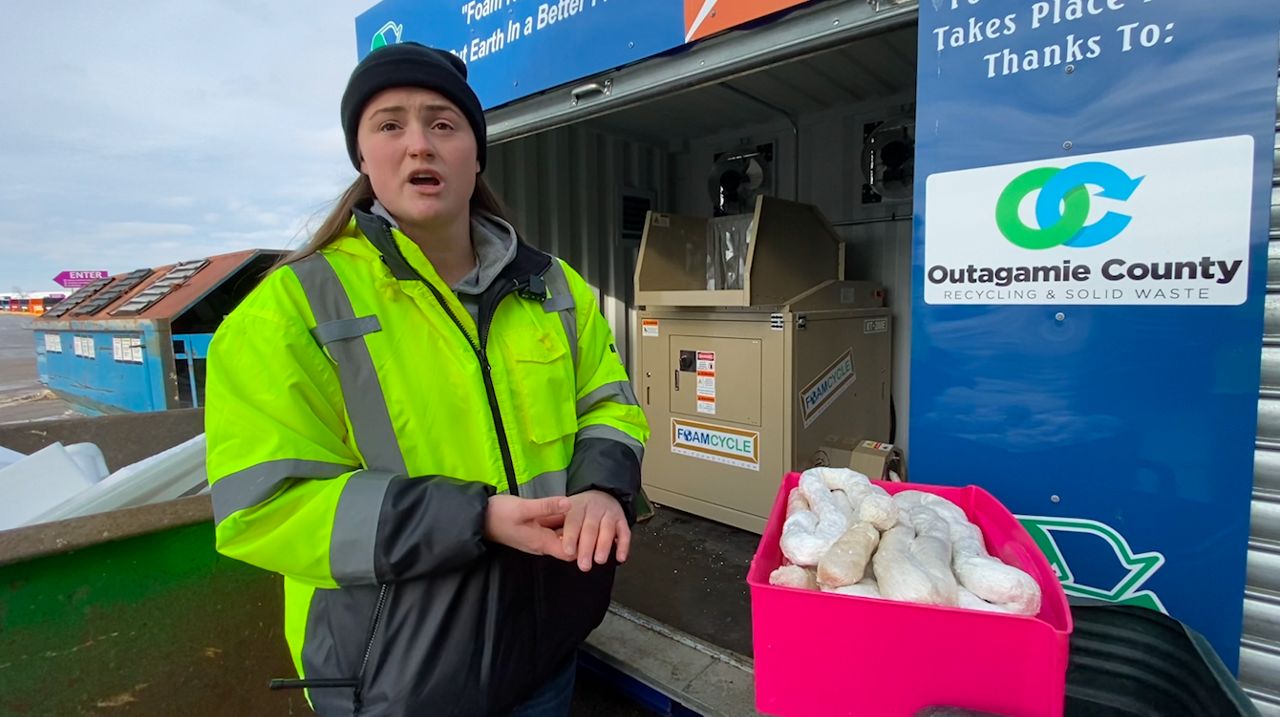 Michalkiewicz said in the first six weeks of operation the machine has kept about 1,380 pounds of polystyrene out of the landfill.
Standing in fant of a large metal bin filled with styrofoam, and pointing to an area where soda cans and milk jugs are recycled, Sheckles said individuals can impact waste and recycling operations.
"It's important just for people to take a minute — just a minute, that's all it takes — to make a difference," he said.