APPLETON, Wis. — October is Breast Cancer Awareness Month. Throughout the course of the month, organizations try to create awareness for the most common cancer in women worldwide.
A local nonprofit organization, Peaceful Purpose, Inc., is going beyond awareness and focusing on acceptance through a tough battle.
An empty chair in front of a mirror waits for the next client at Betsy Rachubinski hair salon. But that seat has become a symbolic place for many women facing a battle with cancer and hair loss.
It was the journey of Rachubinski's close friend Peggy Alexander that kickstarted a vision, a vision to help women find beauty in a tough moment.
"Peggy called me about eight years ago and I will never forget it," Rachubinski recalled. "I was driving down the highway and she called and she says, 'I have cancer.'"
Now sitting in Rachubinski's chair for a hair trim, Alexander recalls her journey with teary eyes.
"From the time I got diagnosed to I think my first chemo treatment was literally seven days," Alexander said. "It was really fast so I went to see Betsy with one of my friends and I said, 'I think you need to cut my hair, it was coming out in clumps.'"
That moment, was a big part of the start of Peaceful Purpose, providing free high end wigs for women like Alexander.
"Losing our hair is, I feel like losing a part of our identity, and it can be very traumatizing especially for someone who has had their hair all their whole life," explains Rachubinski. "[And] then to wake up while they're going though different treatments and to wake up with clumps of hair that they're losing, that can be very terrifying."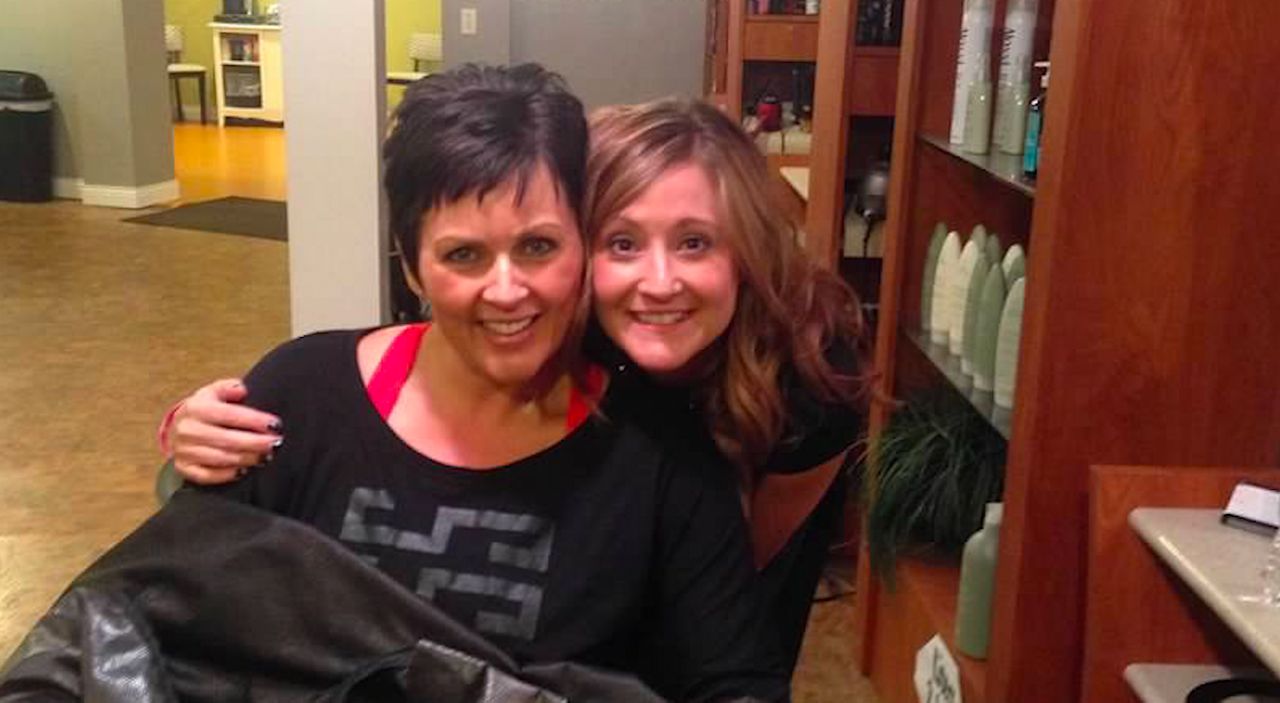 From head coverings, hair cuts, to specialized wigs, this vision came together 3 years ago already helping more than 150 people find the perfect fitted wig.
The wigs, each displayed along the walls of Rachubinski's salon, come with their own name and personality.
"[There's] different styles, we can order them in a color that the client feels comfortable with and we will have them come back we can fit it and cut it to their liking and go over care instructions and send them home with their new girl," explains Rachubinski.
For Alexander, who is now in remission, she knows Peaceful Purpose can help others feel just a bit more confident as it did for her.
"I'm glad it's over, it was traumatic, but I survived and thrived," said Alexander, while viewing pictures of her shaved hair.
Peaceful Purpose hopes to grow their mission, currently fundraising for a $35,000 goal this year. All funds will go towards paying for free hair cuts, wigs and upkeep for anyone embarking on this road after a breast cancer diagnosis.
Although wigs are made available for anyone that has medical hair loss, providing locks of hair with no price tag is only a small way Peaceful Purpose hopes to help.
For more information on how to donate visit https://www.peacefulpurposeinc.com/support.