GREEN BAY, Wis. — For Lucy Bellerud and Jessica Landry a year that started with a trek into the unknown of a pandemic ended with a nearly unrelenting stream of patients coming through the doors of Bellin Hospital in Green Bay.
"And then September hit. And it it hard and fast," said Bellerud, a respiratory therapist. " Something I've never seen before — I've been at Bellin for 19 years — is I've never seen our emergency room to the point where we're lining patients down the hall."
But that was her reality late last year.
Now she and three of her coworkers are Super Bowl bound in appreciation of the work they've done, and are doing. The quartet are being recognized for their efforts by the Green Bay Packers, Bellin and the National Football League.
Bellerud has a hard time putting her reaction into words.
"Getting an award like this for doing my job, I'm speechless, honestly," she said. "Very humbled."
The surprise of going to the Super Bowl caps off a year of ups and downs for Landry, a registered nurse in Bellin's Intensive Care Unit.
"It was a really hard year. It was really emotional," she said. "The ups and downs and just trying to stay positive the whole year for not only the patients, but our coworkers, our team, the community. It was kind of a constant struggle, but we did a really good job getting through it. We have an awesome team. At the end of the year, having this as a surprise was just mind-blowing. It was awesome."
Landry treated patients who recovered — and those who did not. For the families of COVID patients who didn't survive, she did what she could to help the grieving process. That included making fingerprints of loved ones when their condition took a turn for the worse.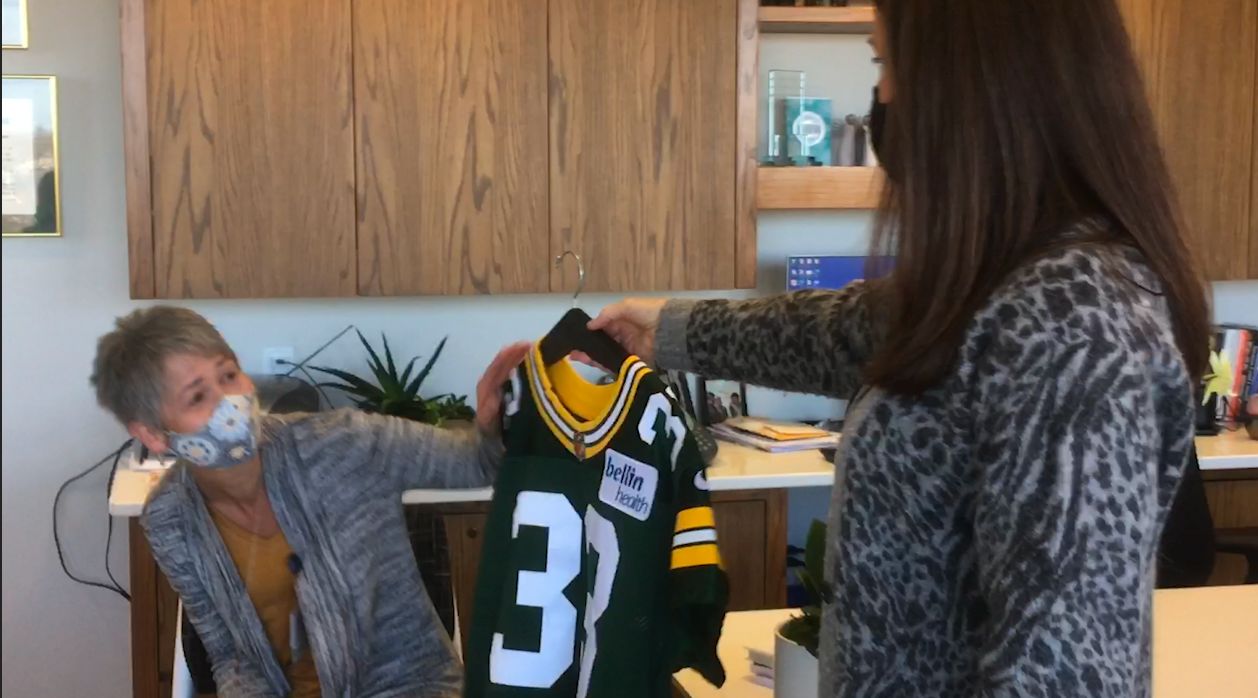 "I would also print off a telemetry slip- a heart rhythm strip - just in case people would pass. At least that was a memento we could give to the family because they weren't allowed there at all," she said. "We were able to do FaceTime or Skype, but that was it. It was so heartbreaking."
Both Bellerud and Landry talk about that hospital team effort — from housekeeping to the supply chain personnel — that got them through the toughest of situations several times.
Bellerud said she's honored and excited to go to the game, but she'd also like to take others. Many others.
"I do feel like so many are worthy and I wish I could take everyone with me to experience this," she said. "It's emotional because these last 10 months have just been draining. Especially the September through December period has been physically and emotionally draining for anybody who has been working in the hospital."
Those being honored from Bellin include:
Dr. Michael Landrum, MD, Infectious Disease Physician
Jessie Schaumberg, RN Certified Nurse Specialist in Training
Jessica Landry, RN Critical Care
Lucy Bellerud, Respiratory Therapist​