These days, technology connects us all, but only if you can get connected. It takes Addyson Dailey, an 8th grade student at Jackson City Schools, hours to complete her homework.
"Sometimes it takes longer to upload than it does to do the work," Dailey said.
In many areas across the United States, including here in parts of rural Ohio, there is limited access to high-speed broadband, if any at all.
"It's really annoying," Dailey said. "Sometimes it's really late nights."
Students like her often have to go to the local library to connect to Wi-Fi or check out a highly popular "hotspot."
"It's constantly in demand, it's one of the most popular things we have here in the library," said Jon Simmons, the head of adult programming and outreach at Jackson City Library. "The waitlist is about two weeks long."
According to Broadband Ohio, nearly one million people lack access to broadband internet in Ohio, often due to inadequate infrastructure networks.
The Dailey's are one of those families. They live in Jackson County, a Southern Ohio community of just more than 30,000 people. They have internet speeds of seven to 15 megabytes per second. Above 100 megabytes per second is considered "fast" because it can connect multiple devices at once.
It's a problem that Erin Dailey, Addyson's mom said has effects more dire than not being able to stream the latest Netflix show.
"We can't all be connected at the same time," Dailey said. "So the kids if I'm working on work, you know, my husband's working on something, the kids are not able to be also working at the same time a lot of times or able to be doing something entertainment-wise. So we can we have to kind of decide, you know, what's the priority to make sure that we can get the things done that need to get done."
At Oak Hill Union Local Schools, Jason Mantell, the superintendent, said schools in Jackson County constantly have to adapt. Remote learning days that are convenient and beneficial at city schools are almost impossible at rural schools like his.
"We live in a world where ease of access is seemingly what everyone has and that is just not the case, especially for rural communities," Mantell said.
They offer after-school programming, often default to good old pen-and-paper homework packets, and encourage the use of their local libraries to help fill the gaps.
"Education, jobs, banking, health care. I mean, there's so many different aspects that need home internet," said Roger Donaldson, the director of the Jackson City Library. "We were just talking to a patron earlier today who checked out a hotspot because they bought a new thermostat for the house not realizing that you had to have Wi-Fi to set it up."
But help is coming. Charter Communications recently announced that about $750 million is going toward expanding broadband to more than 60 counties in Ohio that are unserved or underserved. Charter was awarded $3,372,083 from the federal Rural Digital Opportunity Fund (RDOF) to expand broadband access in Jackson County, which is expected to give more than 4,000 Jackson County residents new broadband internet with starting speeds of 300 Mbps. RDOF awards are 1/5 of the actual cost of the entire project so the project in Jackson County is estimated to cost $16.68 million, with $3.37 million coming from RDOF and Charter funding the balance.
"The expansion into rural and urban areas that are underserved it's an essential part of helping to create a more equal opportunity for prosperity in our state," said Lt. Gov. Jon Husted.
The Daileys expect to receive their updated broadband speeds in the spring of 2024.
"Our family is really excited to be able to be getting broadband access with increased speed," Dailey said. "Just the quality of life and the things that it's going to allow our family to be able to do, work and schoolwork, as well as entertainment options in a better way."
But Mantell said it's one thing to have access, but it's another to then be able to afford it.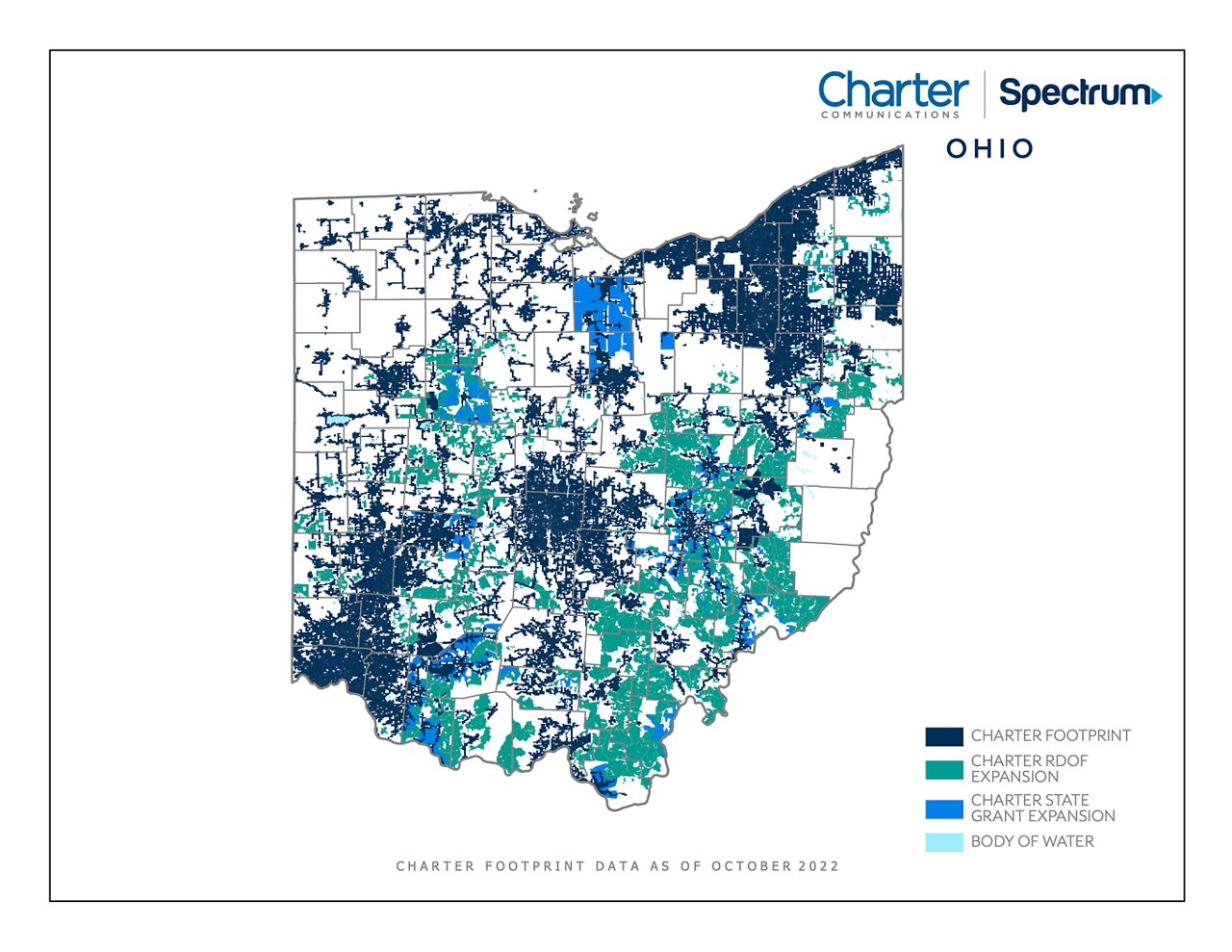 "There are some families when you're talking about $75 a month or $100, a month I mean, again, what is it going to be? High-speed internet, or a trip to the grocery store?" Mantell said.
Being "connected" looks different for every family but the Daileys are hoping soon it'll be more accessible and equitable.
"I believe everyone in Ohio deserves to have access to broadband no matter where you live," Dailey said. "And while each of these, the progress that we make toward this is a step in the right direction, we still have a long way to go. But every time that we're able to increase that service that's going to continue to move our communities in the right direction."
While some communities are getting access this year, others are on the schedule for next year. Residents in the rural build project area can look up their address here to see the status of the fiber build to their location. To further assist in closing the Digital Divide, Charter is participating in the $14.2 billion federal Affordable Connectivity Program (ACP) to help connect eligible households with high-speed internet. ACP-offer details and additional information can be found here. Charter also offers a low-cost broadband service to low-income students and seniors through its Spectrum Internet Assist (SIA) program. Students or seniors in need of discounted service can apply online here.
Charter Communications is the parent company of Spectrum News.