AKRON, Ohio — The decision by Rep. Tim Ryan (D) to run for the U.S. Senate has helped to create one of the few wide open congressional races in Ohio this fall.
---
What You Need To Know
Emilia Sykes, a Democratic state lawmaker, is competing against Republican lawyer and commentator Madison Gesiotto Gilbert in an open race to represent Ohio's 13th Congressional District


After longtime Rep. Tim Ryan decided to run for Senate, the 13th District was redrawn to be centered in Summit and Stark counties


Sykes is hoping her track record at the statehouse and her family's legacy in Ohio politics will help her win


Gilbert thinks her experience as a small business owner, focus on the economy, and support from Donald Trump will help her flip the district
---
The campaign in Ohio's 13th District in many ways mirrors the national battle for control of Congress.
While State Rep. Emilia Sykes, D-Akron, is highlighting abortion rights, Republican Madison Gesiotto Gilbert is running on the economy and former President Donald Trump's endorsement.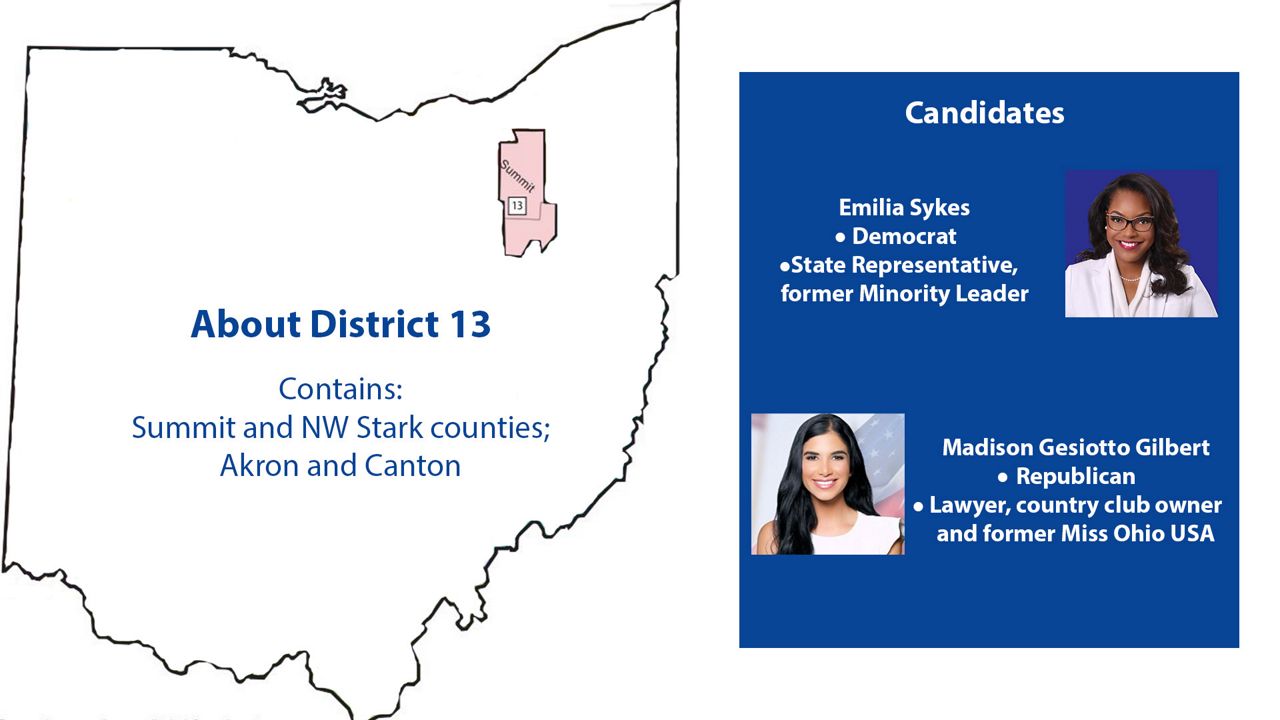 For Sykes, politics is a family business. She's been a state representative for the last seven years, including two as minority leader. Her dad is a state senator and her mom is a former state representative.
Now, she hopes to go where her parents did not.
"When I get a little bit emotional and maybe you hear my voice crack a little bit, it is because this is so important to me," Sykes told a crowd at a recent Jefferson-Jackson Democratic Club meeting in Canton.
Gilbert, a lawyer and former Miss Ohio USA, owns a country club in Hartville with her family. She's also a conservative commentator and was an early supporter of then-candidate Donald Trump.
"I'm sick of people who have never had a job outside of the taxpayer dime. And as a business owner, I know what it's like to sign both sides of a paycheck," Gilbert told Spectrum News in a recent interview in Akron.
The full interview with Madison Gesiotto Gilbert can be viewed below or click here to read a full transcript.
The 13th District included the Mahoning Valley for the last decade, stretching from Trumbull and Mahoning counties west to Summit County. It was once reliably blue, but shifted red as Trump gained hold of the GOP.
The new 13th that emerged from redistricting is quite different. It includes half of Stark County and all of Summit County, giving Democrats a slight three- or four-point advantage.
Longtime Democratic representative Tim Ryan's decision to run for Senate created a rare open seat and a very competitive race.
Abortion is front and center following the U.S. Supreme Court ruling to overturn Roe v. Wade.
Sykes is extremely critical of Gilbert's opposition to abortion rights, an attack that's been successful for Democratic candidates around the country.
At the Democratic club meeting she recently spoke at, Sykes labeled Gilbert as someone "who thinks that women should sacrifice their lives."
In an interview with Spectrum News before a roundtable event on reproductive rights in Cuyahoga Falls, Sykes discussed the topic further.
"To not have the freedom to decide your future and your fate, and letting Supreme Court justices into the important decisions that people are making with their doctors, their partners and their god is unacceptable," she said.
The full interview with State Rep. Emilia Sykes can be viewed below or click here to read a full transcript.
Gilbert, who is pregnant with her first child, said she's always believed abortion is a states-rights issue.
Asked by Spectrum News if it's true that she does not believe in exceptions for things like rape or incest, Gilbert said: "It's true that, what I just told you, that I think it's for the states to decide. And I've always been a huge pro-life supporter. You can look back 10 years. It's not a secret what I believe. And I'm very proud to stand up for life."
Gilbert is trying to put Sykes on the defensive by focusing on the economy—a page from the GOP playbook under President Joe Biden.
She recently toured a distribution center in Akron, speaking highly of Trump's policy record and saying inflation is voters' top concern.
"I want to see government shrink, not grow," Gilbert told Spectrum News. "I want to see people be able to once again go back to that prosperous economy."
At recent roundtables and listening sessions, Sykes tried to convince voters she is plugged in on the issues they care about, like the cost of living.
"I know that I can bring with me a dedication and passion and accessibility to the office that is unmatched," she told Spectrum News.
Sykes campaigns on her bipartisan record at the statehouse, but her reach across the aisle to support Republican Larry Householder for House Speaker backfired when he was charged in the state's largest corruption scandal and forced out of office.
Asked if she regrets supporting Householder for Speaker, Sykes said, "I certainly regret his actions and I wish that he would have chosen other actions."
Gilbert has been accused of district shopping because she launched her campaign in the 9th District, anchored in Toledo, while buying three different homes in her native Stark County. All the while, she was texting with Ohio Republican Secretary of State Frank LaRose about the new district maps.
"There was a lot of confusion as to where the maps would ultimately end. And a couple of days before filing, they ended the way that they did," Gilbert told Spectrum News. "And we're excited to be here in my hometown running."
No matter the outcome, this race will make history. Only 12 women have ever represented Ohio in Congress.
In November, this district will make it 13.