CINCINNATI — Even on a rainy December morning, Michael Fannon, Jr. made the walk to the garden, just blocks away from his apartment to put in a little dirty work.
It's a new habit for Fannon. He started coming to volunteer at the Taft Community Garden over the summer, and in the months since, he said it's already made a difference for his physical and mental health, yet many of his neighbors don't know it exists.
"There's a lot of distractions going on," he said. "Makes it kind of hard to think about a garden when you've already got so many different personal things going on."
Fannon said he was having a particularly difficult day when Yolanda Hill approached him in the lobby of the Alms Apartments, a public housing complex, to tell him about the gardens.
"I just kept my mind open," he said. "Didn't shut out the world."
As the Community Food Champion with the Walnut Hills Redevelopment Foundation, Hill works to help build a sustainable food system to benefit all of Walnut Hills residents. Through her engagement work though she noticed Fannon's story was far from unique.
"There are 12 beds at the Taft Garden reserved for residents at the Alms," Hill said. "But they hadn't been using them."
Since the neighborhood Kroger closed in 2016, there's been a series of efforts to bring healthy, fresh affordable food to Walnut Hills, but many of those organizations noticed a similar disconnect. There were plenty of resources to help, but some of the people who could benefit were falling through the cracks.
Hill decided the neighborhood needed a new way to engage everyone. Her idea was an interactive social media series called "Connecting in the Gardens."
"This is a first of its kind immersive initiative," she said.
Hill selected two Alms residents who have shown dedication to the Taft Garden, Fannon and Kinninth Roller, to take on this six-month pilot program. Once a week she introduces them to people and organizations working to improve food access in the neighborhood and documents their journey and lessons through a live webcast.
"The 'Connecting in the Gardens' program's foundation is built around food sovereignty with themes including culinary education, community building, and basic gardening training," she said.
Partners include La Soupe, Gorman Heritage Farm, Meals on Wheels, and the Civic Garden Center.
The program launched on Dec. 7, and two episodes in, Fannon and Roller have already met a few of their teachers. Spectrum News sat in on the pair's first cooking class with La Soupe, as they learned the fundamentals of cooking and how to use the ingredients they have to make good quality healthy food.
Fannon said he's looking forward to bringing those lessons home and improving his diet.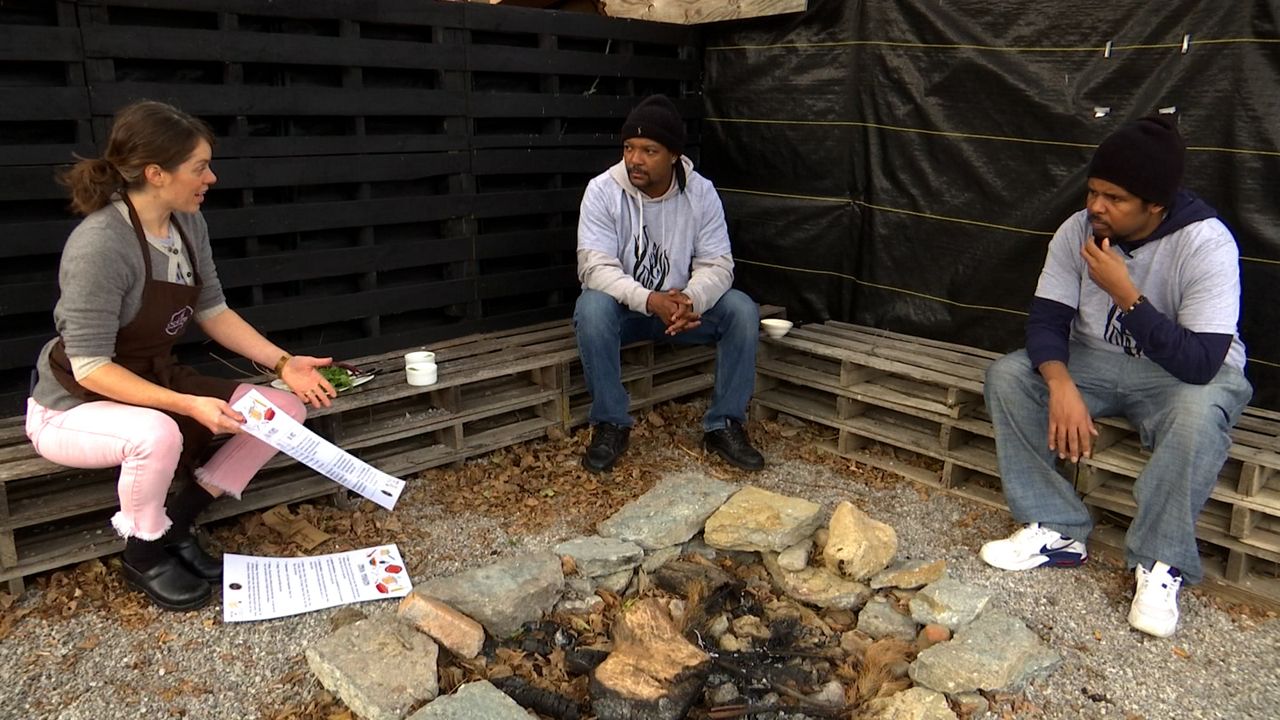 "A lot of times I'll be busy or whatever and I don't actually feel like cooking now, so I'll just go to McDonald's real quick since it's next door," he said. "It reminded me something like soup is easy to make and will last a while."
Come spring, the pair will get back in the garden. Each has their own bed and has been encouraging their neighbors to claim a spot of their own.
"Learning more about it now seeing it getting bigger and bigger so it's a beautiful thing," Fannon said.
While he acknowledges gardening may not be for everyone, Fannon said it came at the right time for him.
"Relieved a lot of stress, get some fresh air, get back to the old ways, this is what I used to do when I was younger," he said.
He moved into the Alms two years ago after a brief period of homelessness. With help from the Walnut Hills Redevelopment Foundation, Fannon said he was able to get the seeds to grow good quality food to help supplement his diet, but that's far from the only reason he comes back.
"Cause it feels good," he said.
Fannon suspects he has neighbors just like him who can benefit and as "Connecting in the Gardens" gets off the ground he hopes more will find their way down the block once or twice a week, to put in the work for the change to grow their own food.
"Spread the word to the people that want it," he said.