CINCINNATI — With President Joe Biden putting pen to paper — signing the massive $1.2 trillion infrastructure bill — federal funding will soon to be available for projects to improve bridges, roadways, public transportation, broadband and more, including one of the top infrastructure issues in Ohio — the Brent Spence Bridge.
In July, Biden drew national attention to the bridge, which has been considered a consistent headache for people traveling back and forth from Ohio to Kentucky. With the bipartisan infrastructure deal signed, help may soon be on the way.
Just more than a year ago, a tractor-trailer caught fire on the Brent Spence Bridge, causing a multi-week shutdown. Months of work went into repairing the bridge — now back open with a fresh coat of paint.
However, a major issue still remains. If there is a traffic accident on the bridge, there are no emergency shoulders for cars to pull over, often causing a traffic nightmare for travelers, which is why building a companion bridge is in the planning stages.
Now with funds available via the record infrastructure bill, that project could move into the next steps.
"The president signing today's bill is really landmark to our ability to bring down federal funds to achieve so many of the things that we've been advocating for," Director of The Connected Region of the Cincinnati USA Regional Chamber Pete Metz said.
He said this bill is a generational opportunity to connect people, and the Brent Spence Bridge is near the top of the list of things to work on.
"These federal investments make this project closer than it's ever been to reality," Metz said.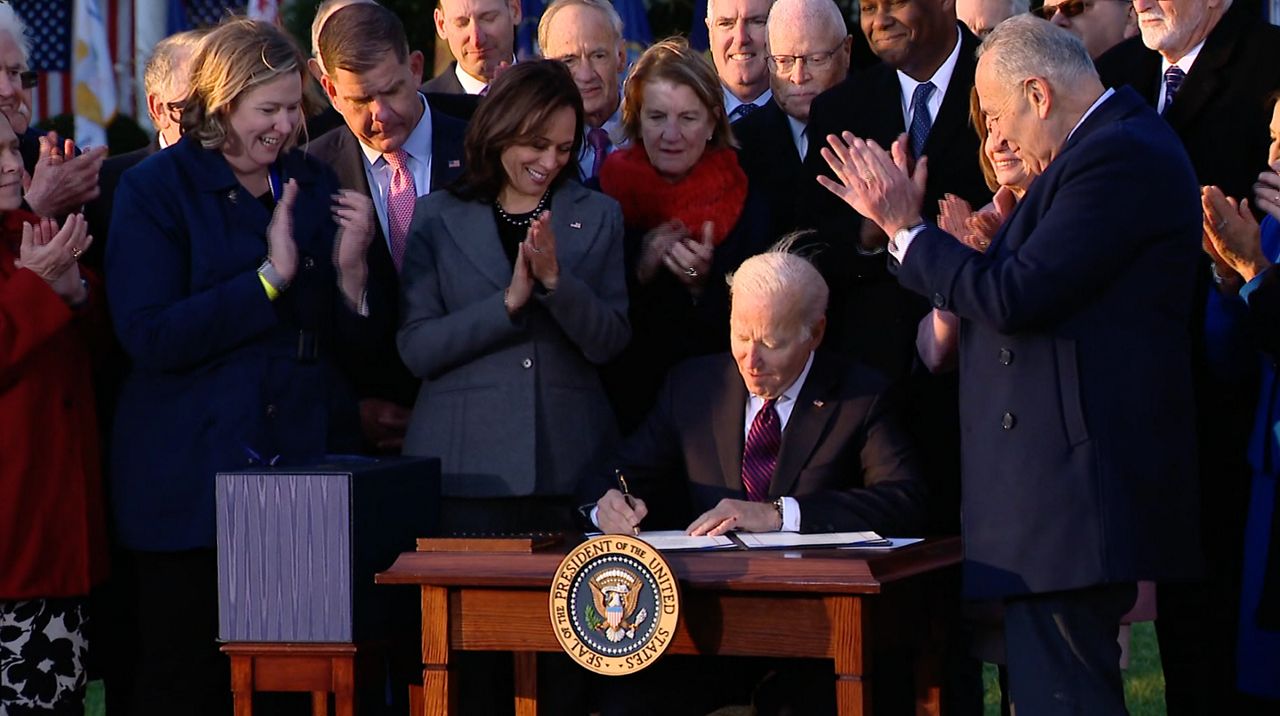 In the bill, $550 billion is to be dedicated to transportation, broadband and utilities.
"More federal dollars than we've ever had for a project like this before," Metz said. "I am confident that the states will work together to make sure this happens."
The Ohio Department of Transportation and the Kentucky Transportation Cabinet said it's still too early in the process to talk about where the infrastructure funds will specifically go, but did release a statement on the bridge.
"We're excited about the possibility of moving this long-talked about and much-needed project forward," the statement said. "ODOT has been working with our partners at the Kentucky Transportation Cabinet on the companion bridge and entire corridor plan for some time. We'll continue those efforts and focus on the opportunities that best help us fund the project and bring it to reality."
Both ODOT and KYTC said they are waiting for guidance from the federal level as to when they can apply, but assured that when that window opens, they will apply for as much funding as they can. Money or grants are not guaranteed to each state in the application process.
Metz said no matter how much funding comes in, Cincinnati will put the funds to good use.
"When the president signs the bill this afternoon it's going to be a huge statement that there is money in Washington to invest in infrastructure and transportation," Metz said. "And we have to be prepared as a region and are prepared as a region to bring those dollars to our community to do so much good."