OHIO — The Ohio Department of Transportation, Gov. Mike DeWine, the Ohio State Highway Patrol and several other organizations are pushing to increase awareness for Ohio's Move Over law.
"It's alarming to see the rise of crashes happening throughout our state," DeWine said. "It's critically important that all drivers remember to avoid distractions, pay attention, and stay focused on the road."
From 2015 to 2020, there were a total of 5,561 move over-related crashes in Ohio. And so far this year, there have been 546 — causing 21 deaths and 59 serious injuries.
"Safety is the No. 1 reason. It's for everyone's safety, crews safety (and) motorists safety," ODOT District 8 Public Information Officer Kathleen Fuller said.
A study by the AAA Foundation for Traffic Safety shows that 23% of drivers are unaware of their state's Move Over law, and 42% of drivers who do not comply with Move Over laws said they thought their behavior was somewhat or not dangerous at all to roadside emergency workers.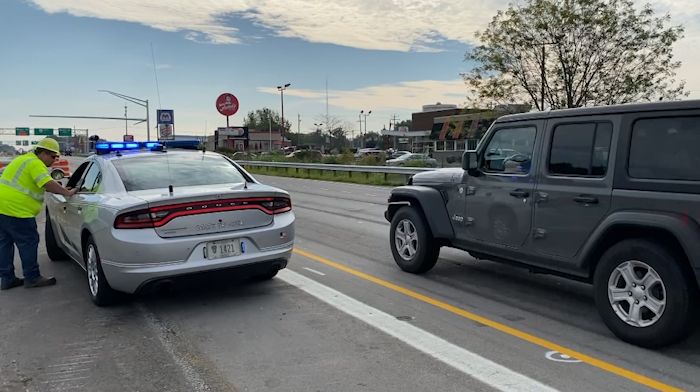 ODOT District 8 Highway Technician Larry Scott has seen it all working for ODOT for the past eight years, including drivers that put him and others at risk.
"We have these great big white vehicles with lights on them and everything, and sometimes people just don't pay attention to where they're going," Scott said.
He said he and other ODOT crew are hopeful the awareness campaign can help keep them safe when working on the roads because many drivers are not following the law, especially through construction areas.
"When you're going through a work zone, you need to have all eyes focused on where you're going and who's around you," Scott said. "You know, we have families, too. It is a job. We take it seriously, but we have families to go home to as well."
On Saturday, Oct. 16, the state of Ohio is recognizing Move-Over Day, by reminding drivers to follow the law.
"Those crews could be anyone with flashing lights," Fuller said. "It could be ODOT, law enforcement, emergency responders, tow truck operators. All of these folks need the cooperation of motorists."
Scott said it's a simple concept to follow and hopes motorists can come through.
"If you see flashing lights, get over in the next lane," Scott said. "And if you can't get over in the next lane, at least slow down and pay attention. Don't be distracted by being on the phone."
Motorists can be cited for not following this law.
"Moving over or slowing down for stationary vehicles with flashing lights isn't just the law; it's the right thing to do," Colonel Richard S. Fambro of the Ohio State Highway Patrol said. "By motorists making this a standard practice, we can make Ohio safer for everyone working along our roadways."
For more information on the Move Over law visit this website.