COLUMBUS, Ohio — An Ohio teen addressed legislators at the Ohio Statehouse on an amendment to a bill addressing services to those with disabilities.
---
What You Need To Know
Disability Rights Ohio is a federally-mandated independent organization


House Bill 110 calls for extra oversight of Disability Rights Ohio


Erin Fearn, 14, spoke on the bill to Ohio legislators
---
As Erin Fearn, 14, walked with her loyal dog companion, Gratto, she reflected upon her testimony from a few weeks ago in front of the Ohio Senate Finance Committee, fighting to save the non-profit advocate Disability Rights Ohio.
"Amendment to House Bill 110 just wasn't right," Fearn said. "That was no place to be talked about within the state budget, and that's something actually needs to be done about that, to make sure that DRO is capable of helping people, not just disabilities but everywhere. Someone who has a voice that can be silenced and make sure that voice is heard."
Erin's mom, Charity, said her daughter has used DRO's resources since 2018 for her own disability.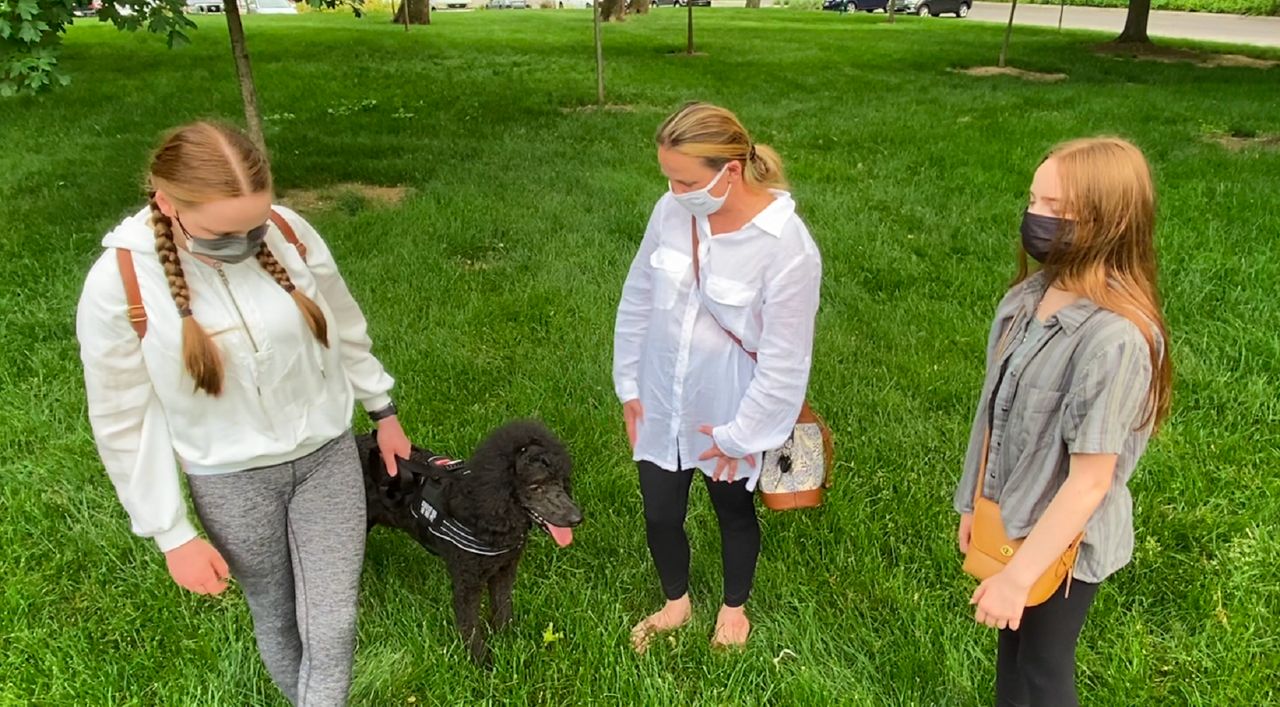 House Bill 110 calls for extra oversight of Disability Rights Ohio, a federally-mandated independent organization. Charity fears if the amendment in House Bill 110 passes in the state budget, ripple effects may follow.
"If that happens, that can put a lot of other programs in danger in Ohio, like opportunities for Ohioans with disabilities that provides job training and education," Charity Fearn. "I have tremendous amounts of fear about my daughter and what's going to happen to her as I age and become older and, you know, services being available to her."
State Sen. Mark Romanchuk, who is pursuing the amendment, said change is necessary because of complaints concerning DRO.
He said the organization has contacted residents of Intermediate Care Facilities, or ICF's to discuss services without parents or guardians present
"The individuals that are living in ICFs, are not as high functioning as Miss [Erin] Fearn was, so it's a different person that we're talking about here," Romanchuk said. "In order to be a resident of an ICF, you've already received a diagnosis of intellectually disabled."
DRO representatives said while that has been their approach, most of their clients are adults and minors haven't been contacted directly.
Meanwhile, Erin Fearns said she will continue the fight, advocating for all people with disabilities.
"People with disabilities deserve an independent voice, to uphold laws and fight against without retaliation," said Erin Fearn.
The state's budget runs through June 30. The new budget for 2022-23 takes effect on July 1.