CINCINNATI, Ohio — For adults that foster children or take their grandkids in as their own, there's not always a lot of ways to get easy access to things like diapers and clothes. But two women decided to change that and in the process are now helping about 1,000 kids a year through Jack's Closet.
---
What You Need To Know
Jack's Closet is a ministry through Clough United Methodist Church in Anderson Township outside of Cincinnati


Jack's Closet provides free clothes, accessories, diapers, toys, and more to kids in kinship or foster care


The closet opened in 2015 and has served about a thousand kids the last two years


Foster parents and kinship say Jack's Closet is a life-changer for them and their families
---
​​For Nancy Hunt, she never knew she would be a mom to young kids again. But to nine of her grandchildren and great-grandchildren, she's more than just grandma. She's their guardian. Which makes it even more difficult to get the things her kids need.
"This is out of pocket because we're family," Hunt said about being kinship. "The county agencies, there's allotments set up for foster care. But when a family member takes in the kids as kinship, we're kind of left out there on our own."
But thanks to Jack's Closet, she and other kinship and foster parents don't have to worry.
"With the help of Jack's closet it's easier," she said.
Jack's Closet provides free clothing, diapers and accessories for kinship and foster parents.
Volunteers even help them pick out several outfits for each child.
Hunt said Jack's Closet is one of the best parts of a difficult situation.
"The reason we're here may not necessarily be the best in the world," Hunt said. "But this is definitely one of the best experiences you'll have through your hard times. Because they are just, like she said, Oh, I'll bring the shorts and then we'll match shirts. It's just so comforting."
The closet is run in the basement of Clough United Methodist Church in southwest Ohio.
Jack's Closet opened its doors in 2015 thanks to Karen Gibbs. After her husband, Jack passed away unexpectedly, she used the money from his death to help start the closet.
"It means everything," Gibbs said. "It's just a wonderful thing. He would have greatly approved of this because he loved children."
Sue Jacob, the other co-director of Jack's Closet said besides clothes, they provide birthday boxes, hygiene packs, diapers, toys, and more. She said she and other volunteers are happy to help these families that do so much.
"We are here to lend our help and our support to these families who are making lives change by taking these children in," Jacob said.
For Hunt, coming into this space means being around people she considers family.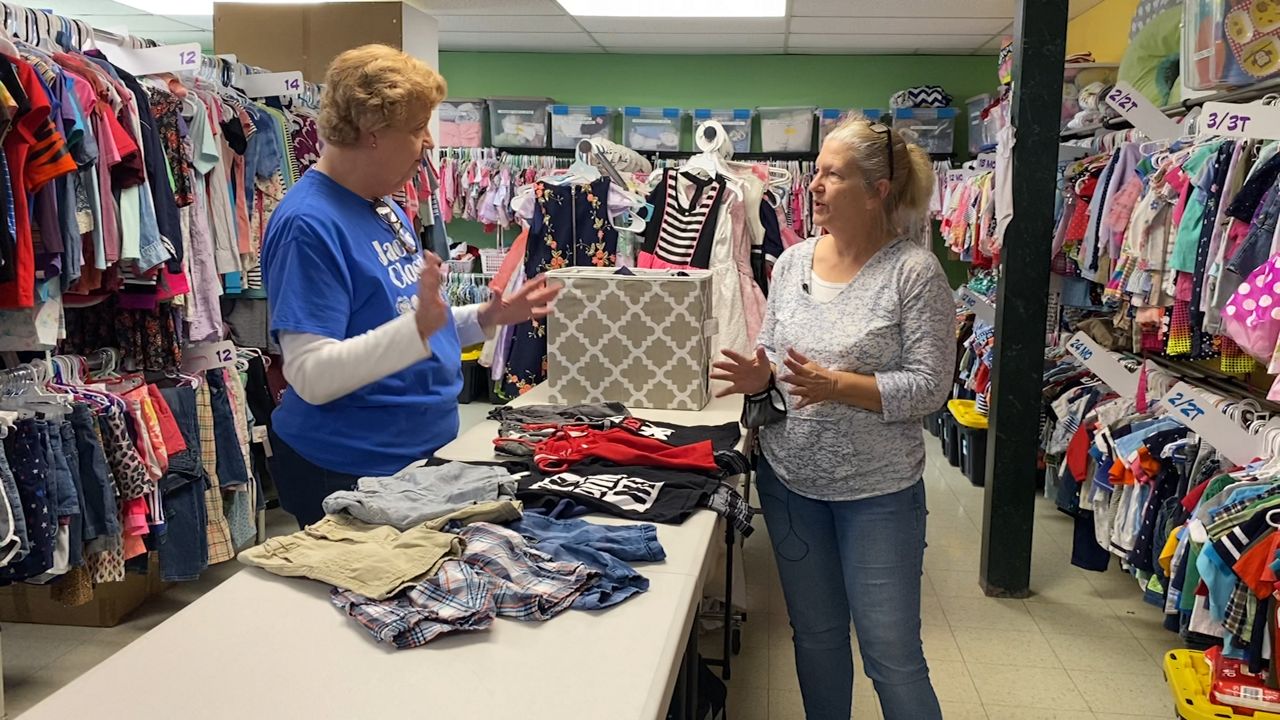 "They don't make you feel like you're doing something that you can't do so you have to ask for help," Hunt said. "No. They say, you're doing that and that's why you're getting help."
She said she can't imagine how she'd be able to do this without their help.
"I don't see how anyone has survived without them," she said.
To learn more about shopping, donating, or volunteering at Jack's Closet, click here to visit their Facebook Page.