DAYTON, Ohio — National Drug Take Back Day encourages people to properly dispose unused prescription pain relievers, stimulants, tranquilizers and sedatives at designated locations all across the county.
---
What You Need To Know
Drug Take Back Day is April 24


It aims to prevent drug addiction and overdose deaths


Medications can be turned in at various locations around the state


Last year, in Ohio, nearly 60,000 pounds of meds were turned in
---
The event is sponsored by the Drug Enforcement Agency and aims to help prevent drug addiction and overdose deaths.
Someone very familiar with those key issues is Kelly Savage, who serves as a certified peer supporter for East End Community Services in Dayton after struggling with addiction herself for many years.
"I am four years clean from drugs and alcohol," Savage said. "So I have the lived experience."
She recently met with her peer, Brittnee, and her infant son, Weston.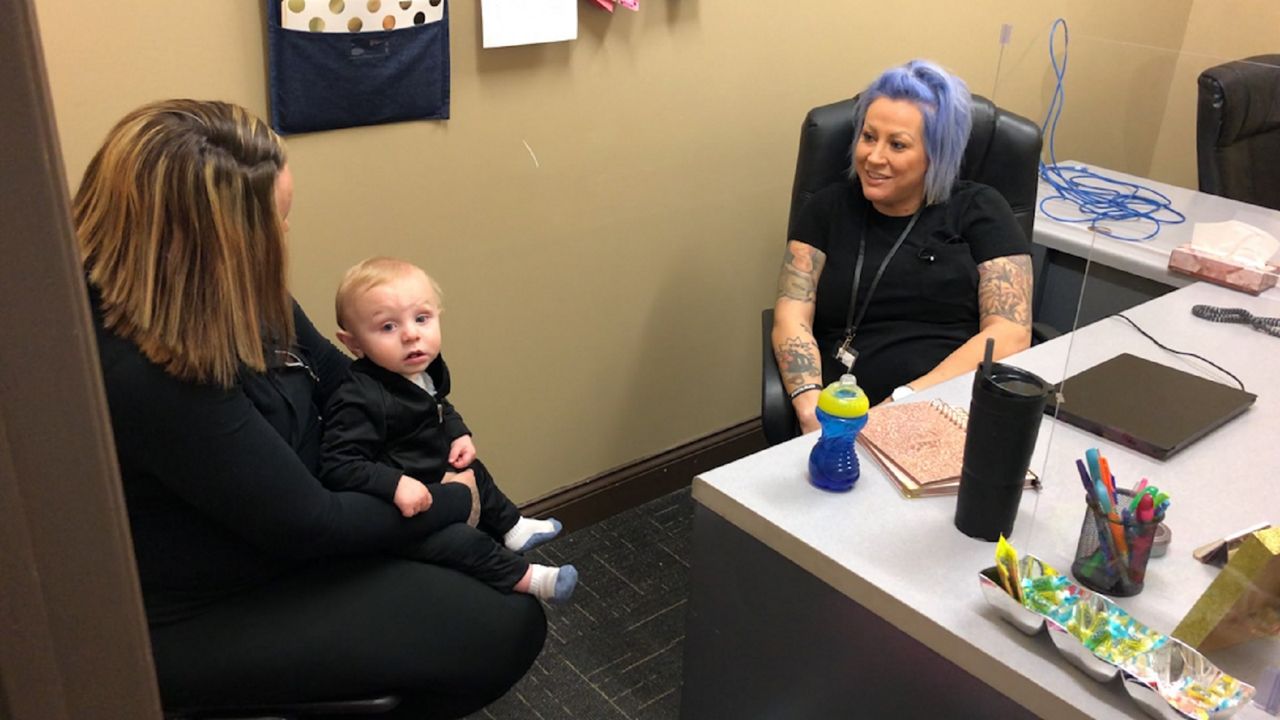 Savage, who's in the second year of her role said it gives her joy to guide others back from addiction after battling it herself.
"It's my passion to help other people because of how difficult it was for me," Savage said. "I don't want it to be that difficult for other people."
Having guidance from someone who walked in the same shoes is greatly important to peers like Brittnee.
"Having that support next to me gives me the strength and courage to keep fighting for what I believe in," Brittnee said.
Savage said battling addiction is a year-round job and every day counts, which is why she said initiatives like National Drug Take Back are so important.
"Any pills that you don't use, just bring them in because you don't want your kids to have access to it," Savage said. "If you throw them in your trash, a lot of homeless people will dig through trash. You don't want the wrong people getting the meds, and you can save a life by getting rid of them."
Last year, on Drug Take Back Day on Oct. 19, nearly one million pounds were collected nationwide with 59,455 pounds coming from Ohio.
Savage said this year's event is equally as important because overdose deaths are climbing again.
"Fentanyl is in everything," she said. "It's in the meth, it's in the pills, it's in marijuana. People aren't even realizing that they're doing it."
She said even if people miss Drug Take Back Day, East End Community Services can help properly dispose of unused medications.
"If somebody brings them, we can show them how to use this and de-activate the drug," Savage said.
National Drug Take Back Day starts Saturday at 10 a.m.
To find a collection site, visit the DEA's website.