OHIO — Re-imagining the foster care system in Ohio will soon ease the burden for families and kids waiting for a home. Some say the time is now because the foster care system in Ohio and across the nation is a crisis, especially with an increase in domestic violence and teen suicide, according to the National Institutes of Health.
Lisa Corcoran and her husband always wanted to foster kids but being a part of a military family and moving constantly made it tough.
But when they got to Ohio, that changed. They took the leap and started foster care training with The Buckeye Ranch.
Corcoran said it took a lot to get it done with juggling schedules and training on the weekends.
"My husband and I both work. We have three biological children, so for us to each given 36 hours of training, and this is pre-COVID, so we're going in person. It was — it was a long haul," Corcoran said. "It took us about eight months."
She said as they got to know other families going through the same process, they found that they were struggling too, even to find babysitters for their own children.
"I think it was a common sentiment amongst other families that we were training with that it was a lot of training to undergo," Corcoran said.
Licensed in 2019, Corcoran said they were just excited to begin their new chapter as foster parents, but they believed the training could have been less cumbersome.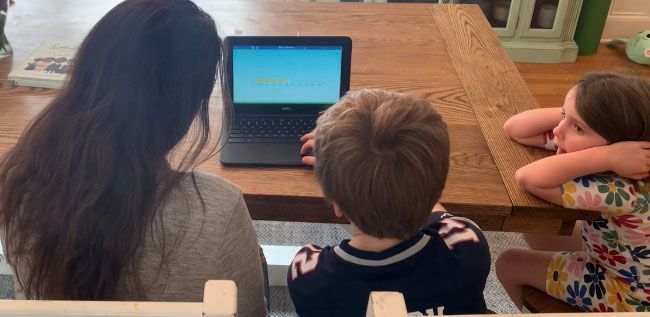 Responding to the crisis, Ohio legislators passed House Bill 8 in October 2020. The bill cuts the number of required pre-placement training hours, along with post placement in home training hours. While the first part went into effect last year, the second part, which enables working groups to re-design the training, took effect in January.
Vickie Thompson-Sandy, the CEO of The Buckeye Ranch, said passage of the bill was huge for the organization and others.
"We turned away about 600 little people under the age of 6 (in) 2019," Thompson-Sandy said.
There are so many kids waiting for a home, but there's limited numbers of licensed foster families to meet the need. Thompson-Sandy said they can't handle the demand. Plus, the extensive training has slowed their ability to license families like the Corcoran's and to place children.
"We place 20 kids a month," Thompson-Sandy said. "We only licensed about 3.8 families a month. And so what that tells you right is that there is no way we could play five kids or six kids and each family new family to meet the demand."
As a result, they have over-extended their reach by asking their licensed families to repeatedly take in foster kids. When that wasn't possible, they split up kids, turned them away or found alternative solutions like group homes.
Now, working groups are re-designing the training to speed up and streamline the licensing and placement process. Thompson-Sandy believes that by doing this, it will help to bridge the gap with adoptions as foster kids are placed in homes and given the opportunity to bond and build relationships.
Although Corcoran is already one of 300 foster parents licensed by The Buckeye Ranch, her message to families just starting out with the new training that's coming is this: "Just keep going and take advantage of that time to, to learn and to, you know, think through and to open your mind and your heart and to be ready for this. "
As training hours are being reduced, places like The Buckeye Ranch will be able to do more than what they could before — that's as kids continue to come into the system at a greater rate.