The last bar in Woodstock seldom gets noisy enough anymore to bother the neighbors, but before dawn on Sunday Jan. 17, about half the town got up to the sounds of flashbangs when the FBI came looking for the owner — 38-year-old Jessica Watkins.
Her boyfriend, militia mate, and bartender, Montana Siniff, 30, said he woke to the blinding lights and the sound of a loudspeaker.
A video of the raid, captured by neighbors, was shared with Spectrum News. "Jessica Watkins: This is the FBI with a warrant. Come to the back door with your hands up and empty," authorities can be heard in the video saying several times, waiting for anyone to come out.
Watkins is an Army veteran and a former EMT, and she broke into the Capitol on Jan. 6 outfitted in full camo gear, according to court documents. That morning, Siniff was home alone, he told Spectrum.
"They got me out of the house. Then, came the flashbangs. They cleared it, searched, questioned me a little bit about things," he said. Siniff said he didn't go to D.C. and was not a subject of the warrant.
Video of the raid from a neighbor across the street was posted to Facebook and archived. "It's 6 o'clock in the morning, and we have FBI in Woodstock. I told you guys this was going to happen," a woman says over the video, which shows agents taking cover as lights flash and sirens ring. But Siniff said he had no interest in being "America's next most plastered idiot."
As he was brought out of the residence, Siniff said he tried to explain to authorities that no one else was home, but they weren't convinced. Agents took external stairs to the second floor and busted a window above the door to throw flashbangs before entering, the neighbor's video and Siniff confirm.
"They were honestly pretty nice. I tried to tell them that there was no one up there, but I guess they figured, Uncle Sam gave us the cool toys and the go-ahead, so better safe than sorry," Siniff said.
Watkins was booked in Montgomery County Jail in Dayton shortly before 2 a.m. Jan. 18. She and another Woodstock resident, former Marine, Donovan Crowl, 50, turned themselves in and remain in custody. The two Ohio veterans and self-described militia members are awaiting federal trial for their roles in the riots at the Capitol.
They were charged along with Thomas Caldwell from Virginia. According to court documents, the three went to D.C. as part of a militia, the Oath Keepers, in an effort to obstruct the certification of the 2020 Election.
Watkins and Crowl were documented in some of the most widely-viewed footage from the Capitol protest. In the footage posted on Twitter her "unit" of similarly dressed protesters walk up the Capitol steps with their arms linked to one another's shoulders, moving as one. The complaint describes an organized and strategic movement formation, referencing paramilitary tactics.
Siniff said he believes those charges are overblown.
Watkins and Siniff live above the bar in a lofted space, which was once a roller skating rink and still has the scuff marks to prove it. Siniff gave Spectrum News a tour of part of the upstairs space, but preferred not to show the side with their living space and armory. Among piles of dusty junk and broken furniture in a partitioned upstairs room Siniff calls the "foyer," he said the FBI found and seized a book except, "the anarchist cookbook," with instructions for making explosives. Agents also seized the gear Watkins took to D.C., Siniff said, but they left the guns and ammo.
Watkins documented her experience in D.C. on Parler — a conservative-leaning social media app. Videos posted to the app and referenced in the criminal complaint filed in the Southern District of Ohio show Crowl and Watkins inside the Capitol in tactical gear. Other posts by Watkins reference using force to get inside.
"Yeah. We stormed the Capitol today. Teargassed, the whole, 9. Pushed our way into the Rotunda. Made it into the Senate even," she wrote in a video caption on Parler.
In another video, Watkins, in the Rotunda, says "We stormed the f---ing capitol Crowl!"
Watkins, whose profiles support "Back the Blue," turned against the police who were in D.C. that day after the fatal shooting of Ashli Babbitt, 35, who had started to step over a barricade marking a line officers were determined to hold, Siniff said.
"So these were the f---weed cops killing Patriots, and assaulting us when we WERE peaceful... truthfully we were very respectful with Capitol Hill PD until they attacked us, then we stood our ground and drew the line," Watkins said in Parler comments. "Our election was stolen, an offense that cannot and should not go unchallenged. Extreme times call for extreme measures."
Authorities used Parler and Zello app communications to build their case against Watkins, and she didn't make their job very difficult. "Me before forcing entry into the Capitol Building," she captioned a selfie.
Watkins and Siniff are dues-paying members of the militia, which brands itself as a non-partisan organization for former and current military members and first responders, Siniff said.
The Southern Poverty Law Center and Anti-Defamation League call the Oath Keepers anti-government extremists, citing their belief in a conspiracy theory that the government is trying to strip Americans of their rights and join a socialist new world order.
Crowl filmed a video in the Capitol with Watkins that was posted to Parler and archived before the platform went offline, though Siniff says Crowl is not a dues-paying member.
Before she left for D.C., Watkins posted a picture at work with no customers at the bar and attacked Gov. Mike DeWine for his health restrictions. Her Parler profile shared support for State Rep. Nino Vitale, of Urbana, who is among the farthest conservative figures in Ohio politics, to challenge DeWine.
"My small business is a bar. Empty on a Saturday. Thanks for nothing DeWine. Guess I am going to go pack for D.C. now. See you there," Watkins said.
Siniff says Watkins joined the Oath Keepers last year in the hopes of forming an organized disaster relief team in case of another tornado-heavy year like 2019. He said she's not a violent person and just wants to help people, but Siniff said the militia operation is still "small and starting up" in Woodstock.
While some of the protesters arrested after the Jan. 6 protests were charged with low-level offenses, Watkins and Crowl face felony charges. Charging documents show two conspiracy charges (One with a specification to impede or injure an officer), obstruction of an official proceeding, destruction of government property, trespassing and violent entry.​
Still, Siniff said he is hopeful she'll be released and he is willing to temporarily give away their firearms and ammo if that will help bring her home.
Steve Nott, who fixes up bikes, which he keeps, and cars, which he sells, said he used to frequent the bar under old ownership, and held meetings there for the American Thunder motorcycle club. That was when the second story of the bar was still a skating rink. There used to be a theater up there, too, he said.
The bar these days is not what it used to be, he said. Neighbor said it has been unpopular with locals since the former owners left a few years ago.
"The $3 beer and $5 shot? Hell if I'm paying that," Nott said.
Nott says he was not surprised Watkins got herself into trouble.
"She would do anything. She does weird things, like calling that bar Jolly Ranchers," said Nott, who rides with a small Confederate flag fluttering off the back of the dearest bike in his collection, a 1950 Harley-Davidson Panhead.
His niece shot the video of the FBI raid, a download of which was shared with Spectrum News by a Twitter user tracking those who breached the Capitol. Early the next morning, Nott said he saw a handful of Black SUVs still outside the bar. By 9 a.m., there was just one car left, and by 11 a.m., they were all gone.
An elderly woman who has lived in Woodstock since 1964 said the presence of Oath Keepers in the town, which she first saw in the local paper, has frightened her and her husband.
"I had no idea that she would be coming from a small town like this. I just never figured, it just don't seem possible. I'll put it that way. But there again, you don't know people from day to day, who they are or what they're going to do."
She said, at this point, she does not feel safe going out and about alone.
"I would be scared to go anywhere now by myself. It's a fear that you don't know what they're going to do to you," she said.
Over the years, just about everything shuttered in Woodstock — the grocery stores, the gas stations, the garages, a barbershop, and a beauty shop, she said.
"It kept dwindling down and dwindling down, and finally I said, 'Well, we're left with the Post Office and the bar.' But I don't go to the bar. Well, now there's no bar, apparently, or there shouldn't be," she said.
But on Tuesday the Jolly Roger was open, and Siniff, after video chatting with Watkins from jail earlier in the morning, emerged from behind the backside of the bar.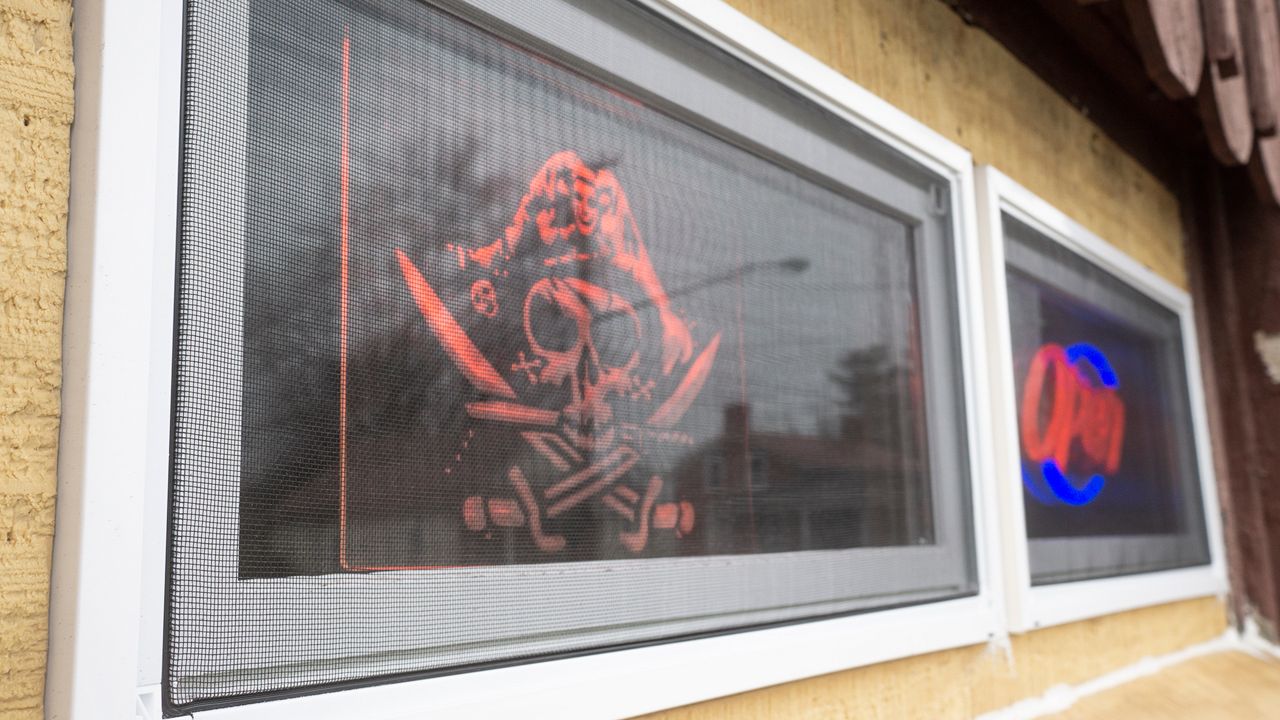 "She's doing OK. They have her and Donovan both in solitary right now, presumably for their own protection," he said. Siniff declined to comment on the specifics of the case.
Hoping to grow in numbers, Siniff said they had been accruing "a bit of a surplus" of camouflage upstairs, and he mentioned that Watkins brought gear to D.C. that she may have lent to others.
In Woodstock, Watkins saw the bar as a place to meet other link-minded Ohioans, but sometimes the drunks aren't cut out for militia work, Siniff said.
"Occasionally, we would find someone at the bar that was worth something," he said. "We were hopeful and growing, and not for any D.C. excursions, but more just staying local and helping out when problems happened."
Since the curfew took effect and the Jolly Roger lost customers, it's been harder to grow the militia from behind the bar.
In a release published Jan. 4, on the Oath Keepers website, the group said there were multiple security teams headed to the Capitol and called for other patriots to come to D.C. and stand in support of former President Trump's efforts to overturn what they call a fraudulent election.
Neighbors said that the FBI raid and the news of what the two are accused of doing, aren't exactly surprising for the village, but it doesn't represent the character of this area.
Most of the community is open and accepting, but after a car parade, "the Trump train," came through town in the summer, a neighbor and former police officer said it was no surprise to her there were extremists in the country. As ex-law enforcement herself, she said she finds the Oath Keepers particularly perturbing.
"When you start making people pay to be a part of your conspiracy club, that's enterprising, but it's former law enforcement and former firefighters. I have a huge problem with that because they are literally breaking the oath they said they were going to keep."
Woodstock residents said the town has been shaken up by the raid. Echoes of the chaos many witnessed on their TVs from hundreds of miles away are now feeling much closer to home with two alleged participants in their neighborhood.
A neighbor down the street was awakened to a series of loud bangs and called the sheriff to see what was going on. They were executing a search warrant and there was nothing to be concerned about, the dispatcher explained, she said.
"You don't see FBI. You don't see more than like a sheriff cruiser here," said another neighbor who slept through the night. He said he doesn't see much militia activity in Woodstock either. "It's called extremism because it's extreme."
Another resident, who asked not to be identified for fear of retaliation, said Crowl was his baseball coach many years ago. He knew they had been going to political events in recent months, but hearing about Watkins and Crowl's role, and the FBI raiding the bar across the street, still came as a shock, he said. Since coaching baseball, "He's definitely radicalized a lot," he said, adding that Crowl is recognizable as a loud figure who is at the bar just about every night.
Siniff said part of him wanted to be in D.C. for the 6th, but he said it only would have been worth it if he had a good assignment. Watkins is the most skilled of the three, he said, explaining that she has a vision for an Ohio medical wing of the Oath Keepers to travel to scenes of natural disaster and political skirmishes. Siniff said if he had gone to D.C. he would have been helping Watkins with security for "VIPs" at the Trump rally.
"I don't feel like driving to D.C. just to protest. Give me something useful to do," Siniff said, explaining that Watkins was not getting paid for the trip.
But they don't really have another bartender, and Siniff said he prefers protests in the Midwest where he seems to get along better with law enforcement, he said.
"The law there just never seems to look kindly on people dressed in camo," he said.
Although Siniff has no military background, he went with Watkins to Louisville for Breonna Taylor protests, and there he met some other Oath Keepers who he said he impressed enough to get the official Oath Keepers patch.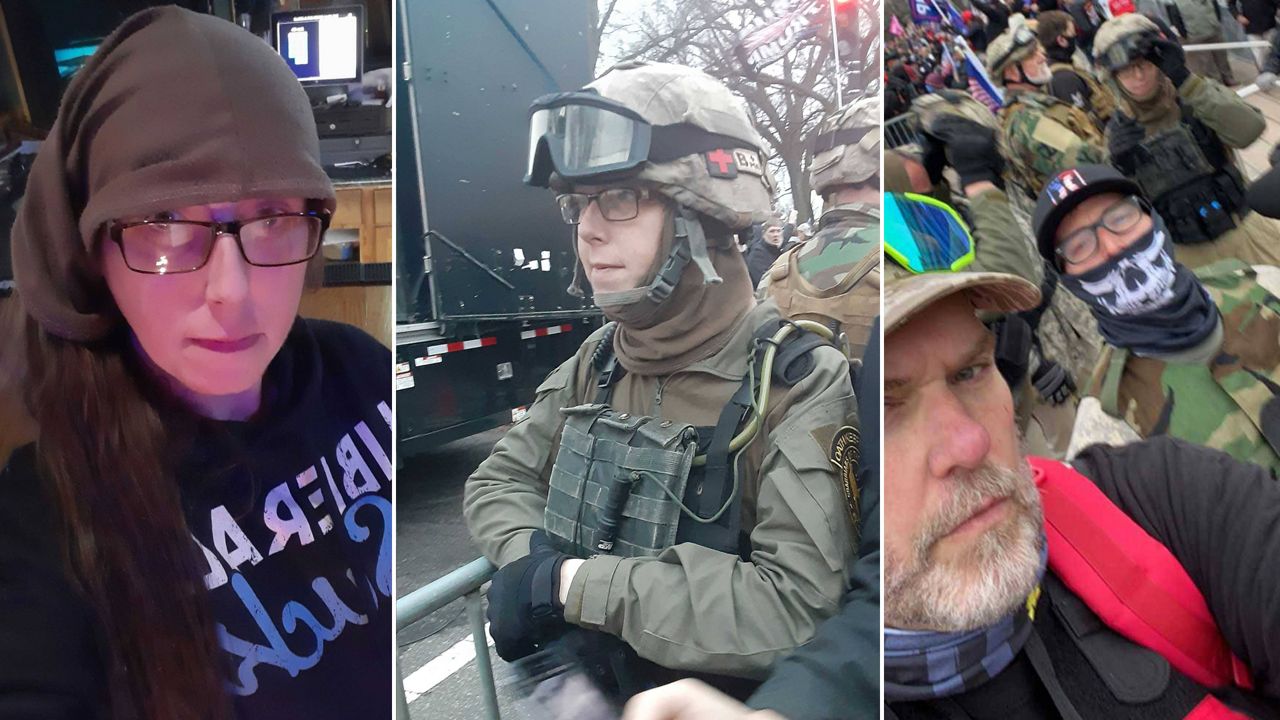 "There's some people within every group who stand around and don't do much, and there's other people that go get stuff done," he said.
In the meantime, no one answered at the door at a recent address listed for Crowl. Attorney information was not available in court records for Crowl or Watkins. Siniff said she was procuring private counsel to represent her as the case progresses.
"I do not want to comment on the specifics of the case at all right now," Siniff said.
He said he read that an attorney representing another Ohio man charged in connection to the protests said he planned to argue former President Donald Trump had brainwashed his client.
"How spineless are you?" Siniff said. "Maybe it's a good defense. Maybe it'll work. I just feel like that's giving up your individual agency as a human being. Are you an adult,or are you still on your mom's health insurance and sleeping in the basement?"
A judge refused to release Crowl at a bond hearing last week. Watkins has a bail hearing set for Friday.