ALLEN COUNTY, Ohio — When I arrived to Ohio's 4th Congressional District, I didn't realize the locations of my interviews with the candidates would tell so much about this story.

A wooden shed on Elm Street in Bluffton is the local Democratic headquarters and it's where I met up with a masked Shannon Freshour, the Democratic nominee trying to flip a reliably red district blue.

"People are proud to be Democrats in a way, especially in this district, where they've been afraid to be Democrats, and they've been afraid to be out," Freshour said in a recent interview.
Later in the day, I was on a farm outside Lima where more than 100 people largely ignored the social distancing and face covering signs while celebrating Republican incumbent Jim Jordan.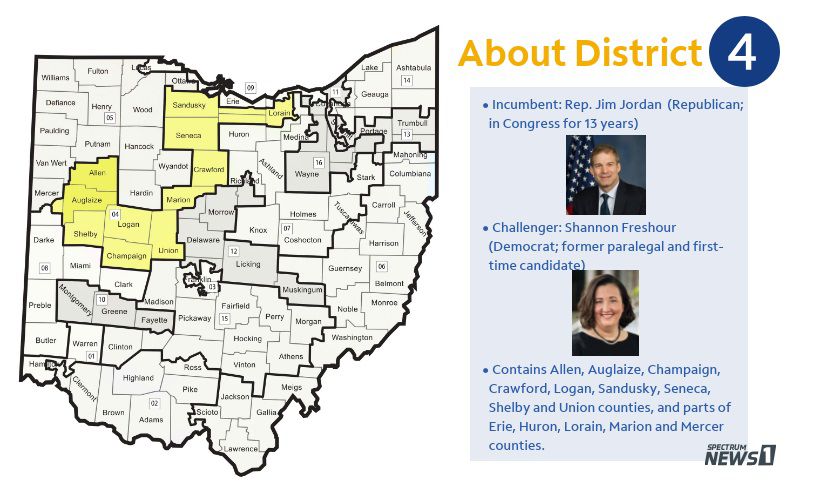 He was mask-less and posing for photos at one of his annual fundraisers.

"You're a representative. Your job is to represent the families and the taxpayers in your district," Jordan said in an interview at the event. "It's kind of hard to do that if you can't go talk to them. So we make sure we go talk to them. We do things like this."

Now in his 13th year in office, Jordan has become a congressional celebrity thanks in no small part to his unwavering support for President Trump.
(You can watch my full interview with Rep. Jim Jordan below or click here to read a full transcript of our conversation.)

He's raising millions of dollars, his close friend and former colleague Mark Meadows is now White House chief of staff, and Jordan is the top Republican on the powerful House Judiciary Committee.

It's quite the profile for someone who has long campaigned as an outsider who wants to "drain the swamp" in Washington.

"That doesn't matter if I'm friends with the chief of staff or if I'm not friends with the chief of staff," Jordan said. "That doesn't matter if I'm the ranking member on the Judiciary Committee or the ranking member on the Oversight Committee, which I was, you know, a year ago. My job is my job."

Jordan told me the more power he gets in Washington, the more effectively he feels he's serving his constituents here in the 4th District. But Freshour argues the opposite and claims Jordan is getting more tone-deaf over time.

"All he does is try and defend Trump. He literally at this point has a constituency of one person," she said.

Freshour knows she faces an uphill battle.
(You can watch my full interview with Shannon Freshour below or click here to read a full transcript of our conversation.)
Jordan has been easily reelected six times, sometimes by as much as 30 or 40 points, and support for President Trump is on display all over the district.

But Freshour, a former paralegal who once interned on Capitol Hill, is the first Democrat challenging Jordan to raise over a million dollars.

She points to the Joe Biden signs sprinkled throughout the district as evidence that people here are looking for someone center-left, like the former vice president…and her.

Freshour spends her time telling voters she wants to expand the Affordable Care Act with a public option and improve education.

"They're excited to vote out the drama and the chaos and they want grown-up leadership, and people who are actually going to take their concerns seriously," she said.

But support for Jordan runs deep. Some homes in the district display campaign signs from as far back as his state senate races in the early 2000s.

Jordan's connection to a sexual abuse scandal hasn't done much damage to his political career. He told me he still maintains knowing nothing about Doctor Richard Strauss sexually abusing athletes while Jordan coached wrestling at Ohio State University, despite multiple wrestlers claiming he knew.

The congressman said his office prioritizes constituent services and he said he's asked constantly by voters about the investigations he's pursuing on the Hill to defend the president, and his efforts to challenge the Democratic Party.

"My job is do what I told the voters I was going to do, fight for their First Amendment liberties, their Second Amendment liberties, fight for the things I told them I'd fight for — the things they care about," Jordan said.

No recent public polls are available for this race.

On the fundraising end of things, Jordan raised a massive $6.2 million in the most recent quarter while Freshour raised $497,000.