NORTHEAST OHIO — The Mahoning Valley has been closely watched by political observers ever since 2016, when Donald Trump won over a lot of people in an area known for manufacturing and its record of voting for Democrats.

As the president tries to hold on to the very supporters Joe Biden is traditionally known for appealing to, the race for Congress here is a mirror image.

Democratic incumbent Tim Ryan, who Biden has endorsed, is running for his 10th term.

"Locally, we've got a lot going on. And I've been able to help with my position on the Appropriations Committee for all of this. I just want to keep it going," Ryan said in a recent interview in Kent.

(You can watch my full interview with Rep. Ryan below or click here to read a full transcript of our conversation.)
Republican Christina Hagan, a former state representative who Trump has endorsed, is running against Ryan.

"I waited tables for over 15 years, even while serving in the state legislature. I never stopped being blue collar because I was a legislator," Hagan said in a recent interview in Akron.

(You can watch my full interview with Christina Hagan below or click here to read a full transcript of our conversation.)
Ryan has been quick to point out that Hagan lives just outside the 13th Congressional District; and two years ago, she ran to represent the 16th District, which she also doesn't live in.

"Why should voters in the 13th District feel comfortable with the idea of you representing them?" I asked.

"So, I've already represented folks in this district in the state legislature," Hagan said. "I think it's less about me being six tenths of a mile outside of the district, and more about the opportunity that we can help restore northeast Ohio."

Hagan says Ryan's failed presidential campaign in 2019 showed he's no longer interested in representing the 13th District.

"I'm curious if you've encountered constituents who said, that made me feel like you were sick of your current job or you didn't want to represent just us anymore and you wanted kind of that bigger picture?" I asked Ryan.

"Yeah, I don't regret it for one second," he said. "And I tell people who say you know, did you forget us? Is that why you did it? And my immediate response is, I did it for you, I did it for us… It is frustrating in D.C. to be one of 435 and not be able to move the needle, so I don't regret taking that chance at all."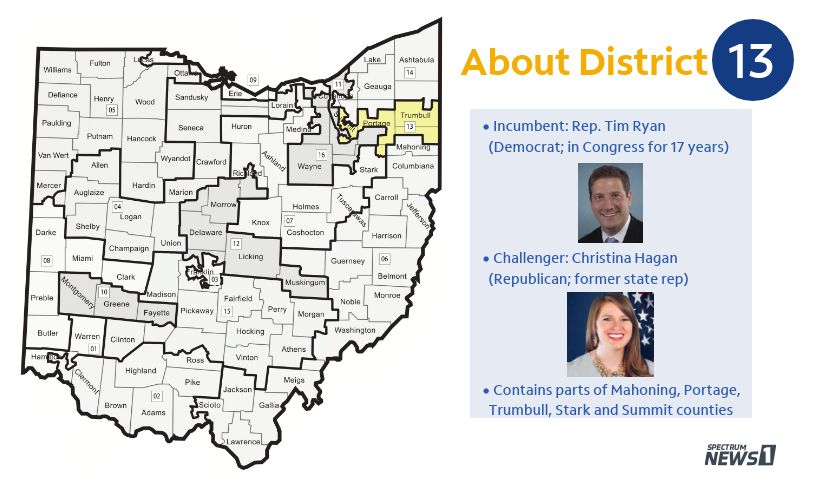 In many ways, the economic future of this area is also on the ballot this November.

Ryan argues his many years in Congress provides the district with a good seat at the table in Washington. But Hagan feels Ryan has had long enough to prove himself. And in her opinion, he's under-delivered.

As Lordstown Motors tries to bring the once-thriving General Motors plant back to life here, Hagan blames longtime local leaders like Ryan for the area's economic decline.

She doesn't fault Trump for falsely promising the GM plant would stay open.

"The president was dealing with decades of backlogs of missed opportunity and lack of representation from Congressman Tim Ryan and others, and just failed policies that made it inoperable to do business in Ohio 13," Hagan told me.

Ryan points to Lordstown Motors, a new GM battery plant being built around the corner, and a distribution center going up nearby as evidence that he's helping the district make a comeback.

He told me even some of his constituents who like President Trump appreciate Ryan's seniority in Washington.

"It took me years to be able to get on the Appropriations Committee. Now I'm bringing back hundreds of millions of dollars. So why would we cash that in for someone who's going to go to the back of the line?" Ryan said.

No recent public polls are available for this race.

On the fundraising end of things, Ryan raised $586,000 in the most recent quarter while Hagan raised $483,000.