CENTRAL OHIO — After barely winning a closely-watched special election in 2018, Republican Congressman Troy Balderson is campaigning on the need for bipartisanship in the midst of coronavirus.

"You know, this pandemic unfortunately has become very political. I'm accountable to you. We're going to fight this thing out and I'm going to be with you all the way," Balderson, who represents Ohio's 12th Congressional District, says in a recent campaign ad.

Moderate Republicans like John Kasich and Pat Tiberi represented this district since the early 1980s — and regularly won by double digits.

But Democrat Alaina Shearer thinks she has an opening this cycle. She claims Balderson is too conservative at a time when the suburbs may be turning away from Republicans.

"Look at who has represented this district and towed that moderate line for the sake of the people here, because of how diverse they are," Shearer said in a recent interview at her Delaware County home. "And then look at what Troy Balderson is doing. And it doesn't fit here."

(You can watch my full interview with Alaina Shearer below or click here to read a full transcript of our conversation.)
Balderson did not agree to an interview for this story.

In a 2018 special election that drew national attention, he beat Democrat Danny O'Connor by less than 1% before beating him again by 4% a few months later to earn a full term.

Balderson spent a decade in the Ohio state legislature before arriving in Washington. He now keeps a relatively low profile and serves on traditionally less partisan committees like Small Business, Infrastructure and Agriculture.

He played a key role in helping create the Paycheck Protection Program and worked to extend it through the summer.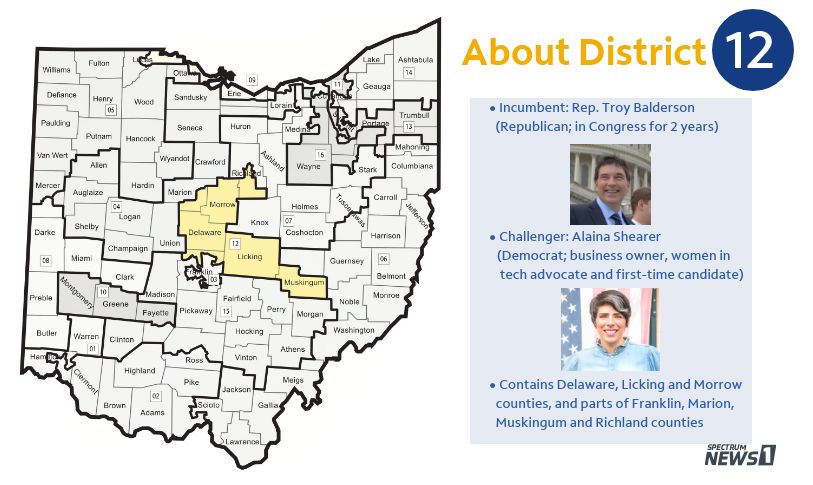 But unlike former 12th District Rep. Kasich, who has endorsed Joe Biden for president, Balderson is leaning into his support for the Trump administration. He introduced the vice president at a rally in Columbus earlier this month.

"I'm looking forward to another four years of true leadership under President Trump and Vice President Pence," Balderson said.

Since Balderson has only been in office for two years, you could argue he's just getting started. But Shearer told me his record as a congressman is similar to his record as a longtime state lawmaker, and she feels he's not representing the majority of the district.

"I think his record is very clear for people and they've seen, you know, he's had enough time and the fact that in his first two years he has managed to colossally avoid his constituents to the point where the one thing we hear consistently about Troy Balderson is he does not show up," Shearer said.

On the issues, she points to Balderson asking the Supreme Court to consider overturning Roe v. Wade and voting against a Democratic-led bill to close the gender pay gap.

Shearer is a first-time politician who spent years as a radio reporter and blogger in Ohio before starting a digital ad agency and founding an advocacy group for women in tech.

In her self-described "Us Bus," Shearer has been campaigning around the district on a platform that includes building a COVID-19 containment strategy and expanding the Affordable Care Act.

At her farm house, I asked her what she learned from watching that close special election in 2018.

"We've learned that there were areas of this district that needed more attention, whether that is through digital communication or through personal visits by me as the candidate," Shearer said. "So that's a strategy that we have been implementing for a year now."

No recent public polls are available for this race.

On the fundraising end of things, Balderson raised over $500,000 in the most recent quarter while Shearer raised just under $400,000.