DAYTON, Ohio — Mike Turner has represented Ohio's Miami Valley in Congress since 2003.

He's a senior Republican on the House Armed Services and House Intelligence committees, which he says has helped Dayton's Wright-Patterson Air Force Base add 10,000 jobs since he took office.

The former two-term mayor of Dayton has been a fixture in the city's politics for 25 years, which is one of the reasons Democrat Desiree Tims is running against him.

"Yeah, he's been in Congress for decades and been in elected office for nearly a quarter century. And still, we aren't getting the services that we need," Tims said in a recent interview in her Dayton campaign office.

Tims entered this race after spending several years working in politics in Washington, just not as a politician. She claims Turner's lengthy career in office is no longer doing any good for this district.

(You can watch my full interview with Desiree Tims below or click here to read a full transcript of our conversation.)

A West Dayton native, Tims spent a decade in D.C. going to law school, interning at the Obama White House, and working for two senators, including Ohio's Sherrod Brown (D).

She moved back home in 2019 right before the KKK held a rally downtown, tornadoes hit the city, and the mass shooting happened in the Oregon District.

"My experience in Washington, D.C. as an advocate will allow me to be a more effective leader and a more effective advocate on behalf of my community," Tims told me.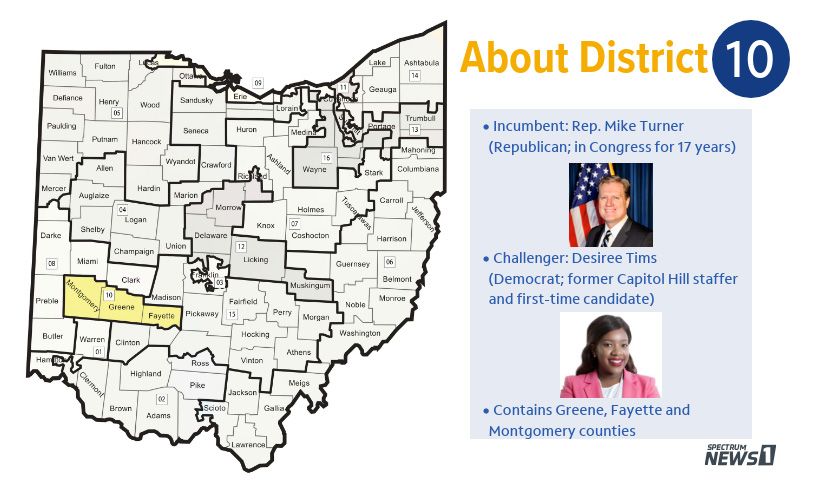 Turner did not agree to an interview for this story, but he's spent his ninth term in Congress making news on a variety of topics.

After the Dayton shooting, which his daughter was across the street from, Turner announced his support for stricter gun control measures, including a ban on the sale of military-style weapons to civilians.

In September 2019, as House Democrats were preparing to impeach President Trump for his call with the president of Ukraine, Turner said something notable during a committee hearing.

"I want to say to the president: This is not OK," Turner said. "That conversation is not OK, and I think it's disappointing to the American public when they read the transcript."

But in the months that followed, Turner became a staunch defender of Trump and voted against impeaching him.

Turner's campaign very intentionally focuses on his work in international relations and at-home issues like the opioid epidemic.

Tims is running what she calls a "hometown girl campaign." She's dedicating her energy to the very hurdles she faced growing up Black in West Dayton.

"This is about clean air, clean water, access to grocery stores, the basic necessities and health care," Tims said. "And that's what people are talking about."

The race has gotten heated.

Just last month, Politico reported that Turner has spent over $70,000 in campaign donations on meals and hotels since 2017. Tims filed an FEC complaint based off the report, but a statement from Turner in the story said it was "a political hit job initiated by my opponent."

Tims has also blamed Turner for unfairly attacking her.

He filed an FEC complaint alleging she improperly took a salary from her campaign and missed filing deadlines.

Candidates can legally draw a salary from campaign funds, but only if it's less than what they made in the previous year.

Tims told me it was a necessary step once her savings ran out, but she said this when I asked if she had any regrets: "Not to date. I mean, obviously there have been some paperwork mistakes that I can't help. It's just first-time candidate rookie mistakes. But other than that, we feel pretty good about the campaign that we're running."

A recent poll from September has Turner with a seven-point lead over Tims, but it's notable because he has won each of his previous races by double digits.

And on the fundraising end of things, Tims out-raised Turner by double in the most recent quarter, bringing in $990,000 compared to Turner's $425,000.